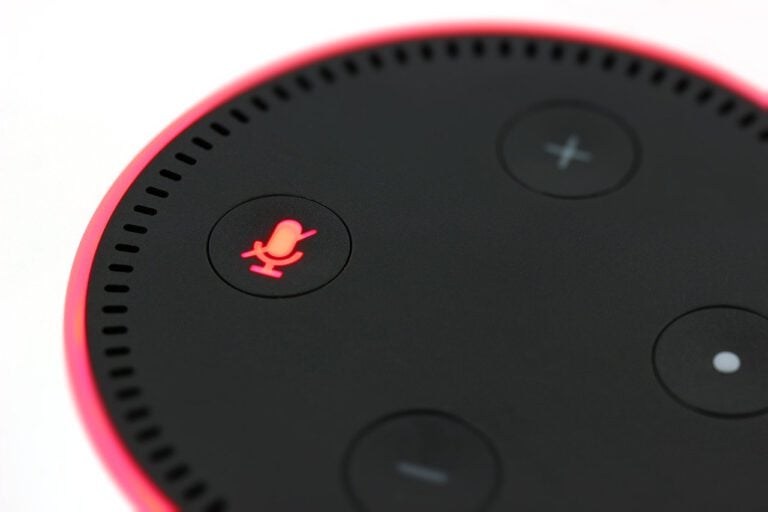 Amazon has so many smart speakers in its Echo series that even Amazon executives would get confused differentiating them. But if you are planning to buy a low-cost Echo speaker for your kids, the options are limited. Amazon recently updated the Echo Dot Kids Edition, which is a slightly modified version of the 3rd-gen Echo Dot. Let's check out how the Echo Dot Kids Edition differs from the regular Echo Dot.
Echo Dot vs Echo Dot Kids Edition: Design
They are both puck-shaped smart speakers with a blue light ring around the top to let you know when Alexa has been activated. At the top of the speakers are buttons for activating Alexa, volume controls, and muting the mic.
The Kids Edition comes in Rainbow or Blue color options while the 3rd-gen Echo Dot is available in Sandstone, Charcoal, and Heather Gray colors. Both of them have sleek, fabric surfaces. The Echo Dot's paint schemes allow it to blend into its surroundings. The colorful Kids Edition is more suited for your kid's room rather than the living room.
Investing in the Next Generation of Emerging and Frontier Markets with Maurits Pot
ValueWalk's Raul Panganiban with Maurits Pot, Founder and CEO of Dawn Global. Before this he was Partner at Kingsway Capital, a frontier market specialist with over 2 billion AUM. In the interview, we discuss his approach to investing and why investors should look into frontier and emerging markets. Q2 2021 hedge fund letters, conferences and Read More
Both smart speakers have the same dimensions of 99 mm x 99 mm x 43 mm, and they both weigh 300g. Amazon has equipped both smart speakers with a 1.6-inch speaker driver. Both speakers have the same four-microphone array for voice detection. Both get Bluetooth connectivity and a 3.5mm audio jack to let you connect them with external speakers.
Parental controls
The Echo Dot Kids Edition is a family-friendly device that gives you peace of mind with built-in parental controls. It lets you check their activity history, filter explicit music, and set limits on when the Alexa voice assistant will respond to them. Parents can select which smart home devices your kids can control or which contacts they can call.
The Kids Edition can filter content based on the age group set by parents via the parental dashboard. It comes bundled with one year of Amazon's FreeTime Unlimited, which includes thousands of movies, books, TV shows, games, and educational tools along with parental controls.
Your kids can access the FreeTime Unlimited content across devices including Android phones, iPhones, iPads, Kindle, and Fire tablets. It ensures that your child is looking at family-friendly content irrespective of the device they are using.
The 3rd-gen Echo Dot doesn't include FreeTime Unlimited. But Echo Dot users can buy FreeTime Unlimited for $3 per month to enjoy all the features.
Kid-friendly features
The Kids Edition has a number of features aimed at kids. The Alexa voice assistant is more friendly in its interactions with kids. Its responses are appropriate to the age of your kid. It doesn't answer adult-themed questions, and filters out explicit lyrics on Amazon Music. It also keeps voice purchasing disabled to prevent your kids from buying stuff online.
Just like 3rd-gen Echo Dot, the Kids Edition allows your child to control smart devices. But parents can control which smart devices the kids can control through their Kids Edition speaker.
Pricing and warranty
The Kids Edition is a little more expensive than the 3rd-gen Echo Dot. It has been priced at $70, though it's often on sale for as low as $55. The 3rd-gen Echo Dot costs $50, but you can get it for around $35 on sale.
The Kids Edition comes with a two-year warranty. If your kid accidentally breaks the device or it stops functioning for some reason during the two-year warranty period, Amazon will send you a new one for free. The Echo Dot comes with only three months of limited warranty.
Also, the Echo Dot Kids Edition comes with one year of FreeTime Unlimited, which gives you access to parental controls, books, movies, music, games, and TV shows. The regular Echo Dot users have to buy FreeTime Unlimited for $3 per month if they have Amazon Prime or $5 per month for non-Prime users.
Conclusion
The decision is pretty simple. If you are buying the smart speaker for your kids, the Kids Edition is the one you should look at. It will give you, the parent, some peace of mind. But there is still the risk of your child's privacy. Though you have the option to mute the mic, Amazon allows its employees to listen to conversations recorded by its smart speakers. The company uses it only for the purpose of improving its AI algorithms, not for any other purpose.