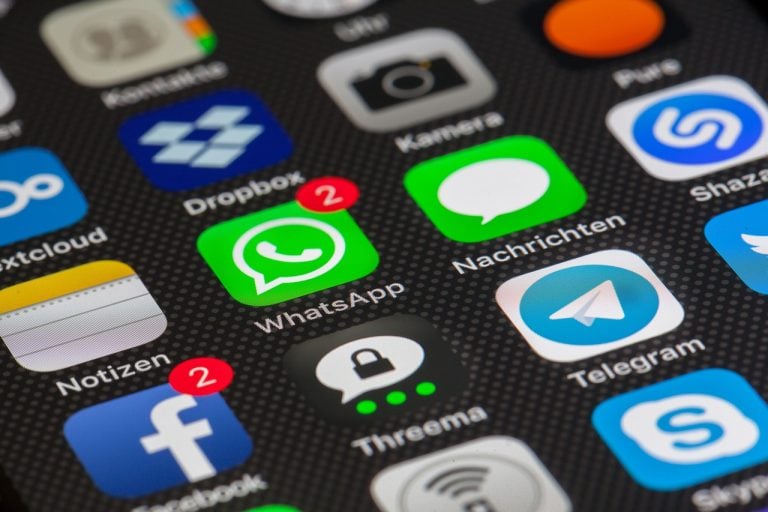 WhatsApp is one of the most popular messaging apps globally. It is used for all kinds of purposes, such as staying in touch with friends and family, promote and carry out business, make calls and more. However, in a few weeks from now, WhatsApp will stop working on a few phones. If you are not sure, and want to know if WhatsApp supports your phone or not, then detailed below is everything you need to know.
Check if WhatsApp supports your phone
The Facebook-owned company has already released a list of phones that it will stop supporting as the year ends. On its support page, the messaging app has listed the platforms that won't be getting any updates and won't run WhatsApp as well.
The list includes both Android and iOS phones. According to the messaging app, all Android devices running Android 2.3.7 or older won't be able to use WhatsApp from Feb. 1, 2020.
How Warren Buffett Turned Three Deep Value Stocks Into A $700 Billion Conglomerate
It took decades for Warren Buffett to build Berkshire Hathaway into the conglomerate it is today. Along the way, the Oracle of Omaha and his business partners have acquired a range of different companies and extracted cash from failing businesses to reinvest back into growth stocks. Q2 2021 hedge fund letters, conferences and more The Read More
For the iOS devices, those running iOS 8 and older will not get WhatsApp support from Feb. 1, 2020. Apple has already taken away the ability to create new accounts from such users, and now WhatsApp is ending support for them as well.
"From February 1, 2020, any iPhone running iOS 8 or older will no longer be supported, along with any Android device running version 2.3.7 or older," WhatsApp said recently.
WhatsApp has also laid out its stance on the jailbroken or unlocked devices, saying they "explicitly restrict" the use of such devices. "However, because these modifications might affect the functionality of your device, we can't provide support for devices using modified versions of the iPhone's operating system," WhatsApp said in a FAQ page.
No support for Windows phone
WhatsApp's list of unsupported devices includes Windows Phones as well. The platform failed to gain popularity among users and Microsoft also recently pulled support for the OS. Now, WhatsApp will do the same as well starting next year. The messaging app won't run on the Windows phone from Jan. 1, 2020.
"Furthermore, WhatsApp is withdrawing support for all Windows phones from December 31, 2019 — the same month that Microsoft ends support of its Windows 10 Mobile OS," the messaging app said.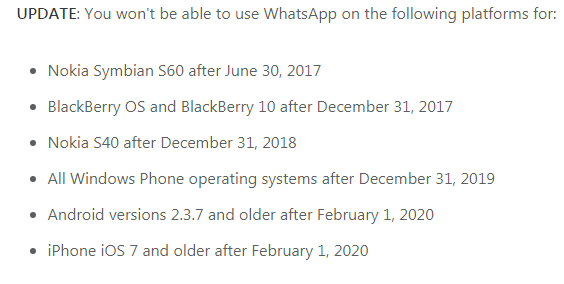 WhatsApp also notes that its app might not be "available in the Microsoft Store after July 1, 2019." The company also detailed an option for the Windows phone users who don't want to lose their chats and information once it ends the support. Such users can save their chats, using the following steps:
Open the chat that you want to save.
Tap on Group Info.
Tap Export Chat.
You will now get an option to download chat with or without media.
Now, select the option and download the chat.
If you use an Android or iOS phone, then you should check the OS version to know if WhatsApp supports your phone or not. You can check the OS version from the Settings. If you are using an old phone, it is recommended that you upgrade now to continue enjoying WhatsApp. Both iOS and Android users have plenty of devices to choose from. Sadly, the Windows phone users will need to switch either to Android or iOS.
Reason behind ending support
WhatsApp has evolved into an all-in-one messaging app, thanks to the regular updates and new features. However, it gets very difficult for companies like WhatsApp to make available new features on phones running on older hardware or technology. Thus, to ensure that it focuses resources on the more important features and updates, the messaging apps keep dropping support for older hardware every year. And 2020 is no different.
Explaining its decision, the messaging app said that when it started in 2009, the mobile landscape was very different. Most people used phones from BlackBerry and Nokia, while the Apple App Store was just a few months old. Now, things are very different as Android and iOS are dominating the mobile space.
"As we look ahead to our next seven years, we want to focus our efforts on the mobile platforms the vast majority of people use," WhatsApp said in a blog post previously.
Prior to this, WhatsApp had already ended support for Nokia Symbian S60 (June 30, 2017), BlackBerry OS and BlackBerry 10 (Dec. 31, 2017) and Nokia S40 (Dec. 31, 2018).