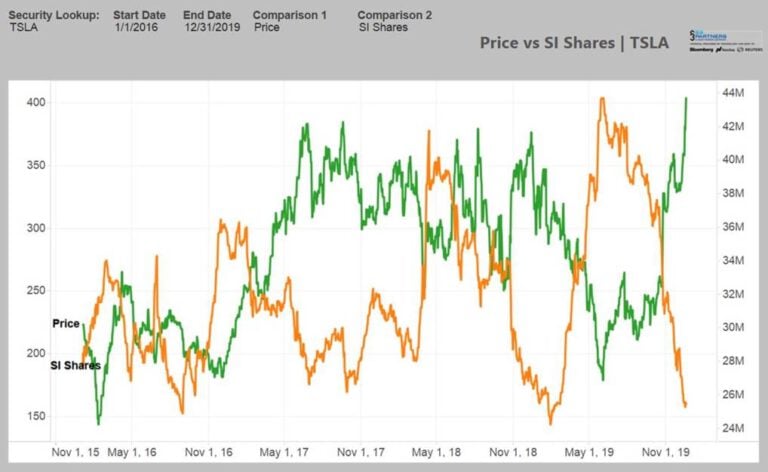 Whitney Tilson's email to colleagues regarding Tesla Inc. (NASDAQ:TSLA)
1) A friend's comments:
There is something irrational going on with Tesla's stock right now.
Hedge fund managers present their best ideas at Robinhood [In-Depth]
The latest Robinhood Investors Conference is in the books, and some hedge funds made an appearance at the conference. In a panel on hedge funds moderated by Maverick Capital's Lee Ainslie, Ricky Sandler of Eminence Capital, Gaurav Kapadia of XN and Glen Kacher of Light Street discussed their own hedge funds and various aspects of Read More
Around 9 or 10 days ago, rumors started circling that US Congress would reinstate or otherwise extend the US Federal tax credit for plug-in cars. This would have been a huge boost to Tesla, obviously. At an absolute minimum (and there are plenty of interpretations that the de-facto number would have been higher}, 400,000 additional units at $7,000 taxpayer subsidy each, would have been a $2.8 billion boost into Tesla's pocket. Considering the provisions for used cars, and the phase-out period, I believe the value would have been approximately double that amount.
Clearly, Tesla stock deserved to have been up on such a development. No question about it. It should have jacked up the market cap by $5 billion or so. And it pretty much did — leading up to the legislative decision.
By Thursday last week, there was even a proposed legislative text circulating, clearly showing that it was in a serious mix of negotiations between the US House of Representatives, the US Senate, and the US President.
When there is actual proposed legislative text on the table, that tells us that the matter is at least close to having a chance to be agreed upon. As a result, Tesla stock was up substantially during that week.
Then came last weekend. Everything was quiet at first — but then as the weekend concluded and the world turned to Monday morning, the reporting suddenly threw cold water on these US Federal tax credit negotiations. It was not going to happen. Tesla was going to get nothing.
Logically, one would then have concluded that Tesla stock would have retreated by approximately the same amount as it had advanced in the week leading up to the final verdict on the tax/spending bill. That would only make sense, right? Tesla ran up on the prospect of getting billions of dollars from the US taxpayer. Now they ended up getting not a penny. What goes up must go down, right?
Not at all. The only response by the market to Tesla losing all the billions the market had hoped it would get — was to go up even further. TSLA went down between 1% and 2% for a brief hour or two intra-day on Monday, but recovered before most people had returned from their lunch or even coffee break.
What does this tell the investor? There is some sort of powerful tide underpinning this story right now. It's impossible to say who is leading the charge, or what is the motivation behind it. In any case, it's a powerful one, and not even the most basic logic has been able to stop it. Not this week anyway.
There will be much more to say in early 2020 when we get new sales data from all the relevant geographies — Europe, China, the US and even elsewhere. The competitive dynamic shifts more on January 1, 2020, than at any other particular date in EV history. Will this impact Tesla stock, and if to when? Stay tuned.
2) Here's Jim Cramer's bull case (keep in mind that he's often a huge contra-indicator – I remember backing up the truck on MCD and BP when he said their stocks were "un-ownable"):
Tesla Is a Phenomenon
The stock opens higher each morning like clockwork and it has no resistance.
By JIM CRAMER
Dec 20, 2019 | 08:44 AM EST
Stocks quotes in this article: F, GM, TMUS, TSLA, INTC
Where are the Tesla (TSLA) sellers? What happened to them? They were there every day for ages. Every point.
3) My analyst Kevin's comments:
The shorts have clearly covered a bunch (see chart below), but I would say the majority of this run-up is mostly risk management rather than a change in conviction or belief. The skepticism is still alive and well and I actually like to see this – it means to me that there is still massive upside. On pure technicals, breaking out after a multi-year consolidation is not something you want to get in the way of, but I think the fundamentals are really at a turning point.
More interestingly, I am convinced (although I know I may be falling victim to narrative bias) that Musk's behavior over late 2017 and most of 2018 was purely calculated as he wanted to take it private and the only way to do this would be to get the shareholders to agree to a price like $420 – even though the majority of the shareholder base is looking for 5-10 times their money. Believe me, I was ready to take it willingly after the insanity of the prior year or so leading up to the go private debacle.
I have a massive amount of evidence to support this wild speculation and I'm only telling you all this so that I'll actually layout my thoughts on this as I've been meaning to do this for weeks. Stay tuned ;)  At the very least, it is very entertaining going over everything that actually transpired over that time frame.
4) A reader's comments on Cramer's earlier article:
Have you jumped ship too? His reasoning (cult product, balance sheet, leader) is dubious and superficial at best. His "check" for balance sheet is "they could raise two billion in a heartbeat". Huh? Since when did stock promotion and ability to raise capital to cover 14 years straight of losses constitute a strong balance sheet? Elon Musk is better at selling stock than selling cars. That's never been a question. But stock promotion does not constitute a long term viable business. Tesla should be earning its HIGHEST margins now where it has in essence a monopoly on EVs before a wave of competition. The best analogies for Tesla? Blackberry or Enron. Cult product, strong balance sheet and access to capital? Cult leader? Check, check, check. How'd they work out for investors?
Don't forget, Cramer is providing entertainment, not investment advice.
5) Another friend's comments:
About the reaction of Cramer's daughter, to a Tesla Model 3, and that it's somehow also every other person's reaction, here is what is really going on.
Most people don't drive all the new cars being introduced into the market.  Most people have very driven very few of the best new cars that came out in the last 3-5 years — a whole generation of automobiles.
As with a brand new computer compared to one that's 3-5 years ago, starting to use a brand new one will be a most refreshing experience for essentially everyone — as long as that new device (computer or car) does not malfunction, at which point the person is likely to sour unless there is a swift, costless and painless remedy that doesn't repeat itself too frequently.
Therefore, there reality is that *anyone* who gets into a brand new car — almost any new car, at any price level — will be impressed by it.  This goes for the Tesla Model 3 as well as a 2020 Nissan Sentra or 2020 Mazda CX-30 — two all-new cars that become available in U.S. retail this December season.  Professional auto journalists praised them, and I don't think almost anyone of them thought a Tesla Model 3 was objectively any better, even though it's in a different price class.
Professional car reviewers are, by and large, not quite as impressed with the Model 3 as non-professional car reviewers — aka, regular people — are.  Why? Because most normal people just don't have the comparative experience. A regular person will like almost any brand new car. They give it a name.  They baby their new car.
Yes, even many professional car reviewers like the Model 3 too — or at least many aspects of it.  There is a relative consensus among such professional car reviewers that the Model 3 handles well, and the electric motors are both smooth and provide for gobbles of effortless power.  The exterior design is also pretty beautiful.
Other things are a matter of taste, such as interior and touchscreens.  Some people prefer buttons, knobs and regular car keys. Other people prefer the newfangled stuff.
Car reviewers tend to be almost universally disliking of the Model 3's poor Winter performance, such as severe range loss, doors that freeze, glass that crack, leaking roofs and so forth.  Being locked out of your car because the smartphone can't somehow connect to the server? Priceless.
Did Cramer's daughter test-drive 50 or even 20 or 10 other of the latest other new car models too?  I doubt it. Did Cramer's daughter see that the Model 3 would jack up her insurance premium by hundreds or thousands of dollars per year?  I doubt she thought of that. Did she consider being locked out of the car in the Winter? Nope. Did she think about what it feels like sitting stuck by the side of the road for five hours waiting for a tow truck while regular Toyotas and Volkswagens whizz right by?  Surely not. Did she anticipate being out of a car for six months after she happens to rear-end a stationary object, with or without Autopilot still active that last fraction of a second? Not a chance.
Here is Car & Driver Magazine with its latest Model 3 observations:
https://www.caranddriver.com/reviews/a30209598/2019-tesla-model-3-reliability-maintenance/
"However, partly due to an average outside temperature of 43 degrees, we've used nearly 50 percent more rated range than miles actually driven. That has led to complaints that the main range readout does not adjust downward when using up the battery at a quicker rate than its EPA rating suggests. However, there is a running average figure based on recent driving, found on the Energy screen. We've also noted that the battery's state of charge can drop by 5 percent or so when the Model 3 sits outside overnight in 40-degree temperatures without being plugged in."
— 43 degrees?  Practically Summer.  How about MINUS 20 degrees?  How does THAT impact the Model 3?  Do the doors even open?
The Tesla Model 3 has some of the lowest female ownership percentage of any car: 16%.  Maybe Cramer's daughter can comment on why that is? Is it because Saudi Arabia is the company's largest ex-Musk shareholder?
6) Kevin again:
The Porsche's range is pathetic – hands down. I actually feel bad for them. Remember, there will be cheaper options with less range and the next generation Model S will have DOUBLE the range, more cargo space, AND beat it on the track.
Model 3 is basically sold out worldwide and Tesla just increased prices – customers must have not got the memo that you always are on the side of the road waiting for a tow truck: https://www.tesmanian.com/blogs/tesmanian-blog/tesla-model-3-sold-out-in-the-usa-for-2019
7) Another friend:
Just adding to the range debate … range is somewhat mitigated by the availability of high-speed charging stations .. in Telsa-speak SuperChargers. No one is even close when it comes to number of high speed chargers .. and the convenience of seeing all the SuperChargers "in range" on your screen based on the status of your battery is an additional plus. Plus the navigation system integrates the charging stations automatically into your trip, picking the optimum charging station for your trip including the fastest charge. (By this I mean that it's a faster charge on a SuperCharger when you show up with the battery more depleted as it takes as much time to charge the last 20% of the battery as it does to charge the first 80%. Thus on my trip to Vermont, I'll pass three Supercharger sites … Hartford, Springfield, Hadley Mass … and do a quick 10-minute charge in Brattleboro to arrive at Okemo with 50 or so miles still on the car.) The others companies  will eventually get there with fast chargers at scale but right now, in a Tesla you can take a road trip just about anywhere in the U.S. and not have a case of range anxiety. No one comes close to that now.
8) Various other quick comments from folks:
I agree with your friend's points, and also — he missed the most directly relevant critique of Tesla's range advantage: it appears that Tesla's battery pack design trades for greater range at the cost of a lot more battery fires.  As usual with Tesla (especially autonomous driving), it's a trade of functionality over safety.
Your friend seems to still be thinking about Tesla from years ago: www.bloomberg.com/graphics/2019-tesla-model-3-survey. Nobody's making "weekly trips to the service center".
His snarky remarks about sitting by the roadside waiting for the tow truck are off base. Westport, CT has the highest per capita of Teslas in the country (or so I'm told and just driving around, it certainly seems that way) … and I know many, many Tesla owners who have not had all these alleged problems with the car and find them a joy to drive…
People making the argument that the Model 3 competes with the i-Pace are not smart.
There is also the small matter of Tesla cars spontaneously combusting. How many are willing to bet that other auto makers will catch fire at the same rate?
Model 3 is the elephant in the room that your friend can't see. Model Y will make life even more difficult for I-Pace etc. Ultimately Model Y and Model 3 are competing with gasoline vehicles. Shorts have a tough time to see Model Y and Model 3 are so much more attractive than gasoline cars. They assume gasoline cars will continue to sell 80 million a year? That's insane.