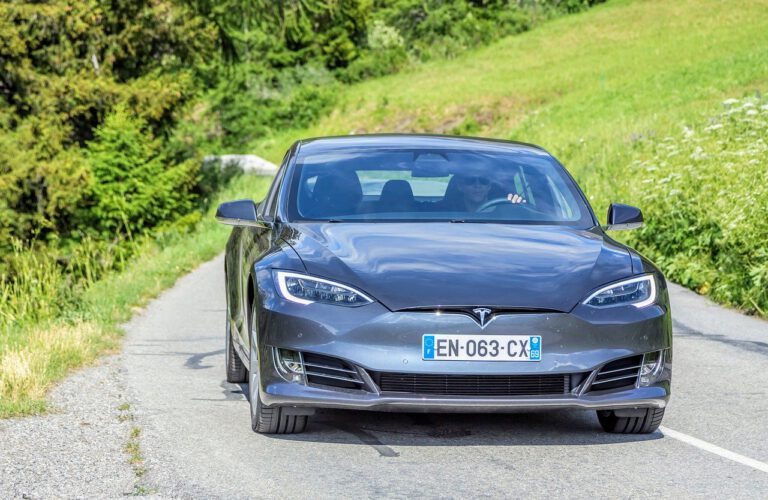 From Whitney Tilson's latest email to colleagues with a focus on Trip Chowdhry still being super bullish on TSLA. He sees Tesla Inc. (NASDAQ:TSLA) becoming one of the technology conglomerates.

1) Though it's the last thing on earth I'd actually buy, I put down a deposit for a Cybertruck (www.tesla.com/cybertruck/design#battery). It's only $100, so I figure why not? It'll be interesting to see their communication with potential buyers…
2) Here's the bull case for the cybertruck (though I'm not persuaded): 6 Reasons Why Cybertruck's Design Looks Genius 1 Week Later
[Exclusive] ExodusPoint Is In The Green YTD Led By Rates And EM/ Macro Strategies
The ExodusPoint Partners International Fund returned 0.36% for May, bringing its year-to-date return to 3.31% in a year that's been particularly challenging for most hedge funds, pushing many into the red. Macroeconomic factors continued to weigh on the market, resulting in significant intra-month volatility for May, although risk assets generally ended the month flat. Macro Read More
3) My analyst Kevin DeCamp rebuts the notion that Teslas (he owns one) are always breaking down and can't be serviced quickly:
The impression that some bears have that Tesla customers spend their lives in the service center because of the experience of some (that is amplified on social media) is just not even close to the truth. It also ignores the fact that the company is continually improving and nearly doubled their mobile service fleet in the last year (from 373 to 719 as of 3Q 19). I've had some issues getting someone on the phone for service quite a few times in the past and then I learned that I can set up an appointment on my Tesla app in two minutes – problem solved.
4) Another friend's comment:
Tesla to join Google among main technology Conglomerates?
Quote from previous email: "Therefore, there reality is that *anyone* who gets into a brand new car — almost any new car, at any price level — will be impressed by it."
That's a very good point. My father recently got a new 5 series BMW (a basic version and he upgrades just every 15 years or so) and he absolutely loves it. I am impressed as well – heads up display, voice recognition for the navi, wonderful handling, noise (i.e., lack of it), and various smart gimmicks.
The interior quality is just on a different level compared to a Tesla. I don't know whether that has improved recently, but when I got into a Tesla S for the first time, the sound of the closing door and the plastic interior left an distinctive "cheap" feeling.
BTW: He has driven his previous 2 BMWs for 20 years each without any serious troubles. He treats his cars like family though.;-)
Have a look at the valuation of BMW preferred shares (BMW3).
5) Re. the comment above about everyone loving new cars, I wrote to a friend:
I know lots of people who've gotten new cars – and what I hear from them, collectively, is crickets vs. the outpouring of love for those who get Teslas.
He replied:
I have a theory about that, based in part on the fact that I drive 100 new cars per year, and that I've owned a Tesla too.
People who decide to buy a Tesla are fanatical even before their purchase.  It's some sort of pre-indoctrination that takes place. As long as the car starts and takes them to their destination, they would brag about it lyrically.
Here is the test I think they would fail, if it could be performed: A blind test.  Put any soon-to-be Tesla owner behind the wheel of any other latest-model car, slap a Tesla badge on it, and I swear almost all of them would brag about it just as lyrically.
I base this on the fact that I drive around 100 new cars a year and that they all drive wonderfully, with only the rarest exception (5% or less).  Everything on the market as of December 2019 is so smooth, refined and upscale compared to any car that was available in the market only 4-8 years ago.
Buying a Tesla is a statement.  If a new Tesla owner did *not* brag lyrically about it, they would be admitting some sort of defeat, admitting that they made a mistake.  Nobody likes to say "I just spent THIS much money on a car, and it was a mistake." ("I bought this stock at $80 and it went to $10") So they have to talk incessantly about it, whether it's true or not, and whether they have any comparative experience or not (I find that in most cases, they don't).
Tesla is a cult.  Very few people will admit that something is wrong in Jonestown.  It's the rare bird who, just like the guy who slipped the "Get me out of here" note to Congressman Leo Ryan on November 17, 1978, will not err on the side of praising the cult.
6) Earlier this year, a friend agonized about whether to buy a Tesla. Now that he has one, however, he loves it so much that he's buying another one! I hear something similar from everyone I know who owns a Tesla – they love it more than (take your pick) life/wife/children. This article captures this: OK Beemer: Why European luxury sedans are becoming a relic of the past and electric SUVs are on the rise. Excerpt:
Elizabeth Dickson recently decided to skip a luxury gas-guzzling vehicle, instead purchasing a Tesla Model 3.
Needless to say, it's very dangerous to be short the stock of a company whose customers feel this kind of intense loyalty and passion.
7) Another friend's comments:
Fascinating how few people speak about the energy storage business being an increasingly valuable business.  It is one of the leaders in a huge market that is growing very fast. And I think that as tesla throws thousands of very smart engineers and gobs of money at the solar business, they will figure out product-market fit and turn that too into a leader in solar.  And Tesla's scale dwarfs competitors like Sunrun.  All in due time imho.
And:
You may have seen that Tesla is cutting prices by 20% in China next year (https://money.usnews.com/investing/news/articles/2019-12-18/tesla-considers-cutting-china-built-model-3-sedan-prices-next-year-bloomberg). Most people will claim they are only cutting prices b/c there is not enough demand, but I would postulate another theory: Tesla is cutting prices b/c of operational advancements that allows them to cut prices to take more market share faster. They are following the Amazon business model: "your margin is our opportunity".
The Chinese EV market is a huge market in early innings. Tesla's cars are so good they sell based in consumer recommendations, not by ads. The more they sell initially, the more they may sell longer term.
Another theory: Tesla may want to sell their cars as hardware for a lower gross margin b/c they will make up for it by selling high margin software, as they just started in past few weeks. Here are two articles about this:
https://electrek.co/2019/12/07/tesla-starts-chargin-month-premium-connectivity-features/
https://www.google.com/amp/s/www.digitaltrends.com/cars/tesla-model-3-acceleration-boost-software-unlocks-quicker-zero-to-60-mph-time
From Trip Chowdhry (Global Equities Research)
Subject: TSLA FY2030 Price Target $4000 –  Technology Conglomerates to Own for Next Decade
RESEARCH:  Every month we attend 8 to 11 Technology Conferences, Summits and Hackathons.  Every month we attend about 43 Sessions
– Over the Past 3 months, we have engaged deeply with Developers on the Ground, capturing Technology Shifts, Product Successes and Failures, and deeply gauging Intellectual Capabilities of Companies and their Workforce
– Below is a Consolidated view from Developers
The New Decade, FY2020 to FY2030, belongs to the TECHNOLOGY CONGLOMERATES GE, TSLA, GOOGL and more…
– TECHNOLOGY CONGLOMERATES are the Companies having Technologies in Multiple-Industries and are Intelligently Interlacing & Fusing these Technologies together to create Breakthrough Products and disrupting Industries
– Breakthrough products from Technology Conglomerates GE, TSLA and GOOGL will Spur a very Strong Global Demand for their products, thus accelerating Revenues and expanding Margins
Developers think that Technology-Less and Point Technology companies will not Scale
– Developers think that GE, TSLA and GOOGL are the leading Technology Conglomerates capable of creating Breakthrough Products; no startup and no competition can do what GE, TSLA and GOOGL are capable of
– Rest, most of the companies, are living in a Pseudo Reality. The best they can do is Incremental Improvement, which is not enough to move the needle over the coming decade
– UBER, LYFT, PTON, are not Technology Companies and on a Life Support.
– UBER, LYFT, PTON, will end up being Zombie Company just like DDD (Stock Price $9.00 Down from $90.00 in Dec, 2013), GRPN (Stock Price $2.23 Down from $26.00 in Oct, 2011)
– The days of a Pseudo CEO, a Pseudo Idea, a Pseudo Company, and a Pseudo Investor Claiming to be Visionary, because of the Name of the Investment Fund, are Over
KEY MESSAGE: TSLA, the Technology Conglomerate, FY2030 Stock Price = $4000, a 10X Return
Updated on