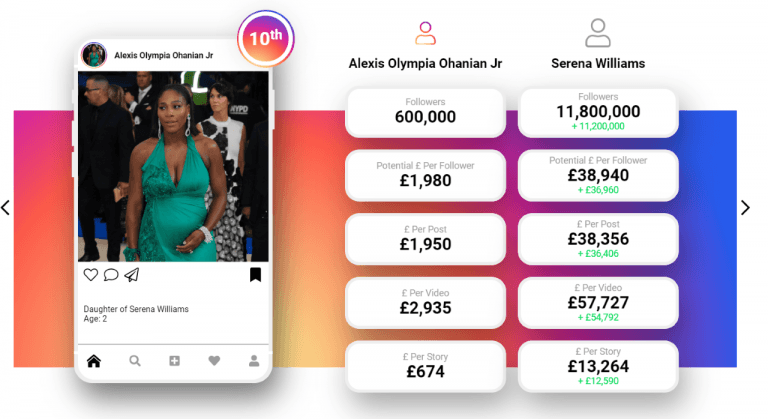 REVEALED: Serena Williams' two-year-old daughter could earn almost £2000 per Instagram post
Serena Williams' daughter could earn more from one Instagram post than a UK nurse makes in a month
Each sponsored video uploaded by Lebron James Jr. could be making him £16,000
Mick Schumacher could be earning over £600 more than his father per Instagram post
New research has uncovered the fortunes that could be made simply by posting on social media by the offspring of some of the biggest names in sport.
Every post on two-year-old Alexis Olympia Ohanian Jr's – daughter of Serena Williams –  Instagram account is worth a massive £1,950 while she is currently earning around £1,980 per follower on the account after new figures released exposed just how much people can benefit from being related to a famous athlete.
Seth Klarman On Margin Of Safety Investing
This is part nine of a ten-part series on some of the most important and educational literature for investors with a focus on value. Across this ten-part series, I'm taking a look at ten academic studies and research papers from some of the world's most prominent value investors and fund managers. All of the material Read More
Williams is one of the greatest tennis players of all time and even won the Australian Open whilst two-month pregnant and has almost 12,000,000 followers on Instagram, meaning she earns £38,356 per post on the social media site, another £57,727 per video and £13,264 for every time she posts on her story.
However Alexis Jr, with a following of over 600,000 could potentially earn more by posting one sponsored video than an average UK nurse would make in a month. 
Out of the celebrities selected by OLBG's Insta Fam – all of whom have a child also on the site – Brazilian footballer Neymar is the highest earner at a massive £412,816 per post and £419,100 per follower.
Serena Williams not only athelete with rich offspring
His son, David Lucca, is just eight years old but has over 1,400,000 followers and earns an eye-watering £4,551 per post – of which he has more than 250 on his page.
Former England football captain David Beckham is second in the list at £190,806 per post but 17-year-old son Romeo, who mainly posts modelling pictures, still brings in £7,801 per post and has amassed over 2.6million followers at £7,920 per follower.
LeBron James Jr is one of the selected sporting offspring who is making a name for himself in his own right as a basketballer but his £11,052 per post is dwarfed by the £169,677 earned by his father.
The one child who has gone on to exceed the online earnings of their parent is Mick Schumacher, son of legendary F1 driver Michael Schumacher who suffered a severe head injury in a ski accident in 2013. Schumacher Sr's Instagram profile is less significant than his son's, who has amassed over 820,000 followers having forged himself a career in racing and is currently competing in Formula 2.
However, his son, Mick, who has yet to achieve anything major in the sport, boasts over 189,000 followers more and can earn £614 more per post than the most successful driver in the history of the sport. One sponsored post on his Instagram account would bag the young driver more than the average UK police officer makes in a month.
To see the full list of sporting children and their legendary parents' Instagram statistics, check out our tool: https://www.olbg.com/insights/instafam
Q3 2019 hedge fund letters, conferences and more