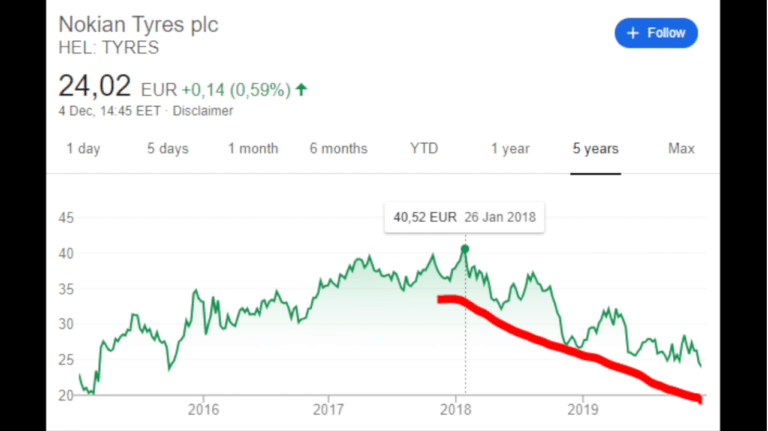 Nokian Renkaat is a stock from Finland traded on the Helsinki stock exchange but also OTC. It if in the business of selling tyres. Looks like a good business, low debt, a good dividend and good long-term prospects. However, it is a cyclical stock, something the market never gets. Consequently, Nokian's stock price is always volatile which is something to take advantage of if and when the dividend gets cut.
Transcript
Avoiding the Losers with XOUT Capital's David Barse
ValueWalk's Raul Panganiban David Barse, Founder and CEO of XOUT Capital, and discuss his unique approach to investing. Q1 2021 hedge fund letters, conferences and more The following is a computer generated transcript and may contain some errors. Interview with XOUT Capital's David Barse
Q3 2019 hedge fund letters, conferences and more
Good day fellow investors. So we have recently analysed the tire sector, the Bridge Stones, the Pirelli, Nokians, and in this video I want to discuss one stock that I picked as the stock from the whole sector that I will focus on and do a deep dive. I'll discuss the company it's Nokian it's not Nokia, its Nokian another Finnish company coming from the same city spin off from the same company Nokia. But that makes winter tires mostly. So I'm going to give you an overview of the company the investment thesis, the stock price has declined significantly over the last year and a half. The whole sector is a little bit in a downturn.
Nokian Stock Analysis - Good Business But Wait For A Dividend Cut
And you can read the whole sector analysis I'll put the link in the description below to my report to my Excel file about the sector to my Excel file with all the stocks with all the fundamentals that if you like those numeric part of investing, you can watch that and see how, where I got the estimations and the valuations. In this video, make more of a story like approach to Nokian.
The numbers for those who are interested, as said can check in the link description below. And then I'll give you a for investing lessons that we can take from this story. So let's start with the story, and then go to the lessons, whether this is something for your portfolio, that is something you will see at the end of the video.
European auto industry
So let's start with Nokian investment analysis. Just a year and a half ago, the stock price was doing really, really good even two years ago, almost at 40 euros now it's down to 24 and 20. A significant hit over the last year, coming from the slowdown in the automotive industry, and consequently also slower tire sales on a business overview. They sell tires, mostly winter tires in Nordic countries, Russia, Eastern Europe and the United States. So practically, this is a four country business, Finland, Sweden, Norway and Russia and they have really good market shares there. And they're now trying to expand into North America and Central Europe. And the difference is that when they expanded in Russia, they were the first they were there was a growing market.
But now to expand in North America and Europe they have to take away market share from others. Nokian's production capacity is not fully utilised. They have a production capacity in Finland, 4 million tires per year. But they are saying that they will give long holidays to workers.
So if you are a worker there, you can expect 2020 to be a very sunny year because you'll spend it mostly on the Mediterranean I think or I don't know where people from Finland go to holidays.
Russia the capacity 70 million tires, but also not fully used. And they're now building a new factory in Dayton where they will be able to produce 4 million tire so they are really targeting growth and expansion and investing in that expansion that as we have seen from the stock price, the expansion and investments came at the wrong point in time because we are going into a slow down in the automotive market.
Nokian business model
Now let's take a look at the global sales vehicle overview long term trend and short term trend that will give you an overview of where Nokian is playing was the playing field there. The growth rate when it comes to the market for tires is not amazing one 2% only China is expected to grow 7% given the still low automotive base there, but even Russia 2% growth they expected 6% growth per year, thanks to cyclicality in Russia but after 2009 has 2018-19 have passed the extra growth in Russia was minus 2%. So that was a hard hit for the company because they expected 6% growth.
This is from the capital day 2018 presentation in October of 2018. Also, vehicle sales in the United States have been flat and at the risk of a slow down, because all of the zero interest car loans, the financing, the subprime car financing is coming to an end and it's not the time to buy new cars air therefore the market has been weakening number of cars sold worldwide. This is from statistic stable, so not really growing there. So not really a growth market. However, the number of cars is expected to reach 2 billion number of cars on the road is expected to be reached 2 billion in the future currently is around 1.3 billion and it was for example half of that 670 million.