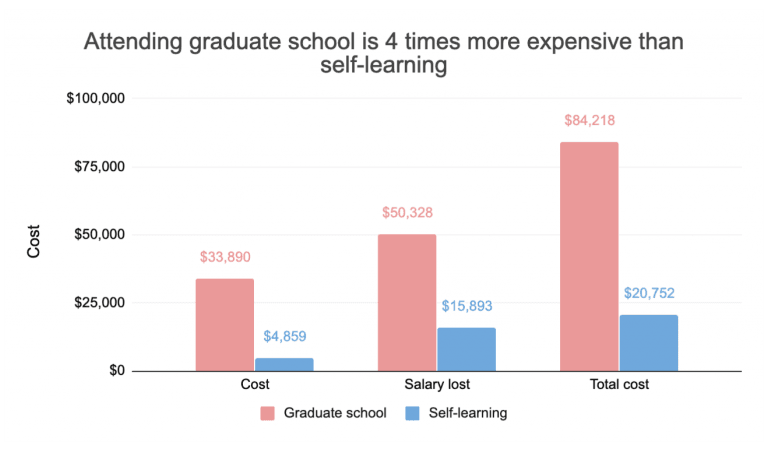 A master's in digital marketing costs up to $84,086. The alternative costs as little as $31.
A survey of universities in the US offering master's degrees in digital marketing has revealed that attending graduate school can be up to 10 times less profitable and 3 times slower than self-learning online.
Cost comparison
ValueWalk's July 2022 Hedge Fund Update: Tiger Cub Hedge Fund Shuts Down
Welcome to our latest issue of issue of ValueWalk's hedge fund update. Below subscribers can find an excerpt in text and the full issue in PDF format. Please send us your feedback! Featuring Andurand's oil trading profits surge, Bridgewater profits from credit, and Tiger Cub Hedge Fund shuts down. Q1 2022 hedge fund letters, conferences Read More
Q3 2019 hedge fund letters, conferences and more
In contrast, it costs as little $31 and as much as $4,859 to enroll in an unaccredited online course on digital marketing, start a website, pay for all the tools and budget necessary to run digital campaigns. Compared with attending graduate school, learning digital marketing with an unaccredited course and starting a website is:
10 times more profitable, with a return on investment of 521% three years after getting a digital marketing job - compared to a return of 53% from a digital marketing degree.
4 times cheaper , with a total cost (including opportunity cost) of $20,752 in the worst-case scenario - versus a total cost of $84,086 for attending graduate school.
3 times faster , assuming 6 months of self-learning and growing a website full time - instead of the average of 19 months it takes to complete a master's in digital marketing.
ROI comparison
Commentary on master's in digital marketing
Tommy Griffith, the founder of ClickMinded, maintains that the quality of unaccredited courses can compete with the best graduate schools: " our instructors are not academics—they are digital marketing experts and practitioners from companies like Airbnb, Lyft, and TechStars. You can rarely get access to that kind of talent in a graduate school environment ".
Kian Paras, a student of ClickMinded, claims " these courses have helped me get several remote jobs to pay off debt. I currently work remotely for 3 businesses in North America ".
Griffith's prediction is that this trend will continue to grow and expand to other areas: " attending graduate school for digital marketing and many other topics doesn't make financial sense anymore - there are many options available that are far better, faster, and cheaper ".
Tuition for digital marketing degrees in the US cost an average of $33,890 and take 19 months to complete. Considering the median yearly income, the real cost goes up to $84,086.
Moreover, with an average entry-level digital marketing salary of $42,946 per year, it will take graduates up to 23 months to break even on their investment in an ideal scenario (without loan interest payments and using 100% of their salary to pay back the cost of the degree).
---
Costs of going to college
University / College
Cost
Duration
Source
Notes
George Washington University
$21,180
12
https://business.gwu.edu/prospective-students/graduate-certificate-admissions
https://financialaid.gwu.edu/cost-of-attendance
certificate, 12 credits
West Virginia University
$24,600
18
https://online.wvu.edu/programs/integrated-marketing-communications-m-s/
30 credits
PACE University
$46,980
18
https://www.pace.edu/lubin/ms-in-social-media-mobile-marketing
https://www.pace.edu/admission-aid/graduate-admission/graduates/tuition-and-fees
36 credits, $1,305/credit
NYU
$65,547
24
https://www.sps.nyu.edu/homepage/academics/masters-degrees/ms-in-integrated-marketing.html
https://www.sps.nyu.edu/homepage/admissions/tuition-and-fees/tuition-calculator-graduate-ft.html
Masters in integrated marketing with digital marketing concentration
36 credits, 12 credits/semester, $21,849/semester
USC Annenberg
$57,256
18
http://annenberg.usc.edu/school-communication/master-digital-social-media/admissions/curriculum
https://financialaid.usc.edu/graduates/prospective/how-much-wil-my-education-cost.html
Master of Science in Digital Social Media
East Tenessee State University
$25,416
24
https://www.etsu.edu/cbat/msdm/curriculum.php
https://www.etsu.edu/cbat/msdm/financial.php
36 credits, $706/credit
Southern New Hampshire University
$22,572
15
https://www.snhu.edu/online-degrees/masters/ms-in-marketing/digital-marketing
36 credits, $627/credit
Sacred Heart University
$34,740
15
http://www.sacredheart.edu/academics/jackwelchcollegeofbusiness/graduateprogramscertificates/msindigitalmarketing/degreerequirements/
https://www.sacredheart.edu/officesservices/studentaccounts/tuitionfees/graduatetuitionfees2019-2020/
36 credits, $965/credit
University of Florida
$17,441
16
https://onlinemasters.jou.ufl.edu/digital-strategy/
36 credits
Full Sail University
$28,000
16
https://www.fullsail.edu/resources/brochure-file/full-sail-catalog.pdf
37 credits, $757/credit
Concordia University
$33,255
24
https://www.mbastudies.com/M.B.A-Digital-Marketing/USA/Concordia-University-Chicago/#description
51 credits
Rutgers
$44,208
15
https://www.business.rutgers.edu/sites/default/files/documents/factsheet-digital-marketing.pdf
12 courses, $3684/course
Montclair State University
$33,800
26
http://onlinemba.montclair.edu/mba-digital-marketing/
http://onlinemba.montclair.edu/admission-tution/
30 credits
Emerson
$40,832
16
https://www.emerson.edu/programs/digital-marketing-and-data-analytics-online-ma
https://www2.emerson.edu/billing/costs-billing-schedules/graduate?_ga=2.55529707.1170045835.1572448987-1121144434.1572448987
32 credits, $1,276/credit
Messiah College
$24,840
24
https://www.messiah.edu/grad-school/mba-digital-marketing
36 credits
Northern Illinois University
$33,930
24
https://www.cob.niu.edu/academics/marketing/ms-digital-marketing/index.shtml
39 credits
Liberty University
$20,340
24
https://www.liberty.edu/online/business/masters/marketing/digital-marketing-advertising/
https://www.liberty.edu/index.cfm?PID=296
36 credits, $565/credit
Brandeis
$35,370
24
https://www.brandeis.edu/gps/future-students/learn-about-our-programs/digital-marketing.html
https://www.brandeis.edu/gps/future-students/Get-started/view-tuition-information.html#Tuition
30 credits, $1,179/credit
Florida International University
$31,500
10
https://business.fiu.edu/graduate/marketing/tuition.cfm
30 credits
St Edward's University
$36,000
16
https://www.stedwards.edu/graduate/master-science-digital-marketing-and-analytics
https://www.stedwards.edu/admission-financial-aid/graduate/tuition-fees
30 credits, $1200/credit
---
---
Costs of starting a website, blog, or online business
Item
Cost
Source
Notes
Self-learning
$0-$1,000
Udemy, Coursera, ClickMinded, Udacity, YouTube, blogs, etc.
Self-learning duration
0-6 months
N/A
Web hosting
$31/year
https://www.dreamhost.com/hosting/shared/
shared hosting, includes domain name
Self-hosted WordPress Site
$0
N/A
Theme
$0-60
https://themeforest.net/popular_item/by_category?category=wordpress
Email marketing software
$0-$29/mo
https://mailchimp.com/pricing/ , https://convertkit.com/pricing
assuming <1000 subscribers
Social media marketing software
$0
https://buffer.com/pricing/publish
Analytics software
$0
https://marketingplatform.google.com/about/analytics/
SEO software
$0-$99/mo
https://yoast.com/wordpress/plugins/seo/ , https://ads.google.com/home/tools/keyword-planner/, https://ahrefs.com/pricing
Content marketing software
$0
https://www.google.com/docs/about/ , https://www.grammarly.com/
Project management software
$0
https://asana.com/pricing
Running paid campaigns
$3,000
assuming a $500/mo budget for 6 months
---
ClickMinded is a digital marketing training platform with over 22,000 students. It was founded by Tommy
Griffith, former SEO Manager from PayPal and Airbnb.
Contact : Tommy Griffith, tommy@clickminded.com
Updated on