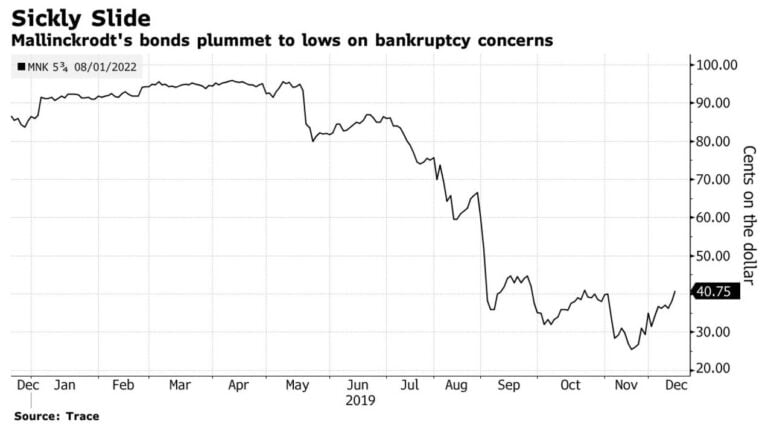 Whitney Tilon's email to investors discussing that these are the trades that gutted bonuses this year; A safer way to short; Question No. 4 to ask before you marry someone; Greetings from Kangaroo Island.
1) This Bloomberg article about debt investments that cratered in 2019 – These Are the Trades That Gutted Bonuses This Year – reminded me of a great lesson I learned long ago: Instead of shorting the stock of a company you think is going to encounter trouble, in some cases it makes sense to short the debt instead.
Consider scammy drug company Mallinckrodt (MNK). As you can see in this chart from the article, the company's 5.75% August 2022 debt was trading at 95 cents on the dollar as recently as mid-May. Since then, it's been more than cut in half…
The 3rd Annual 360 Degree Credit Chronometer Report with Joseph Cioffi
ValueWalk's Raul Panganiban interviews Joseph Cioffi, Author of Credit Chronometer and Partner at Davis + Gilbert where he is Chair of the Insolvency, Creditor's Rights & Financial Products Practice Group. In the interview, we discuss the findings of the 3rd Annual report. Q2 2021 hedge fund letters, conferences and more The following is a computer Read More
Over the same time period, the stock has crashed by 75% to below $4.
So why was the debt the better short?
Because what matters isn't the percentage return, but the dollar return. And you could have made a lot more money shorting the debt rather than the equity. Here's why…
In the case of Mallinckrodt, shorting the stock, even at $15 back in May, was very risky. At that price, the company had a tiny market cap of $1.3 billion versus more than $5 billion of net debt. With such high leverage, any news – good or bad – will have a magnified impact on the stock. Therefore, any prudent short seller who's carefully managing risk wouldn't dare put on more than, say, a 2% short position in the stock.
But the risk in shorting a bond worth $950 is far lower. Worst case, it might run up to a bit over its $1,000 par value – and you have to pay the dividend – but that's it. Unlike the equity, there's no scenario in which you can get your face ripped off. Thus, one could have safely put on a 5% short position in the debt.
Now, do the math: Which position do you make more money on, a 75% gain on a 2% position in the equity (a gain of 150 basis points) or a 50% gain on a 5% position in the debt (250 bps)?
2) Question No. 4 to ask before you marry someone:
Do you share core values (open-mindedness, listening, philanthropy/making the world a better place, meritocracy, humility, life balance, spirituality, thinking before acting, looking for win-win solutions)?
Every person's list here will be different. I thought about adding "political views," but you'll have to decide that for yourself…
3) Greetings from Kangaroo Island, the third-largest island off the coast of Australia. We arrived here this morning for a three-day visit after flying from New York to Vancouver to Sydney (a 15-and-a-half-hour beast) to Adelaide. Then, after a night in a hotel, we took a 90-minute bus and a 45-minute ferry here. That's a lot of traveling, even for me!
At 100 miles long and 30 miles wide, Kangaroo Island is five times the size of Singapore – but with a population of only 4,500… 1/6,000th the population density!
Today, we toured the island, walking among basking Australian sea lions, feeding kangaroos, watching a presentation on birds of prey, and holding an adorable koala. Here are a few pictures (more are posted on my Facebook page)…
Best regards,
Whitney