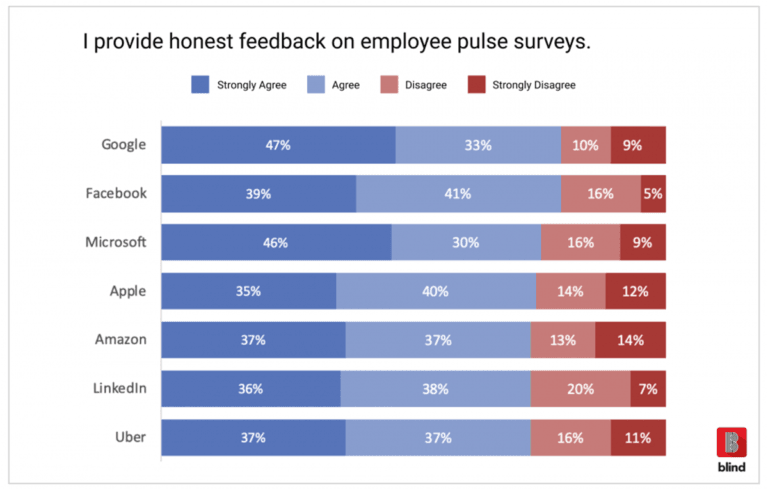 How often do we hear individuals exude excitement when talking about employee pulse surveys?  In practice, these surveys should yield constructive and positive results, right?  Employees get to share their perspectives and sentiment on their experience at the company.  Companies then take the feedback and create positive change.  But is that the reality of what actually happens?
Blind, an anonymous professional network where over 2.8 million verified professionals come together to provide honest perspectives and feedback on workplace matters, conducted a survey on this topic and found that these employee pulse surveys might not be so reliable after all.  They asked professionals on Blind if they give honest feedback on employee pulse surveys and whether or not they fear backlash based on how they respond:
Exclusive: Dan Loeb's Two New Stock Picks [Q1 Letter]
Third Point's Dan Loeb discusses their new positions in a letter to investor reviewed by ValueWalk. Stay tuned for more coverage. Loeb notes some new purchases as follows: Third Point's investment in Grab is an excellent example of our ability to "lifecycle invest" by being a thought and financial partner from growth capital stages to Read More
Key Findings:
Nearly a quarter of employees are not being honest on employee pulse surveys, which means the company is not getting an accurate picture of how employees really feel
More than half of employees at Uber, Apple, Microsoft, and Amazon fear backlash based on their responses the employee pulse survey
86% of Apple employees say the company has not used employee pulse surveys to create positive change
70% of Amazon employees say the company has not used employee pulse surveys to create positive change
We're left wondering — if employee pulse surveys are ultimately inaccurate, is there a better way to measure employee satisfaction and benchmark it over time?
Employee pulse surveys and HR
Each year, companies poll employees to get a pulse on their company culture. HR professionals are looking for what is working, helping with retention, and what isn't working, causing turnover.  The only way these surveys are effective is if employees tell the truth, of course, and the anonymity factor is designed to encourage honesty.
In almost every company and industry, there are things you simply rather not reveal to your employer due to fear of judgment or retaliation.  These can include opinions on company mission, leadership, managers, business processes, company trajectory and overall job satisfaction.
It appears that the distrust in companies makes employee surveys more or less ineffective.  We've seen an increase in companies turning to third-party workplace platforms such as Blind, to gather honest perspectives and sentiment in their private company channels.  The true anonymity and work email verification aspects of the platform are integral components that create an optimal combination of trust and purpose.
More survey details:
The survey ran from December 6 – December 9, 2019, and was answered by 2,723 users of the Blind app. Users could only answer once.
You can download the survey charts here.
About Blind
Founded in 2013, Blind is a trusted community where more than 2.8 million verified professionals communicate anonymously online.  Blind provides private company channels, where users communicate with co-workers, and an open forum, where users can communicate across companies and industries.  Because it is anonymous, Blind users share information like compensation, honest workplace perspectives, and candid advice, without fear of judgment or retribution.
Blind is a platform for change, encouraging transparency in workplace culture by breaking down professional barriers and empowering employees with knowledge. The company has raised $24M in funding from Softbank Ventures Asia, Storm Ventures, and DCM Ventures.
Q3 2019 hedge fund letters, conferences and more