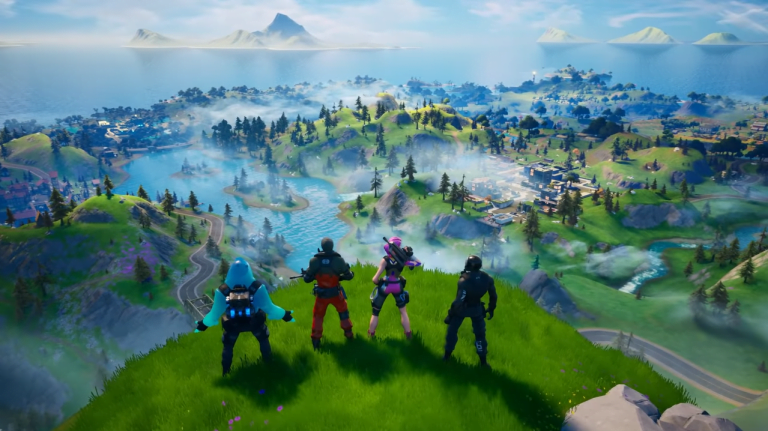 Fortnite has already completed ten seasons, and returned as Chapter 2 about a month back. The popularity of the game is showing no signs of dying and this is evident from the fact that many Android users haven't hesitated to sideload it, as the game is not available to download from the Play Store. Sideloading an app is risky, as well as requiring a few more steps. In this article, we will detail all you need to know to download Fortnite safely on Android.
Why is it tough to download Fortnite on Android?
The primary reason why Epic did not make the game available through the Google Play Store is because the search giant takes a cut of 30% of all in-app purchases. However, Apple does a similar thing as well, yet the game is available on their App Store.
Explaining the thinking behind it, Epic's CEO Tim Sweeney told TechCrunch last year that "On open platforms like PC, Mac and Android, Epic's goal is to bring its games directly to the customers. We believe gamers will benefit from competition among software sources on Android."
Qualivian Investment Partners July 2022 Performance Update
Qualivian Investment Partners performance update for the month ended July 31, 2022. Q2 2022 hedge fund letters, conferences and more Dear Friends of the Fund, Please find our July 2022 performance report below for your review. Qualivian reached its four year track record in December 2021.  We are actively weighing investment proposals. Starting in November Read More
Thus, for the Android users, the only option is to sideload the game. Sideloading, however, as stated above, may leave your phone vulnerable to malware or viruses. Still, millions of users have downloaded the app. You can also download the app, but you must take proper precautions to ensure safety.
Unfortunately, not all Android devices can run Fortnite. Before we detail how to download Fortnite safely on Android, you should know the minimum requirements to get the game on your Android phone.
OS should be Android 8.0 Oreo or higher.
RAM of 3GB or more.
GPU requirements are Mali-G71 MP20, Mali-G72 MP12 or higher, or Adreno 530 or higher.
You need at least 3GB of free onboard storage.
In all, we can say that flagship phones from the last couple of years should meet these requirements. If you have a mid-range phone, then before downloading, it would be better to check if your phone is compatible or not. Epic has posted a list on its website of all the supported Android phones. The list is continuously being updated as new phones are launched.
Process to download Fortnite on Android
Now that you have checked if your phone is compatible or not, let's see how to download Fortnite safely on Android. The whole process to install the game includes the following: download and install the Epic Games APK file, download and install the Epic Games app, download and install the Fortnite app.
The first thing that you need is the EpicGamesApp.apk file. This APK (Android Package Kit) is useful in distributing and installing apps.
Getting the APK file is easy if you own a Samsung phone. All you have to do is visit the Galaxy Store app and download it. Other Android phone users need to get it from Epic's website. To do so:
Search for Fortnite Android from the phone's browser.
In the search results, you will find a link to Epic's website. Tap it.
On the site, tap the yellow Download button and then follow the on-screen instructions.
Before the downloading starts, you will get a pop-up asking you to approve the download.
Now that you have the APK file, open it and then tap the EpicGamesApp.apk file. You will get a warning message that due to security reasons, your phone "is not allowed to install unknown apps from this source."
Now, you will have to tweak the browser settings to make way for the APK file. Change the settings to "Install unknown apps – allow from this source." After changing the settings, approve the download of the Epic Games app.
How to download Fortnite safely on Android
You now need to download the Fortnite app. To do this, follow the below steps:
Open the Epic Games app, and tap on Fortnite.
Tap on the Install button. You can only proceed with the installation if your device is compatible.
Now grant the app access to the device's photos, media and files.
Once you grant the permission, the app will start downloading. The process could take a few minutes.
During the downloading process, you may get a pop-up asking you to enable "allow from source" to complete the downloading.
Once the app is downloaded, follow the below steps to install Fortnite:
Launch the Fortnite app, and grant it permission to access your storage, contacts and microphone.
Once the installation is complete, login to your Epic Games account (or create a new one).
Follow the on-screen protections, and after that, you are ready to play.
Before you start playing, there is one very important last step. Epic or your device won't prompt you for this step, but it is well advised if you disable "allow from source" installs (you enabled it earlier for installing Fortnite). Disabling this will prevent any other unauthorized downloads onto your phone.
One more security tip is – no matter who says (except Epic) that Fortnite is available on the Play Store, don't believe it. There are several clones of the game available on the Play Store. Though most are trying to benefit from the game's popularity, a few could be malware-infected to steal your personal data.
You can refer to the below video as well:
https://www.youtube.com/watch?v=jNJm_VfJEKg
Updated on