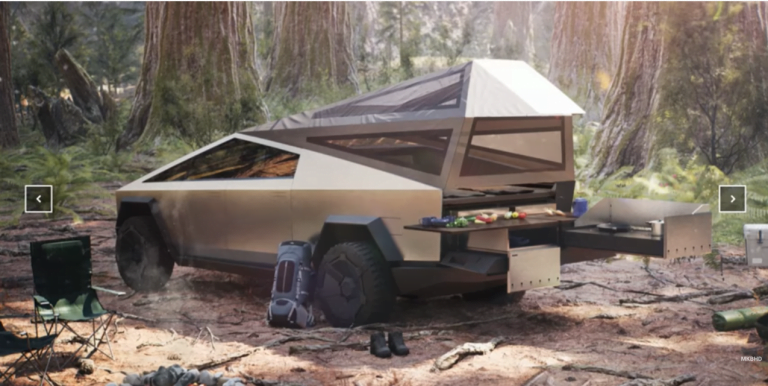 The new Tesla Cybertruck that was unveiled last month revealed a radical design and inspired various designing companies to design its mods, patterns and other additions which could go great with this pick-up truck. The truck itself garnished a lot of attention over the past few weeks, although its affordable price at $39,000 made it attractive despite its radical look. Now, one designing company revealed a Cybunker which is a Cybertruck garage, and it will look great with Tesla's new truck.
Over the past few weeks, many Twitter users who are also concept designers and architects designed new mods and prototypes to enhance the Tesla Cybertruck. They shared various designs from minor improvements to mods and add-ons which completely change the appearance of the controversial truck.
.I couldn't sleep, added a little more of a flatbed look. #Cybertruck pic.twitter.com/3vJh88eXNH

David Einhorn's Greenlight had a strong fourth quarter; Gains on Neubase Therapeutics [Q4 Letter]

David Einhorn's Greenlight Capital was up 5.2% in 2020, underperforming the S&P 500's 18.4% return. For the fourth quarter, the fund was up 25%, which was its best quarterly result ever. Longs contributed 42% during the fourth quarter, while shorts detracted 15% and macro detracted 1%. Q4 2020 hedge fund letters, conferences and more Growth Read More

— Charlie (@CharliesAguero) November 22, 2019
Starting to look at mods for my @tesla #Cybertruck @elonmusk which do u like? pic.twitter.com/ZweoZrZ4Rv

— Michael Hsu (@hsumacher) November 22, 2019
I want to buy the @Tesla #Cybertruck
It's a canvas of potential art #pimpmyride cybertron edition @MTV @elonmusk pic.twitter.com/9FDwgUZPKd

— BossLogic (@Bosslogic) November 25, 2019
Now design, research and visualization company Lars Büro designed its extremely ambitious project which shows a Cybertruck garage called a "Cybunker." It boasts the same innovative and radical design as the truck. Whether you prefer calling it a garage or a bunker, it will definitely fit with the Cybertruck.
When the Cybertruck was revealed, it was said that the truck is too big to fit in the average house garage. The company then came up with an idea to design its own bunker which would be sufficiently big enough to fit the Cybertruck, as well as some other things that are planned in the future.
the cybunker is an off-grid shelter garage designed to house tesla's cybertruck https://t.co/tOXJyT4I8V pic.twitter.com/6ULbNXffZp

— designboom (@designboom) December 16, 2019
The website also details its gate system, which will also be folding, to fit the truck.
"Inside, two folding gates reveal a 600 square-foot depot able to accommodate an array of equipment and vehicles – including trucks that don't fit in standard garages. For more extreme or hostile environments, this depot can be equipped to function as an airlock, allowing a safe transition between exterior and interior."
"Thanks to its rigid steel monocoque structure and aerodynamic shape, the Cybunker is able to withstand the toughest environmental conditions, while its state-of-the-art circular infrastructure creates a microgrid capable of ensuring self-sustenance in the most isolated sites, or as an auxiliary system for on-grid dwellings," the company described its building in detail.
Lars Büro emphasizes that the Cybunker itself is too big to be just a garage, so it said that there are more plans to go with it. There are plans to extend it up so that an apartment could be added on. There is a concept design on their Instagram account so that gives more traction for the future. Nevertheless, the plans of making it into an actual product one day haven't been revealed yet.
What do you think about the Cybertruck garage? Let us know in the comments.