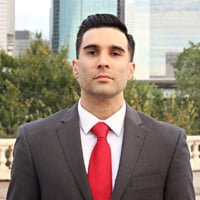 Incfile's head of business development Dustin Ray (full bio below) sat down with ValueWalk to discuss latest trends in business formation. The full Q&A can be found below.
Tell me about your business?
Our clients are entrepreneurs, just like us. Yes, we started off in 2004 with just LLC formation, but now we've grown into being the complete business companion. We make registering a company as easy as possible, so entrepreneurs and solopreneurs can focus on the important things. Beyond that, we have a full suite of startup services (like banking and bookkeeping), which means Incfile not only helps a business get started, but supports the continued success as your one-stop-shop.
These Are John Buckingham's Stock Picks For 2021
The economy remains in distress, although there are signs of recovery underway. John Buckingham of Kovitz, editor of The Prudent Speculator newsletter, has found that value stocks typically outperform coming out of economic downturns. Thus, he argues that this is an excellent time to be a value investor. Q4 2020 hedge fund letters, conferences and Read More
Because we're a technology-enabled service, we have efficiencies that automate all of the outdated, manual ways of forming a business. This means we can keep the costs down. So, now we're able to offer business formation for free — which is incredible! We pride ourselves on offering the best value to our clients, and we're thrilled that we can make that first step into entrepreneurship even easier.
What solutions related to business formation do you offer?
We offer LLC, S-Corp, C-Corp and other business formation, registered agent, compliance, and startup services. And the list is long! We verify company names; prepare and file articles; provide lifetime company alerts; free business tax consultation; lifetime customer support; and easy access to all documentation via our online dashboard. In addition to this we offer services like bookkeeping; banking; trademarking; and registering for a business license, domain names and business email.
Our team is down-to-earth, and we know our stuff. Since starting, we have assisted more than 250,000 entrepreneurs and small business owners to form and grow their businesses. Our mission is it to provide you with a superior and modern experience at an unparalleled value.
How do you make money?
Since 2004 we've been perfecting our service and as a result of our tech-enabled process efficiencies that automate all of the outdated, manual ways of forming a business, we're able to keep the costs down.
We've recently launched free business formation. $0 business formation might appear too good to be true when there are other providers that charge $150+ for the same service — and going to an attorney will cost you even more — but we know that if we can provide unparallelled value and incredible customer service beyond just formation, we can engage our clients for the lifetime of their business, and that means we're able to make revenue from our other offered products and services.
How do you differ from competitors like Legalzoom?
With Incfile, you get a modern experience at incredible value for your money; it all starts with a $0 business formation and extends with services far beyond incorporation.
It's our full suite of startup services that really set us apart. From filing a DBA/Fictitious Business Name, Trademark or EIN, to obtaining an Annual Report, Certificate of Good Standing, or Business License Research package, we've got our entrepreneurs covered. This means Incfile not only helps business owners get started but supports them in continued business success as their one-stop-shop.
There are many legal risks small business owners many times do not realize i.e. using copyrighted photos which could cost $150,000 each time, how can business navigate such complex national and state laws?
In this area, knowledge is power. Small business owners should do their own due diligence with online research. Subscribe to a reputable business blog that can help you navigate these important topics, like the Incfile blogIncfile's Business License Research package. /When in doubt, seek the help of a legal professional.
Businesses like Stripe are getting into business formation with offerings like Stripe atlas how do you stay advantage in the industry?
Entity formation is our niche and we've been perfecting the service since 2004. Now, however, we offer so much more. Our additional services to round-out the experience for our clients and help set them up for a lifetime of success.
For Stripe, formation is an add on. This is just a channel for them. We go above and beyond to make the process better for the customer. As an example, compliance is included for no cost. Our level of service is world-class. Our dashboard is first-class piece of software that allows each client to manage their own entity.
Our culture propels us — we strive for continuous improvement and to provide the best value on the market. Our M.O. is entrepreneurship, so in everything we do the entrepreneur comes first. That means having the customer experience in the market, at the most competitive price. No one does what we do for the price we do.
What are the most surprising trends you are seeing with small business owners?
In 2019, there has been incredible growth in the diversity of small business in America. There are 12.3 million is the number of women-owned businesses in the US and of those, 47% are owned by women of color. (AMEX). Minority groups own 45% of small businesses. (Guidant Financial). Immigrants make up 25% of small business owners. (Forbes). These small businesses are the lifeblood of our economy, and diversity in the sector only enriches this. There is an opportunity for everyone who wants to, to start their dream business.
Are you noticing any slowing of activity among the small business sector?
This is a hard one to answer, as the information available is very fragmented. We certainly do not see a slow-down. We have actually seen a large increase, but it's hard to say whether we've just captured a larger percentage of the market or whether the market as a whole has grown.
Any differences you are noticing based on region or size?
There are definitely regions where the rate of small business per capita is higher. For us, the wealth of this is in Texas, California, Florida, Georgia, and New York. These states continue to produce more and more small businesses.
If you could pass any legislation related to business formation what would it be?
Nothing. It creates a barrier to entrepreneurship. Let's use the New York publication requirement as an example. It creates regulation to make LLCs follow this publication requirement. This is unnecessary and outdated, and hinders the growth of the lifeblood of industry, which is small business.
Dustin Ray leads business development and growth initiatives at Incfile, a national incorporation service company specializing in business formation and small business services. Founded in 2004, Incfile makes it possible to start a business with a $0 formation + state fee and has assisted in the formation of more than 250,000 corporations and LLCs.