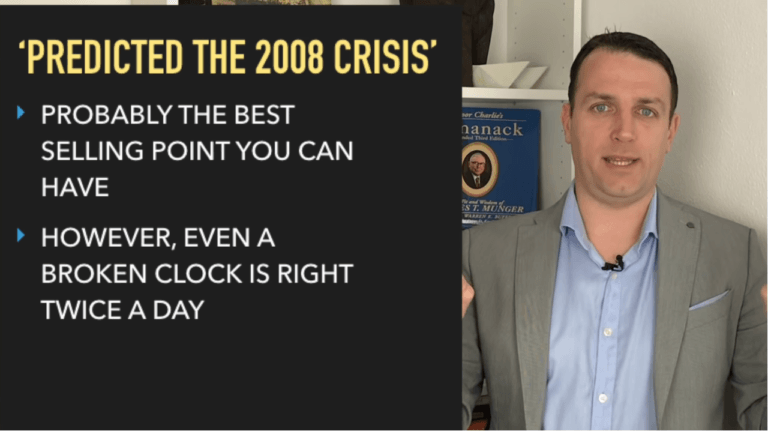 When you forecast, you better forecast often. That way if you forecast a 2020 stock market crash, it is more likely you will be right at some point and become a guru or financial genius. I have no idea when the next crash will come, I just know it will come and that I can't do nothing about a stock market crash. What I can do something about is owning businesses with great fundamentals that will do well over economic recessions and stock market crashes.
2020 Stock Market Crash Prediction – Be Prepared For Imminent Crash And Recession
Transcript
Axon Capital Up 60% In 2020; Says These Tech Stocks Are Value Stocks
Axon Capital was up more than 60% for the first 11 months of 2020 after making some changes to deal with the year's challenges. In his delayed third-quarter letter to investors, which was reviewed by ValueWalk, Axon's Dinakar Singh noted that the year was not only "incredibly stressful" but also "successful." Q4 2020 hedge fund Read More
Good day fellow investors. Stocks will crash, economic collapse ahead, recession, it will be terrible, the new Great Recession, it will be the worst thing you have ever seen, is one of the predominant topics on YouTube. But let me give you an objective perspective on this. Let me give you a list of all what the doomsayers have been saying over the past 10 years. Yes, they work all them wrong. And I'll also show you how, if you listen to them and how you invest by looking at what can go badly, you made some great returns the stock market delivers.
So let's start with why a crash will happen in 2020. That is perhaps the best way to start. So let's say Trump can push the economy further, inflation forces the Fed to push interest rates higher and therefore it's more difficult service that debt, the huge budget deficits that are in Europe, in the United States, let's say that the Brexit deal doesn't go good and then that it pushes Europe and the UK into a terrible recession, then everything gets into contagion from Greek from terrible banks in Italy, and things like that, that could contage the whole global market.
2020 stock market crash? Worry about China
And then we are all in deep, deep, deep trouble, then we have China that is doomed because it's communist country. It has trillions of trillions in debt, and is investing in all crazy investments that will never lead to any economic return the situation is clearly unsustainable. Plus, the money printing has pushed stock so high up that the only way is down. That is, let's say, a summary of what can go wrong right. Now, a market crash will come inevitably a recession will come that's normal, that's natural, but it cost you a lot to time it wrongly.
Let me show you what the biggest doomsayers have been saying for the past 10 years. So Nouriel Roubini, 2010 there are some parts of the global economy that are now at risk of a double dip recession. From here on, I see things getting worse. 2010-2011, David Rosenberg, another recession is coming and soon. Jeff Gundlach – 2011, it seems suicidal to buy a broad based basket of stocks or economically sensitive commodities or emerging market stocks, all of which are very levered to economic growth. In 2016, he said sell everything nothing looks good.
Pundits keep making wrong market crash calls
Then Lakshman Achuthan, Economic Cycle Research Institute, said that he's sticking to the forecast made in September of 2011, a new recession is inevitable despite improvement in high profit economic indicators, job creation and unemployment and stock market rally. He said that data gathered since September forecast only confirms his view that economic growth has slowed to such a degree that the downturn is now unavoidable. Likely by late summer 2012. Yes, right. Mark Farber, I think we could have a global recession, either in Q4 or early 2014.
That's this thing, possibility. Then you have many others, the data is clear. 50% unemployment, 90% stock market drop and 100% annual inflation starting in 2014. Let's go to Peter Schiff – 2013, we've got the much bigger collapse coming. This is 2013, I am 100% confident that the crisis that we are going to have will be much worse than the one we had in 2008.
The crisis is imminent. I don't think Obama is going to finish his second term without the bottom dropping out. Stock market investors are oblivious to the problems, 2013. Then Carl Icahn – 2015, I see real tremendous problems ahead. And I don't think we are handling it right and nobody really wants to talk out. George Soros, global markets are facing a crisis, and investors need to be very cautious. Paul Krugman – 2013, it really does look like President Donald J. Trump and markets are plunging. So we are very probably looking at the global recession, with no end in sight. I suppose we could get lucky somehow. But only economics as on everything else. A terrible thing has just happened. Ray Dalio, predicting that the American economy will probably sink into recession by 2020.
Q3 2019 hedge fund letters, conferences and more