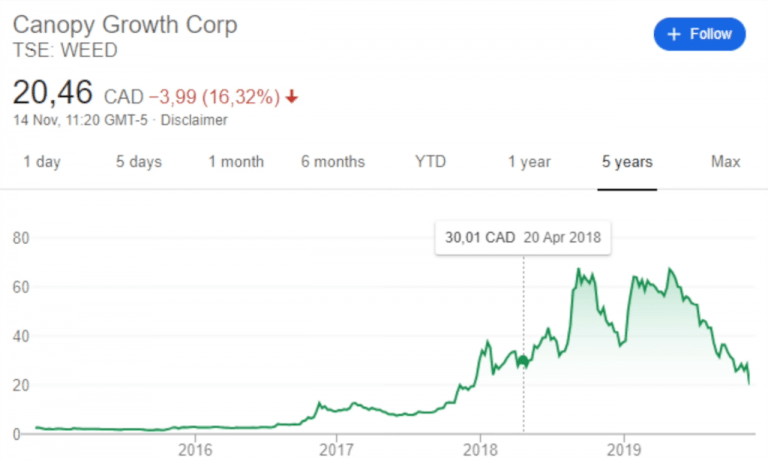 I said Canopy Growth Corp (NYSE:CGC) has a broken business model and was wrong for a year and a half. On bitcoin, nothing broken there, but just not my style.
Stock Market News – Weed Stocks Crash (Canopy Growth) – Bitcoin Safe Haven
Q3 2019 hedge fund letters, conferences and more
Deprival Super-Reaction Syndrome And Value Investing
Deprival Super-Reaction Syndrome And Investing. Part four of a short series on Charlie Munger's Human Misjudgment Revisited. Charlie Munger On Avoiding Anchoring Bias Charlie Munger On The Power Of Prices The Munger Series - Learning . . . SORRY! This content is exclusively for paying members. SIGN UP HERE If you are subscribed and having an Read More
Transcript
Good day fellow investors. Welcome to the stock market news with the long term fundamental twist. My name is Sven Carlin, I've been successfully investing for almost 20 years now. Yes, I'm that old. And I have been a finance and accounting professor at the University of Amsterdam. I have a PhD on investing risk. And now I'm an independent researcher, doing research and businesses and sharing my thoughts. on YouTube. Two years ago, one and a half year ago, I gave my thoughts, I shared my thoughts on Canopy Growth and the cannabis sector because it was really required for me to do that. And my conclusion wasn't positive.
So I'm going to give you an overview of what I did, what was the consequence of it and how it developed now that cannabis stocks are crashing, then we'll also discuss the Bitcoin as Ray Dalio discussed how there is a currency imminent collapse. Is Bitcoin the answer to it? I'll give you a bullish thesis on Bitcoin and then you will see how that fits your investing strategy risk and reward and why I'm not going to invest in Bitcoin.
How Bitcoin ties into weed
I might look like a fool for the next 5-10 years, but it's simply not my strategy. However, there is a very strong bullish case behind it.
So let's start. So I enlisted Canopy Growth and Aurora cannabis in April of 2018. I was even contacted by Investor Relations because of my conclusions, to have a chat with them. But then it's diluted, I didn't manage to catch them and they were going public on the New York Stock Exchange, and simply the chat didn't go through and I also didn't have any interest in discussing it with them. But I looked like a fool for exactly a year and a half. I discussed Canopy Growth at $30 per share.
It went to 60, 60 and something so everybody that came on my channel so, oh, look at this idiot. He said canopy grow is it Tomato business when it was at 30. And now it is at 60. And it's lasted for a year and a half and now the stock is at 20. What did I say in my video?
Well, to sum up, I said we have a commodities market with much lower prices, management that's trying to make money in any way for themselves not for shareholders, no moat, same like tomatoes or broccoli, huge dilution in all forms a perfect example of misaligned interests with shareholders. They were diluting the hell out of all other shareholders, unreasonable growth projections that might or might not happen. So I said that it's like tomato producing, and everybody attacked me. Everybody said okay, Sven you're crazy, then I looked like a fool for a year and a half.
But what is the conclusion? When you have an unsustainable business model, a business model that selling dreams and there is plenty of money then of course, the management made a lot of money by selling those dreams, diluting shareholders getting share options, selling stocks. And that's how the business works.
Canopy Growth outlook
Somebody gets rich, unfortunately, those that invest hoping that they own a great business or hoping that they will make quickly some more money based on greed, or based on fear of missing out on the biggest new era of the biggest new business model on the biggest new market that's coming. They unfortunately lose their money very, very fastly. It simply greed. And if a risk doesn't materialise, it doesn't mean it isn't there. If we look at the s&p 500 it's also very risky.
The greed index is extremely greedy. Everybody rushes into index funds and just a year ago, it was extreme fear, because people were scared that the s&p 500 will crash because It was down what 15 to 20%. However, going back to fear and greed, I think I find it very difficult to understand why people put their money or why people like to bet on those gambles because yes, it is exciting. But then again, former Uber's CEO sold more than 700 million in stocks on his great idea and investment.
So he made his 700 million, that's enough for a lifetime and he was protected. You investing in Uber or similar stocks, you might not have the same faith. Another stock that I got so many messages, so Sven, please analyse it, analyse it, analyse it, and I didn't analyse it, because I didn't want to bother with it because I knew what the story was was Beyond Meat. It went public explosion upwards, and then it's just simply slowly coming back to where it was.