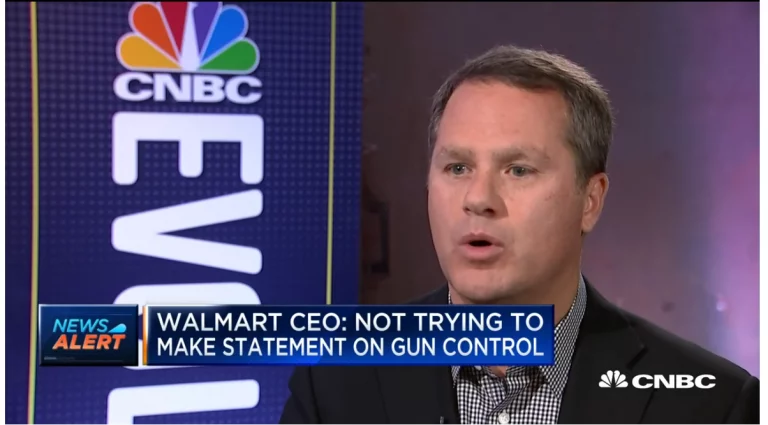 CNBC Transcript: CNBC's Becky Quick Interviews Walmart CEO Doug McMillon From The CNBC Evolve Conference In Los Angeles Today
WHEN: Today, Tuesday, November 19th
Following is the unofficial transcript of an on-stage CNBC interview with Walmart CEO Doug McMillon live from the CNBC Evolve conference in Los Angeles on Tuesday, November 19th.
Alkeon on why this is one of the best eras for stock picking ever [Q4 Letter]
Alkeon Growth Partners was up 11.42% net for the fourth quarter, bringing its full-year return to 54.4% for 2020. The MSCI AC World returned 14.35% for the fourth quarter and 14.34% for the full year. Q4 2020 hedge fund letters, conferences and more   The best environment for stock picking In their fourth-quarter letter to Read More
Q3 2019 hedge fund letters, conferences and more
Walmart CEO  Doug McMillon on gun control: We don't think the status quo is acceptable
Mandatory credit: The CNBC Evolve conference.
TYLER MATHISEN:  Please welcome to the stage, Doug McMillon, the president and CEO of Walmart, and my friend, the co-anchor of Squawk Box, Becky Quick. Doug, welcome.
DOUG MCMILLON:  Thank you for your business.
TYLER MATHISEN:  It's great for you to be here.  Hi, Becky.  Good to see you.  It's all yours.
BECKY QUICK:  I don't know if you noticed, but a lot of applause for that line was coming from Doug himself.  Well done.
DOUG MCMILLON:  Thank you.
BECKY QUICK:  Good morning, everybody.  It's great to see everybody here.  And, Doug, thank you for being here to kick off Evolve.  We really appreciate it.
DOUG MCMILLON:  Sure.
BECKY QUICK:  Let's talk a little bit about what we just heard Jim Cramer say.  He said that you have reinvented the company.  And that's absolutely true, which I think is kind of amazing if you put this in context.  You came in to take over as CEO in 2014.  It was already the world's largest retailer and employs more people than anybody but the U.S. government and China's Red Army.  So you looked at this huge success story and said, Okay, how do we shake things up.  Why?
DOUG MCMILLON:  Well, first of all, the story is not over yet.  And whatever's happened has been a team effort, obviously.  But, you know, when we started on this effort to change the company a few years ago, we really kind of stepped back and started from scratch.  And culturally, the company embraces that.  Our associates embrace that because it goes all the way back to our founder.
Sam Walton passed away in 1992; but if you were working with us today in stores in the home office, you would kind of feel like he's still around, not in a creepy way, but a good way.  But he had this way of changing things.  And so we kind of started together as a leadership team and said, What needs to be constant?  Because when you're going through a period of change it's helpful to know as a human being what's not changing, what are my anchors.  And we have a great purpose that we got from him, and we have a strong set of values that we believe are timeless.  And we then turned to the organization and said, Other than our purpose and values, everything else is open to change.
If the customer doesn't want stores, we won't have stores.  If the customer wants them, we'll figure out how to make them better so that we serve them in a way they want to be served.  And that created this opportunity to refresh and rethink everything.  The supercenters in the U.S. are really important to us, and any plan for Walmart has to start with them.  But we then laid out kind of a sequential plan to say we're going to do these things first and here's why, then we'll move to this area, and then we'll move to this area.  And that's what's happened over the last few years.
You've seen us work through international in Sam's Club and make changes.  And I didn't understand when we initiated it just how much of a digital transformation was needed, and that journey is still underway.  But there are multiple change efforts happening being led by lots of associates in the company, but we're kind of all in it together, which gives you a shot at getting through to the next generation of retail.  And as you and I talked about before, retailers come and go; history is very clear.  So your only choice is to adapt and change or perish, and we kind of would like to avoid that.
BECKY QUICK:  That's a good idea, as the CEO of a retailer. You just said something that kind of had me thinking.  You said if the customer doesn't want stores, we're not going to have them.  You've got 11,300 stores around the world.  You really think that, the future is a Walmart without stores?
DOUG MCMILLON:  That's where we started, and I can tell you that now, as I sit here today, I'm really confident they want stores because we're seeing the evidence of that.  But a few years ago, there were a lot of voices inside the company questioning everything.  And so we didn't go into it saying our purpose in life is to prove that stores are part of the future.  We didn't.
We started with, How do customers want to be served?  And it turns out that the stores end up playing a really important role in that process, especially with fresh and perishable food and things you buy in big baskets all the time.  And so that's played to our advantage, and now we can leverage that.  So we've got -- if I just focus on the U.S., we operate in 27 countries today, but the U.S. is our biggest and most important business, if I just focus on that.
We now have these relatively large physical stores close to people within 10 miles of 9 percent of America, 5 miles of 70 percent of America, that have a great assortment of fresh and perishable food consumables and general merchandise that you buy frequently that we can now build on and put other things into.  Like, we just opened our first Walmart Health clinic in Georgia, and that took additional square footage because we needed all the space we currently had for other things in the store.  And now those become these nodes in the distribution channel, in addition to being stores where people continue to shop.
BECKY QUICK:  You know, just talking about the evolution of Walmart, you guys have done things that seem like they are absolutely common sense right now that would not have seemed like that 10, 20, 30 years ago.  What happened just with the push to get into groceries?  Was that something that the stores pushed back at that point?
DOUG MCMILLON:  The whole world kind of pushed back, I think.  You know, Sam was still alive when we initially started.  And he, David Glass, and some other people in the company -- David was their CEO that followed Sam Walton and is one of the heros in business that is not very appreciated given what he did.  But at that point in time in the late '80s, early '90s, they started with these European agro-markets; and those were too big, and we failed miserably with them.  But they then pivoted to these Supercenters and opened the first one in Washington, Missouri in 1988 with food.  Fast-forward a few years, like maybe '92, I think it was Forbes wrote a story about, Has Walmart Lost its Magic?
And I keep it in my office.  I got a hard copy of this magazine from the early '90s, where it basically says Walmart is dead.  These decisions to get into the grocery business and do self-distribution in grocery, to put the capital in to build grocery distribution behind these stores is crazy.  And at the same time, they were expanding internationally.  They went to Mexico.  And Sam's Club had just been born in 1983, so the story was taking on too much, lost their way.  Sam's gone.  They're never going to make it. And if you look at all the metrics, it actually picked up under David's leadership for a long time.
BECKY QUICK:  Well, people thought you were crazy for getting into groceries because it's such a low margin business --
DOUG MCMILLON:  Right.
BECKY QUICK:  -- 3 percent versus the big margins you can get for general merchandise in other areas.  Why did it pay off?  Why does it work?
DOUG MCMILLON:  Customers.  You know, they want to save time and they want to save money.  And the broad assortment, when you put food next to GM, general merchandise, you ended up picking up an even bigger basket.  And they designed the supercenter with pharmacy and food service and all these components, it just made it a great place to shop.  You can get good value, you can get quality merchandise, it was in stock, people were friendly, and you had that breadth of assortment.  And so now we've got that foundation to build on.  And very few of our competitors have any kind of grocery capability like we do.  You know, we are one of the few that operate all these multi-formats.  We've got Sam's Club, we've got the international business, so we have a diversified portfolio that is stronger because it's diversified.
BECKY QUICK:  Was it gratifying to you to see Amazon get into the grocery business when they bought Whole Foods?
DOUG MCMILLON:  Oh, I don't know if that's the right word. It's an interesting situation.  We could see -- when you look at where this is headed, if you study Alibaba in China or the Flipkart business that we bought in India, or what's happening here in the U.S. with Amazon, with Walmart and some others, there's a bit of a mutually re-enforcing ecosystem that's being built.  And part of that includes fresh and perishable food, and the good news for us is it's really hard.  Doing food, especially fresh, in an environment where you don't have store traffic is really hard because if you don't sell that fresh product, it's got to be thrown away, which is obviously wasteful and also expensive. And so now we've got this situation where these supercenters can be leveraged with a flow.
Again, self-distribution, build the warehouses, have the low cost, have the reliability of supply, have experienced buyers that work back of us -- I was traveling with one of buyers last week who was just in Central America, working on bananas.  So we know all the way back through the supply chain what's happening.
Managing that.  Getting it to a store.  And now the store becomes a pickup point, in addition to being a place you can shop.  Grocery pickup has really expanded.  Now that you can pick in the store efficiently, which we're learning how to do better and better all the time.  You can then do delivery, so we now have grocery delivery around the U.S. in 1,400 locations.  I don't think we've earned your business yet where you live but --
BECKY QUICK:  I've been waiting.
DOUG MCMILLON:  We will figure this out.  Got to figure this out.  I can't have you on TV talking about shopping anywhere else. Anyway, you go to grocery delivery; and eventually we go all the way to just keeping you in stock in your home.  Last week, I was in Kansas City on Monday.  It was really cold and snowing, but I went with one of our associates to deliver groceries, an order, all the way into a home.  So we've got a device that, a camera, that live streams the event --
BECKY QUICK:  This is so creepy.
DOUG MCMILLON:  No, it's great.  You're going to do it.
BECKY QUICK:  Explain to everybody what this is.
DOUG MCMILLON:  All right.  So a Walmart associate -- you place an order on your app, and you choose Walmart InHome, and you pay a membership fee.  And we just start putting your goods away in the refrigerator for you.  And eventually we're going to --
BECKY QUICK:  Am I home at this point?
DOUG MCMILLON:  Uh-huh.  Or in your garage.  Some people are buying refrigerators to put in their garage, and a lot of homes in the U.S. already have refrigerators.
BECKY QUICK:  I do, yeah.
DOUG MCMILLON:  Our number one issue so far, by the way, is dogs.  Like, the customer will tell us, I have no dogs.  And you get there, and there's a dog.  And I was talking to about 12 associates last week, and one of them said:  Yeah, this dude always runs into the dog.  He's like:  Yeah, I'm a dog guy, and some of them are scary.  But, anyway, we delivered this order into their refrigerator, and then left the ambient product that didn't need refrigeration on the counter.  And we have not had one single customer try it that doesn't keep it.  And we're in Pittsburgh; Kansas City; Vero Beach, Florida now.  And I really think there will be a moment in time where you think of Walmart just as a service.  Like the average household may have about 100 items between cleaning suppliers, paper goods, fresh and perishable foods that you just buy all the time, and we'll just manage that for you.  And any exploration you want to do, discovery you want to do on other items, you'll do, but we'll just take care of those others for you.
BECKY QUICK:  I can understand that if you have the same person who is coming to my house every time and I get to know them.  I don't understand it if you use, let's say the Amazon model where there's somebody different showing up at my house every time I order a package.
DOUG MCMILLON:  Yeah.  You know, that's a great point.  And our customers are asking, Can I narrow this down to one or two people.  At scale, we may be able to get it down to where it's one, two, three people.  But we show you on the app, like there will be a profile, Becky.  Here is who she is, maybe a thumbnail.  Like one of them I saw was like:  Becky likes tacos, she has a dog, and she's a parent.  She's a mom of three --
BECKY QUICK:  Oh, man.  Now you really know way too much.
DOUG MCMILLON:  -- and she's been an associate for more than two years, she's been vetted, and you will either get Becky or you'll get Doug.
BECKY QUICK:  But it's going to be an employee that you know; and therefore, I will get to know them.
DOUG MCMILLON:  Walmart associate, minimum two years experience with the company, background check done, et cetera.
BECKY QUICK:  Okay.  That makes a difference.  Digitally, you have upended the world.  People are watching every move you make.  It started, I think, in earnest when you acquired Jet.com back in 2016 and took Marc Lore and put him in charge of your E-commerce operations.  What did you learn along the way?  I think oftentimes people learn the most from mistakes.  What did you learn along the way, as you've been putting this very rapidly into place?
DOUG MCMILLON:  Yeah, there have been plenty of mistakes made, and it's choppy underneath the surface.  We were just starting to go back to the time period where we were thinking about buying Jet. And whad just started online grocery.  We had a grocery delivery business in the U.K. that we were learning from.  We had taken a system and things and put it in California, and it was very nascent.
And our GM business really wasn't growing as much as we needed it to grow.  We were building out a software platform, we were putting fulfillment centers in place; we were playing catch-up, trying to get there.  And when we met Marc and the team and saw how they think about the future of E-commerce -- the first time Marc and I met, we were on the white board thinking about how the pieces could connect and how the thing would work.
We saw a chance to take a risk and try to jump-start it.  And it hasn't worked out exactly like we thought it was going to work out, but it does cause us to accelerate.  And some of the expertise and knowledge and things that the team brought with us have now been applied to the overall Walmart approach, and the Walmart brand is so much stronger.  An investment to grow Jet is expensive relative to an investment to grow Walmart because Walmart's brand is so well-known.
BECKY QUICK:  Right.
DOUG MCMILLON:  So we took a lot of our resources, and we just put them against Walmart.com.  We've had the most success with food.  We just released earnings recently.  I called out there.  We still have a long way to go with general merchandise.  Our assortment needed to get bigger, our service needed to get better.  We're all working on that.  But over the last few years, Greg Foran, who is leading Walmart U.S. and is now going to run Air New Zealand, did a fantastic job of getting the stores in a really good place foundationally.
We invested, you'll remember, in wages and training and education. Then we built this grocery pickup and delivery business under Greg's leadership.  And now, put that with a larger general merchandising E-commerce business we're trying to build, including a marketplace and other services related to that, you start to fill out that chess board that I was describing earlier that is that ecosystem.  We could kind of see ahead because we could see what was happening in China, we could see what was happening in the U.K.  So if you look at our strategy, it's part history of Walmart U.S. and what we knew about it, part U.K., part Chinese.
BECKY QUICK:  Part of the history of what you learned in the U.S. stores was that if you put groceries in, you will bring customers in, and they will buy lots of other stuff.  What happens when you're, say, okay, we'll deliver groceries directly to you or you can pull up in the store parking lot and we'll have fulfilled it in the store and hand it to you, they're not coming in.  How do you capture the other --
DOUG MCMILLON:  Impulse is still possible.  And the basket size for grocery pickup and delivery is much bigger than the basket size in the store.  And our store traffic is still up.  So at the same time that we're building pickup and delivery and this overall E-commerce business, store traffic is continuing to grow.  And I imagine this day, when we're in your house and we're going to deliver your order for you, and on the table we're going to leave -- based on the data we have about you, we're going to leave some items that you may like, and if you like them, keep them; if you don't, put them in a certain place, we'll take them back the next time.
BECKY QUICK:  You're kidding.
DOUG MCMILLON:  We'll handle those returns.  I think we'll get there.
BECKY QUICK:  That's a pretty good idea.
DOUG MCMILLON:  Are you sold yet?
BECKY QUICK:  Almost.  As long as I can really get to know these people first.  Because I do let cleaning people into my house; but it's only because I've gotten to know them over time, and then I feel comfortable with it.  Let's back up a little bit and just talk about your own history with Walmart.  You are only the fourth CEO to lead the company since the founder, Sam Walton, and you started working there when you were a teenager in the summers.  At that point, did you ever imagine that one day you would eventually be in Sam Walton's wood-paneled office running things?
DOUG MCMILLON:  No.  My dad was a dentist.  He moved us to Bentonville when I was 16 and said get a job because you're going to need it for college, and Walmart Warehouse Number 2 paid $6.50 an hour, and McDonald's and others paid less than 4.  So I applied for a job at Walmart Warehouse and got exposure to the culture.  I was unloading trailers in the summertime in Arkansas with people that were fired up about working for this company.  I got to hear about Sam Walton, and living in that small town, got to be around him a few times.  And then when I joined the company, I got to watch him lead Saturday morning meetings for a little while, and just fell in love with the whole thing; the purpose, the culture, I liked the people we were working with.  It was super hard.
Trying to figure out what you guys are going to buy next is a huge challenge; and when you have to buy it in large quantities, it's even riskier, and that's not so fun.  So most of my career was buying and selling merchandise.  I ran ladies wear, believe it or not, for a while.  Bought ladies -- they told me to buy ladies woven tops, and I went home to ask my wife what a woven was because I didn't know because I had been buying food.  Then I got to do all kinds of stuff, toys and electronics, and it's just been a blast.
BECKY QUICK:  So you're there -- and I didn't realize 6.50 an hour was why you started there, but that takes us to 2015 when you came out with this huge announcement that you were going to overhaul what Walmart was paying its employees.  It was going to boost wages, it was going to boost benefits, it was going to reinvest in the stores.  And it sounded like a great plan until you got to Wall Street and told them how much it would cost.  Wall Street reacted badly, did not like what it was hearing.
DOUG MCMILLON:  I think we lost 21 billion in market cap in the day.
BECKY QUICK:  Did that make you nervous?
DOUG MCMILLON:  Yeah.  Are you kidding? Yes, rational person.
BECKY QUICK:  So I think I can understand how you got to that decision, based on your own experience going through the stores.  How did you decide to stick with it after losing $21 billion in market cap in a day?
DOUG MCMILLON:  We knew it would work.  We were really confident it would work.  We knew it would just be a matter of time.  So back to the strategy.  If you don't have a health U.S. supercenter business in Walmart, you don't have much.  I've been in international for five years and Sam's Club for six years before that.  So when I moved into this job, I started traveling to U.S. stores unannounced and asking people what was going on, and they'll tell you.  So you take enough notes on a yellow pad from enough store visits and all of a sudden a plan emerges.
We, the management team went back to the board and said:  We think that we need to get wages up, and we think we need to do it soon and aggressively. And the board really pushed us to be even more aggressive and to do it very quickly, and go harder and go bigger and so we did.  And so I knew that we had support to go on do it, and I knew that if you could put enough of these pieces together, we needed to protect store hours.  Retail, people talk a lot about starting wage rate.  Starting wage rate is just one variable in a system.
Do I get the hours that I'm supposed to get?  Do I have a promotional opportunity?  and do I get good health care?  Do I get a bonus?  Do I get a 401(k) match?  And do I get parental leave that I want? So we just layed out a plan and said, okay, we're going to start with starting wages, but we've also got to address some of these other things, including putting more people into the store, to staff departments.  We had taken away more people than we should have taken away.
So we had this kind of sequential plan that was expensive, but we knew if we did that that the stores would look good, and then we were going to start lowering prices.  We kept telling each other:  Clean your house up before you invite people over.  So step one was kind of clean up the house.  Step 2 was lower prices and tell customers to come look.  And they're rational.  A good store that's clean with friendly people and low prices works.  Once that wheel starts moving, then you can go do other things, including address commerce more aggressively, and then Sam's International, as I described earlier.
BECKY QUICK:  You just reported earnings last week, as you mentioned.  I think it's 21 quarters in a row now that you've seen same store sales grow.  Obviously the plan worked.  What is the next step?  How do you continue that trajectory?
DOUG MCMILLON:  Yeah, we have to keep it going.  This story is far from completely written.  We're learning every day.  One of the things I really like about the team that I work with now and these Walmart associates, that they are figuring out how to solve problems big and small all the time.  The opportunity to use AI, the opportunity to use automation, all kinds of tech to make these jobs better and easier and improve the store experience is right in front of us.  We're learning how to put some tools, some robotics in place in a store with associate interaction that do some of the things that they don't enjoy doing.
We have a shelf scanner that goes up and down the aisles to make sure the item's in the right place and they're priced well.  And we have what we call a fast unloader in the back that's got computer vision.  It can sort merchandise to say that goes straight to the floor, this needs to be held back for Christmas, those kinds of things. So learning how to put digital applications, applications on devices and hardware in place to help make the whole supply chain work in an optimized way, reduced carbon, sell products that are more sustainable in nature, have a bigger impact on packaging because of the way we're now delivering goods to the customer.
There are so many things we can tweak in the system to make it work, and the leadership of the company needs like a bunch of system designers.  If we change this, what happens over here?  And if we change that, what happens over here? And if you've been in retail as long as most of us have, you can kind of see the system, and it's fun to try different things to see what works.
BECKY QUICK:  You're trying a lot of things.  Let's open this up for some questions from the audience.  I have another question or two myself, but if anybody has a question in the audience, go ahead and raise your hand.  You get a chance to ask Doug something, too.  Right here.  Just let us know who you are, too.
AUDIENCE MEMBER:  Hi, Kyle Cherrick with Solar.com.  We are a marketplace that helps homeowners easily get bids for solar energy storage.  Doug, first, I want to say thank you for being such a leader on sustainability.  Walmart has been out front adding solar to tons of stores, and that whole industry continues to evolve, and, you know, energy evolves.  But I'm just curious, how do you view the next set of big opportunities to lead retailers in sustainability leadership?
DOUG MCMILLON:  Yeah, good question.  Back to this kind of system design.  If you believe that companies can create shared value, which relates to the BRT statement on what a corporation is --
BECKY QUICK:  Doug is going to be the leader of the BRT study in January, by the way.
DOUG MCMILLON:  -- you can get the chance to say:  I can change this in the system of supply and have a bigger impact on the world without charging our customers more.  Let's lean into that technology and make it happen.  Holistically we still see areas -- biodiversity would be one of them -- where we have not stepped out and provided some leadership.  We start with what is closer to core.  So when we went through this mindset change around the time of Katrina, when Lee Scott was our CEO, it led us to being supplied by renewable energy, selling more sustainability products and more sustainable packaging, and eliminating waste.  So we've been on a march since then to tackle all of those things.  And then, over time, it just kind of bolted on Project Gigaton to eliminate carbon out of the system.
We've had thousands of suppliers join us to make commitments to get carbon out.  We celebrate them and recognize them and try to incent that kind of behavior.  So I think what will happen is we've got to go deeper on some of those things to make a bigger difference, because we need to.  Business holistically needs to, and then broaden a little bit where we don't get too far away from the core to expand the mandate to make a bigger difference.  We are working through some of those things now.
BECKY QUICK:  Other questions from the audience?  Right here.
AUDIENCE MEMBER:  Thanks, Doug.  I'm Anand. I've worked 23 years in retail.  I've partnered with Walmart for more than seven years, both in Bentonville, here in Sunnyvale -- systems, maintained their systems in U.K., Chile and so on and so forth. Very proud of what Walmart has accomplished.  One of the things I've been brainstorming to myself is, is there a brand difference between what the stores stand for, the demographics, who do you target, to what the E-commerce and digital systems stand for?
DOUG MCMILLON:  Great question.
AUDIENCE MEMBER:  And how do you tally them?
DOUG MCMILLON:  There's a little bit of a difference there, and that's a really good question.  We see a continuum of customers, and I don't know what your perceptions are of Walmart customers in the U.S., but whatever they are, the reality is it's America. And we have all kinds of income levels, all kinds of people.  We have 160 million transactions a week in Walmart U.S., so we've got everybody.  Some people are buying Tide and Coca-Cola, some people are buying everything, sweaters, bikes, all of that.  There is a little bit of nuance between the customer targets, and the stores are really focused on a family we call the Bakers.
They are budget sensitive, primarily, but need to save time, too.  They are time stressed, but the financial aspects of their family causes them to prioritize them a little bit.  And on the E-commerce side, the family is called the Garcias.  The Garcias are really focused a little bit more on time; they still care about money.  We all care about money, time, convenience.  It's a continuum; it's not that binary.  But when we think about E-commerce, we think about saving them time.
The magic we're really trying to create is how we bring those all together in a seamless way so that you get one Walmart brand experience, and it's as easy to bring back a return that you bought on the marketplace to a store as any other way, and it's just super easy and all connected up digitally.  That's hard to do, for lots of reasons we could talk about, but that's the goal.
BECKY QUICK:  I have time for one more quick question.  Right over here.
AUDIENCE MEMBER:  Hey, Doug.  My name is Omkar.  I'm Chief Innovation Officer at Children's Hospital Los Angeles.  I'm eager to hear about what you're thinking about health care.  I know Walmart is delving a little bit into health care, and I would like to learn more about your vision.
DOUG MCMILLON:  Thank you.  You know, we've got one of the larger pharmacies in the country, developed optical business, a little bit of hearing.  But we see an opportunity to create care within the stores.  And so we've just opened a clinic in Dallas, Georgia.  It's our very first one.  I was there a few weeks ago.  It's about 8,000 square feet on the front of a Supercenter, it says "Walmart Health" on it.  So if you were parking in the parking lot, you can see a grocery entrance, you can see the home and general merchandise entrance, or you can see Walmart Health entrance.  When you walk in, you can see health care professionals.  We have a doctor there, his name is Dr. Meta.  We have other care providers who will help you with X-rays, blood work, mental health.
We've got a dentistry service there with multiple dental chairs, and they were all full when I was there.  We are seeing a really strong reaction to it.  We are opening our second unit, also in Georgia, shortly.  They're early days, but we're excited about what is happening so far, and we can imagine a day in the future where a lot of Walmart stores have a care capability at a price where you can get access.  We are finding not only cash payors, but also people with high deductibles or co-pays that are looking at our price points and saying it's just better for me to come pay you in cash and get a full-service experience.
And the doctor and other health care professionals that work there are liking it for a few reasons.  They like the way the incentives are designed.  They didn't like some of the incentives they were working with in their previous roles, and they love teaming up.  So I've heard several examples where the dentist may be seeing someone and they raise an issue, and they can run them over and let them see one of the other professionals and kind of knock out some problems all on one trip at an affordable price.  So, it's looks promising.  Lots to learn, but I'm excited about the future of it.
BECKY QUICK:  Doug, about a year ago, just under a year ago, you showed me something that you keep with you at all times.  It's a list of retailers, the top retailers over the decades, that goes back how far, about 100 years?
DOUG MCMILLON:  Close to it, yeah, about 100 years.
BECKY QUICK:  You still keep that?
DOUG MCMILLON:  Uh-huh.
BECKY QUICK:  Why don't you tell people what that is and why you keep it.
DOUG MCMILLON:  Sure.  You know, I knew when I started thinking about retail as a career, what retail history looked like a little bit.  But we had historians in the company; David Glass, Tim Soderquist, and some of the people I followed, talked could about the lessons in retail all the time.  As I mentioned a minute ago, retailers come and go.  You could name -- we could have a fun game this afternoon, if you were into that, just naming the retailers that no longer exist, or the ones that you think might not exist that you can think of right now that in five years time you I won't find anywhere, either online or in stores.  And it's really simple, if you're not meeting the wants and needs of the customers, you're done.  There's not a lot of loyalty here.
This is a transactional relationship, to some extent.  We hope to make it more than that, but it's transactional to a large extent. So I keep that just to remind us all not to -- Walmart is not arrogant.  Like we could go away at any minute.  And I think most of us feel that way and act that way every day, and that's a reminder to say:  If you don't change, if you're not open, if you're not willing to learn, if you're not willing to fail -- and we're failing at some things -- you're going to go away.  That's probably true in all businesses, but in retail it's pretty pronounced.
BECKY QUICK:  Change or die.  That is kind of the motto for this Evolve conference.  Doug, we really want to thank you for kicking this off for us.
DOUG MCMILLON:  Thanks for having me.  Thank you all.