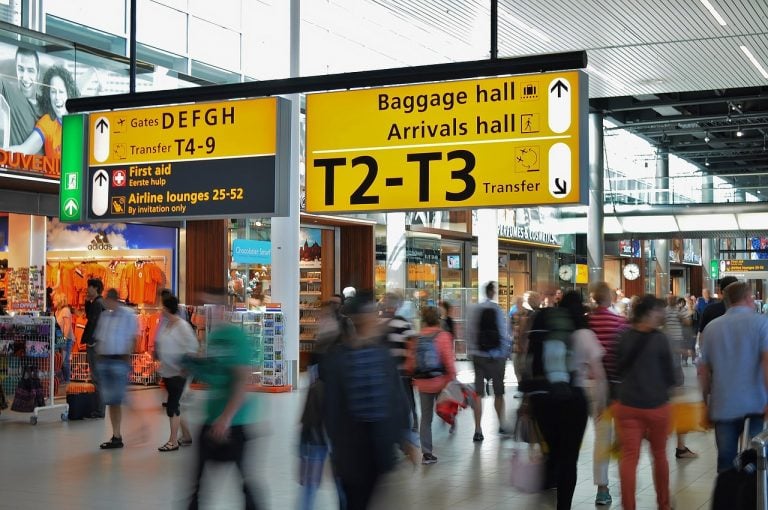 If you dread the idea of having to stand in a long queue for security checks at airports every time you fly, you might have considered one of those programs that help you avoid long lines at airport security. Two of the most popular such programs are the TSA PreCheck and Global Entry. Before you sign up for one of them, you'd want to compare their costs, benefits, and other aspects.

TSA PreCheck vs Global Entry: What exactly do they do?
Both are expedited airport security screening programs. The TSA PreCheck is run by the Transportation Security Administration (TSA), while Global Entry is a program from the US Customs and Border Protection (CBP).
The TSA PreCheck allows its approved members to go through expedited screening for domestic and some international flights, instead of having to go through the long line of the regular TSA checkpoint. The PreCheck members won't have to remove their laptops, light jackets, belts, shoes, and liquids. Also, the PreCheck lines are much smaller, saving you a lot of time. According to TSA, almost 100% of its members wait less than ten minutes for screening.
[Exclusive] ExodusPoint Is In The Green YTD Led By Rates And EM/ Macro Strategies
The ExodusPoint Partners International Fund returned 0.36% for May, bringing its year-to-date return to 3.31% in a year that's been particularly challenging for most hedge funds, pushing many into the red. Macroeconomic factors continued to weigh on the market, resulting in significant intra-month volatility for May, although risk assets generally ended the month flat. Macro Read More
Global Entry allows pre-approved travelers to receive expedited clearance upon arrival from another country into the United States. Global Entry includes free TSA PreCheck at participating airports and speeds up the clearance for international travelers.
Global Entry members can bypass the customs and immigration lines by checking in at one of the kiosks and scanning their fingerprints and passport. Take the receipt from the kiosk and go to baggage claims and the exit.
Eligibility criteria
To be able to apply for TSA PreCheck, you need to be a US citizen or lawful permanent resident. There is no age limit to apply for PreCheck. The PreCheck members who have kids under the age of 12 can take their kids through the expedited PreCheck line free of charge. Global Entry is restricted only to members. If you have kids under 12 or other family members, they will need their own Global Entry membership.
For Global Entry, you need to be a US citizen or permanent resident, or a citizen of one of the following countries: Argentina, Colombia, Germany, India, Panama, Singapore, South Korea, Switzerland, Taiwan, or the UK. Canadian citizens can also sign up for Global Entry through the NEXUS program.
Since Global Entry is aimed at both domestic and international travelers, your application will likely be declined if you have a criminal record, pending criminal charges, provided false or incomplete information on your application. Your application will also be denied if you have violated customs and immigration laws or you're currently being investigated by the local or federal agency.
Where can you use them?
TSA PreCheck works at more than 200 participating airports across the United States. More than 70 airlines work in cooperation with PreCheck. They include Delta Air Lines, Alaska Airlines, American Airlines, JetBlue Airways, Hawaiian Airlines, United Airlines and Southwest Airlines. Several international airlines such as Etihad, AeroMexico, Air Canada, Japan Airlines, and Air Portugal also participate in the PreCheck program.
Global Entry kiosks are located at more than 75 airports in the US and other countries for expedited customs clearance. Also, remember that it includes free TSA PreCheck at more than 200 domestic airports to let you avoid long lines when you are traveling domestically.
How much do they cost?
TSA PreCheck is relatively cheaper at just $85 for five years. Global Entry costs $100 for five years. The Global Entry membership is worth the extra money considering it gives all the benefits of PreCheck as well as speedier clearance for international travelers. If you plan to travel internationally in the next five years, the extra $15 will be well worth it.
Application process
You can fill out and submit the TSA PreCheck application here. You'll also have to schedule an in-person appointment at one of the nearly 400 enrollment centers across the country. The in-person interview takes only about 10 minutes. You'll be asked a few questions for the background check and provide your fingerprint.
Once your PreCheck application is approved, you'll get a KTN (Known Traveler Number). The next time you book a flight, don't forget to provide your KTN to be able to use the PreCheck expedited line.
To apply for Global Entry, visit the Trusted Traveler Programs website and create an account. Then you have to fill out an application form and pay the fee. The Customs and Border Protection will review your application.
If your Global Entry application is conditionally approved, you'll have to set up an in-person interview at the Global Entry Enrollment Center. You have to have a valid passport and another form of identification such as a driver's license or ID card during the interview. Once approved, you'll get a Known Traveler Number (KTN) that you can enter when booking flights to be able to use the TSA PreCheck line.
If you are entering the US from another country at one of the participating airports, go to one of the Global Entry kiosks at customs. The kiosk will ask you some questions and scan your fingerprint and passport. Then take the receipt from the kiosk and go to baggage claims and the exit.
Conclusion
So, which one is better for you? That depends on how much you travel and whether you travel internationally. If you make even one international trip every few years, Global Entry is the way to go. It packs all the advantages of TSA PreCheck along with expedited clearance when coming into the US. TSA PreCheck is suitable for people who don't have a passport.
Updated on