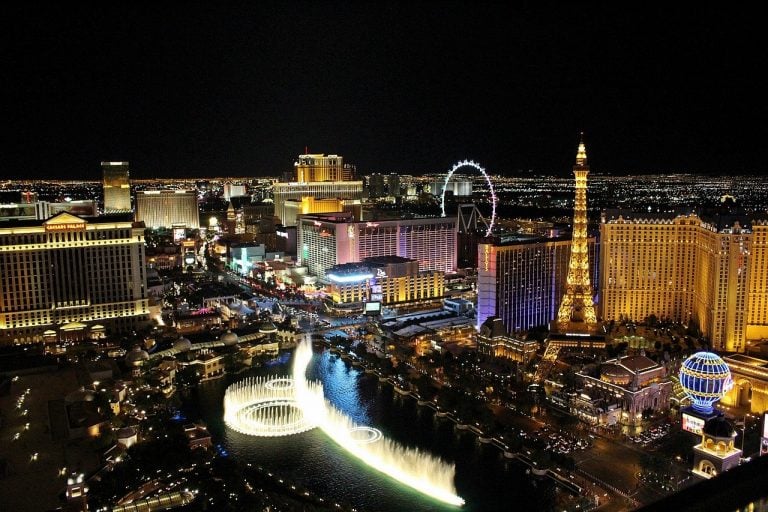 They say "What happens in Vegas, stays in Vegas." Still, it's the journey that counts. Whether this journey includes luxurious and romantic weddings, a wild weekend retreat or a family trip, we made sure to include the best things to do in Las Vegas during your trip, and it's much more than just casinos and buffets in the Sin City.
#1 
–
Park Theater
Park Theater is one of the hottest places to visit in Las Vegas, with great performers doing shows daily. Park Theater keeps up with the most popular entertainment trends and always offers something new. Park Theater hosts a performing stage for many musicians and other artists which have included Janet Jackson, Bruno Mars, Lady Gaga, Cher and more. The shows have soul and will entertain you for hours. 
#2 – 
The Venetian Casino and Grand Canal
Why book an expensive and tiring trip over the Atlantic when the Grand Canal and Venetian architecture are so close? The Venetian Casino and Grand Canal represent one of the best things to do in Las Vegas, thanks to the exciting atmosphere and a lot of sights to fulfill your experience. There is a huge program that replicates the Venetian ambient including street artists, singers, living statues, and gondola-riding which is available anytime between 10 a.m. and 11 p.m. 
How Warren Buffett Went From Hating To Loving Banks
Since the financial crisis, Warren Buffett's Berkshire Hathaway has had significant exposure to financial stocks in its portfolio. Q1 2021 hedge fund letters, conferences and more At the end of March this year, Bank of America accounted for nearly 15% of the conglomerate's vast equity portfolio. Until very recently, Wells Fargo was also a prominent Read More
#3 – The Rio Wine Cellar
If you love good wine, the Rio Wine Cellar must be in the list of things to do in Las Vegas. This place hosts 3,000 bottles as well as a bottle of 1800 Madeira from Thomas Jefferson himself. Even if you're just a wine novice, there is a lot to check out in the Tasting Room. This place is located under the Brazil-themed casino so if the good wine makes you feel bolder, you can always climb up and try your luck while enjoying Rio's exotic element. 
#4 – Las Vegas Murals
If you're a fan of art and outdoors, one of the things to do in Las Vegas includes visiting the downtown Las Vegas Murals. It is an outdoor gallery which is covered with murals by different artists who visited the city. This place also became the center of focus of the Life Is Beautiful Festival which started taking place in Downtown Las Vegas in 2013, which brings street artists and muralists from around the globe together. 
#5 
–
Sahra Spa
If you're looking for a nice place to relax, the Sahra Spa and Hammam is worth visiting. This place offers a large and comfy space as well as a large selection of treatments that will make your day more relaxing. If you've partied hard the previous nights or have already gotten tired of visiting various other lively places across Vegas, the treatments such as fire and ice facials, hot stone massages and detox algae baths will return the freshness to your face. 
#6 – Peppermill
Peppermill is where the literal heart of Vegas is happening and a must-visit among the things to do in Las Vegas. This romantic, neon-lit lounge offers various fruity cocktails, flaming reflection pools and atmosphere to enjoy. The place is so popular you can't really say you've been to Vegas until you have visited it. Enjoy your favorite food served on hearty plates, a blast from the past in a flash of disco dance floors, as well as elegant servers who will meet all your needs. Whether you're looking for a romantic breakfast, lunch, dinner or midnight-snack, Peppermill is worth checking out. 
#7 – Red Rock Canyon 
This national conservation area is a great place to escape the colorful city lights and extroverted area of Vegas. This desert park boasts various canyon trails and beautiful cliffs with a romantic and mesmerizing view. If you're into hiking, this place is definitely worth checking out, especially because all the trails offer beautiful views. Even in winter months, this place is crowded with both hikers and climbers who enjoy everything this area has to offer. Even if you aren't into hiking, there's a 13-mile loop which offers just as beautiful a view through the park and scenery worth taking photos of. 
#8 – The Mob Museum
The Mob Museum offers a glimpse into the history, as well as how the "underground" used to work. If you find yourself spending hours watching documentaries and shows from Investigation Discovery, you'll get lost in the criminal underworld as well as how it was prevented and brought to justice throughout history. If you're not interested in Vegas itself, don't worry. This beautiful place chronicles how the criminal underworld around the globe functioned and the efforts law enforcement made to stop it. Some of the exhibitions also include the electric chair, and a look at the St. Valentine's Day Massacre wall. If you can squeeze in additional fees, you can also get to knows details of the Crime Lab, Firearm Training Simulator and a more detailed tour of the museum. 
#9 – The Stratosphere
If you consider taking cool selfies one of the things to do in Las Vegas, you should visit the Stratosphere and accompany them with shots of the city from the heights. Also, if the view of the entire city from the 1148 foot spire doesn't cut it, you can also participate in the SkyJump and drift down from 829 feet up. Even if that's not your thing, you can still visit it and enjoy the view. 
#10 – Neon Museum
Vegas is known for its attractive neon lights. Another museum, although, shows the history of the city in unprecedented detail using old neon signs. The museum offers a glimpse into how the city looked throughout history, neon signs that used to compliment the city during the 20th century, as well as listen to the stories of millionaires and billionaires tell the tales that made Vegas what it is today. If you're out of things to do in Las Vegas, the Neon Museum will make your stay enjoyable.