Tesla CEO Elon Musk said several years ago that he wanted to make an electric pickup truck, and now he has done it. The Cybertruck doesn't look much like a pickup, however. In fact, it looks more like a vehicle designed for use in space, and one of Musk tweets explains why. The Tesla electric pickup is scheduled to start rolling out toward the end of 2021, so it will be a while before you can get your hands on one.
Three models of Tesla's electric pickup truck
The Cybertruck will be available in three different models. The base model is a single-motor, rear-wheel drive truck with a 250-mile range and 7,500-pound towing capacity. It can supposedly go from 0 to 60 miles per hour in less than 6.5 seconds—just in case you're in a hurry. The base model starts at $39,900.
The dual-motor model will be all-wheel drive and feature a 300-mile range, 10,000-pound towing capacity and $49,900 starting price tag. It will be able to go from 0 to 60 in less than 4.5 seconds.
Should You Go All In On Water Like Michael Burry?
Water investments? Michael Burry was one of the first institutional investors to bet against the US subprime mortgage market in the mid-2000s, and today he's concentrating all of his investment efforts on one commodity: water. Burry's focus on water has attracted plenty of attention to the commodity in the investment community but trying to profit Read More
The triple-motor model will have a 500-mile range, 14,000-pound towing capacity and starting price tag of $69,900. It will be able to go from 0 to 60 miles per hour in less than 2.9 seconds.
Musk tweeted on Thursday that the Cybertruck will be the "official truck of Mars," which could be one reason it has such an unusual-looking design.
Tesla Cybertruck (pressurized edition) will be official truck of Mars

— Elon Musk (@elonmusk) November 21, 2019
He also tweeted that the design was partially inspired by the James Bond flick The Spy Who Loved Me.
Cybertruck design influenced partly by The Spy Who Loved Me https://t.co/HKBzxFNfzm

— Elon Musk (@elonmusk) November 21, 2019
Cybertruck built with durability in mind
Musk was so confident in the sturdiness of Tesla's electric pickup that he even hit it with a sledgehammer to show how heavy duty it is. The windows will supposedly be able to withstand a heavy hit too, although the windows on the prototype revealed Thursday shattered on impact with a heavy metal ball. Tesla management carried on despite the unexpected issue. It seems more work needs to be done on the window glass.
The entire body is basically one piece of stainless steel, and the interior is very minimalistic with the touchscreen we've come to expect from Tesla vehicles. In place of the rearview mirror is a display which shows the image from the rear-facing camera. The truck seats six people with three in the front and three in the back.
If you're having trouble seeing how the Cybertruck is a pickup truck, this image offers some insight: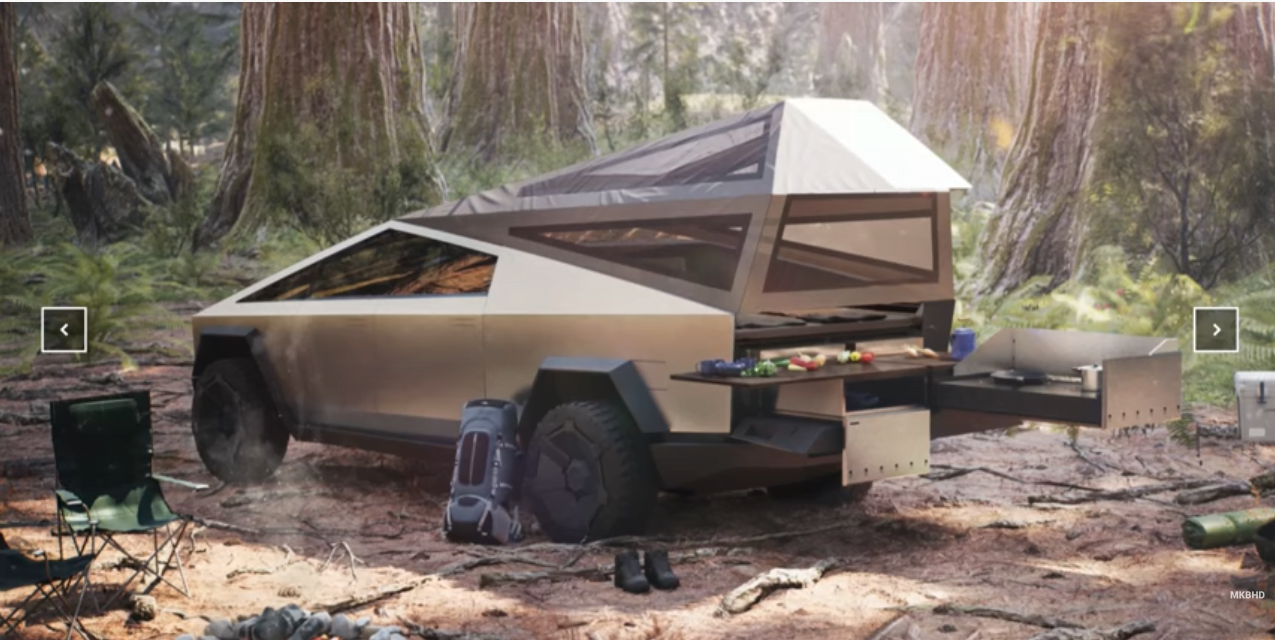 YouTuber Marques Brownlee shared a video with his first impressions of Tesla's electric pickup and even images from his first ride in the Cybertruck: