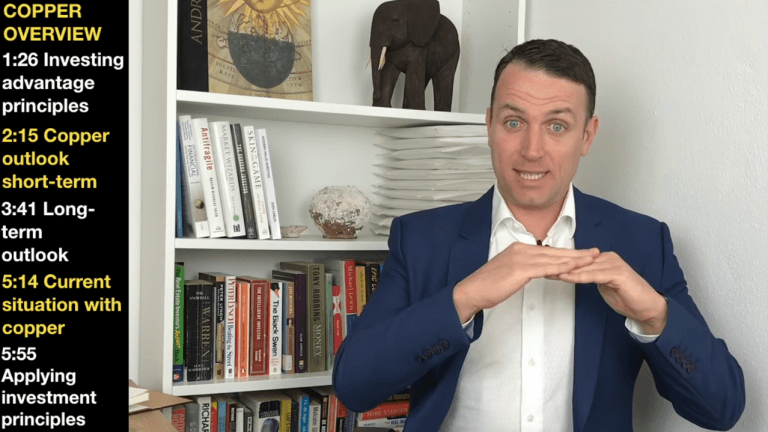 Stock market investing is not easy. How can we have an advantage over others? Well, here is share my principles that worked extremely well over the past 20 years. Enjoy, as I know this will always work.
Stock Market Investing Principles Explained on Example – Copper
Q3 2019 hedge fund letters, conferences and more
Canyon Distressed Opportunity Fund likes the backdrop for credit
The Canyon Distressed Opportunity Fund III held its final closing on Jan. 1 with total commitments of $1.46 billion, calling half of its capital commitments so far. Canyon has about $26 billion in assets under management now. Q4 2020 hedge fund letters, conferences and more Positive backdrop for credit funds In their fourth-quarter letter to Read More
Transcript
Good day fellow investors. A few days ago, I released the video discussing one of the most bullish thesis that I have over the next five years a decade. I like those kinds of investments where the upside is pretty sure, there is low risk but high uncertainty. And a lot of the comments on the video and on the article that they made were about how, yes, copper is good friend but not now. We might be a recession ahead blah, blah, blah, etc. And now and Financial Times article came out discussing Dr. Copper, its perspective on the economy on a potential recession.
And I find it as a great example to discuss copper as environment but also my main investing points where I want to show you how you are how I at least take advantage of what's going on in the market. I'm looking for low risk, high uncertainty, I don't know when will copper boom will it be next year or in five years, nobody knows.
Dr Copper and economic cycles
But I know that I have low risk, high uncertainty. I don't know when it will happen. But I know that when it happens, I'll make a lot of money. So low risk, high reward, high uncertainty, I wait, I accumulate, I trade a bit or something gets bought out like that some was bought out last year. So I make money also in the process.
But let me show you my theory. My theory is pretty simple. Where do I get my investing advantage? I like buying when nobody wants to buy, like it is the case now. In five years that we crazy about it and investment, copper miner prices will be five times higher. The second point is to look at the long term fundamentals, not at the short term fundamentals, we'll discuss both. Then look at low risk, high uncertainty, high reward investments and of course, the key is to pick up value when it is there. No matter when it is there, and what does that mean?
That means that when I see value over the long term long term fundamentals that gives me good return over the next 5-10 years. I have to buy it sooner or later, I make a lot of money. So let's see what the Financial Times has to say Dr. Copper, two year low at $5,600 per tonne, deteriorating global macro sentiment and commodity investors. Correction here. There aren't commodity investors there are just commodity speculators and those working very, very short term timeframes. So they are very negative and appear to assume the worst.
The recent data supports this view. The worst mean a recession, lower demand for copper over the next six months a year. And when the environment is in such a situation everybody is selling, because you don't want to be the fool holding and other seeing others out. Perform you. So that's something that creates an opportunity for me.
Copper Market Investing
Further on the short term Citigroup estimates copper demand will grow still grow just 2% in 2019, the price of copper has dropped. But look at the fundamentals a little bit longer term, this year's 2% fall in global minning supply. So copper is a limited asset. You cannot mine it easily. It gets more expensive to mine and there has been a 2% fall in global mine supply. That's a fundamental, but still sluggish, slow demand. lower prices. Nobody likes it. But let's look at longer term fundamentals. Many analysts and investors, me too are bullish on copper.
If we shift to a low carbon economy, then for example, a wind turbine needs three tonnes of copper just to be built, not to mention electric vehicles, motors, inverters, renewables, whatever. So further is becoming more difficult for miners to find large high grade copper projects. And there aren't many projects and we have seen Turquoise Haley also have a video think how it's difficult to create such a mind without high costs.
So the conclusion for from Bernstein is that, to meet government 2013 emission targets, copper needs to be priced at 8000 per tonne, so 30% uplift from the current prices. Keep in mind 240 is just in 10 years and when that happens, perhaps in 2024, copper miners will really, really explode. If we need to be in a greater scenario then copper needs to be at 20,000 per tonne to produce the required copper for a low co2 or renewable world.