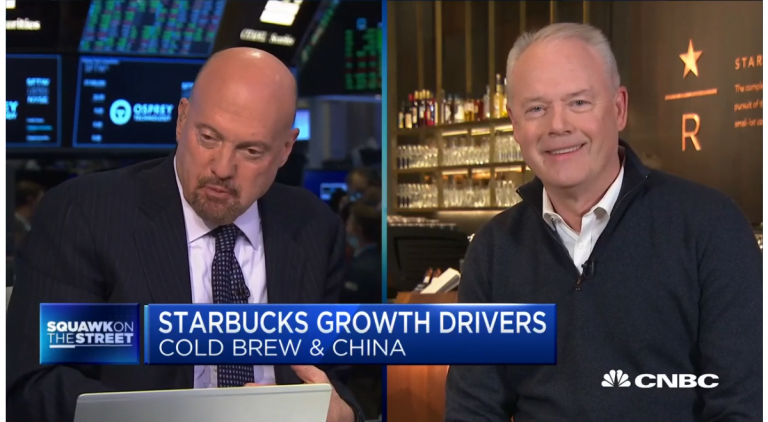 First on CNBC: CNBC Excerpts: Starbucks CEO Kevin Johnson Speaks with CNBC's "Squawk on the Street" Today
WHEN: Today, Friday, November 1, 2019
WHERE: CNBC's "Squawk on the Street"
ADW Capital's 2020 letter: Long CDON, the future Amazon of the Nordics
ADW Capital Partners was up 119.2% for 2020, compared to a 13.77% gain for the S&P 500, an 11.17% increase for the Russell 2000, and an 8.62% return for the Russell 2000 Value Index. The fund reports an annualized return of 24.63% since its inception in 2005. Q4 2020 hedge fund letters, conferences and more Read More
Following are excerpts from the unofficial transcript of a FIRST ON CNBC interview with Starbucks CEO Kevin Johnson on CNBC's "Squawk on the Street" (M-F, 9AM-11AM ET) today, Friday, November 1st. Following is a link to the video on CNBC.com:
Q3 2019 hedge fund letters, conferences and more
Watch CNBC's full interview with Starbucks CEO Kevin Johnson on Q3 earnings
.
Johnson On China
Our China digital partnership with alibaba really unlocked a wide range of new opportunities for us we launched Starbucks delivers in China our mobile order for pickup, you know, just those two alone were 10% of our sales mix in China. And we posted a 5% comp with 2% growth in traffic. The digital strategy in China is working.
Starbucks CEO Johnson On US Growth
We posted a 6% comp with 3% growth in traffic this quarter. When you look at the two-year comp, it accelerated to 10%. So, you know, many were skeptical that we posted a strong 4% comp a year ago. But then we posted a 6 on top of that now, the growth and scale agenda we're executing against is really all about focusing on the right things and then executing with discipline.
Johnson On AI
Deep brew is now doing artificial intelligence to really predict how many store partners we ought to have by day part in every one of our stores. By doing that, it is helping us unlock growth because we're staffed to meet customer demand. Deep brew is now forecasting inventory replenishment by store. And that is helping partners ensure they have all the items they need to serve customers .
Starbucks CEO Johnson On The Community In China
The whole foundation of Starbucks is built on the fact that we believe that the pursuit of profit is not in conflict with the pursuit of doing good and, you know, in many ways our purpose and our reason for being goes far beyond the pursuit of profit so when we're in China, every one of those stores is a part of the community. And we do work to service that community and be a part of that community, take care of our partners.