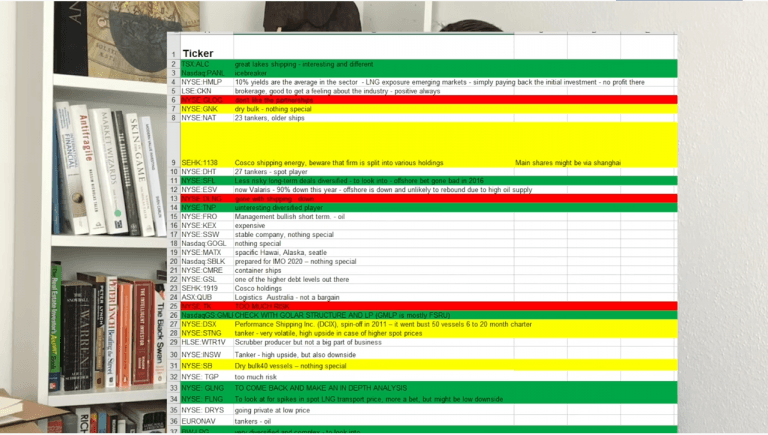 Analyzing Shipping stocks or the or the shipping ETF (SEA) is an interesting thing as there are many moving parts. Shipping will always be a risky bet, but see how that fits your stock portfolio.
Shipping Stocks Sector Analysis – A Sector Most Hate Due to 10 Years of Losses
Q3 2019 hedge fund letters, conferences and more
Odey Discusses Howard Marks' Astute Observation On Why Hedge Fund Alpha Is Increasingly Rare [January Letter]
According to a copy of the firm's January investor update which ValueWalk has been able to review, the Odey Asset Management Odey Special Situations Fund returned 7.7% in January, outperforming its benchmark, the MSCI World USD Index, by 8.7%. Q4 2020 hedge fund letters, conferences and more The $60 million fund, which Adrian Courtenay manages, Read More
Transcript
Good day fellow investors. One of the worst sectors that you could have been invested over the last 10 years is shipping. So if you look at the shipping ETF, it declined strong in 2009, then it's rebounded a little bit, then again, down really hardly. And then over the last few years, it has a little bit up and down, but let's say really capitulated, at the exit fell another 40%. So it's a real, terrible, terrible situation, most investors lost big money in the shipping area.
Banks have abandoned it, they those have fired the shipping analysts, which means that nobody really cares about shipping anymore. Really a terrible scenario. Perhaps, the baddest the bottom has the worst possible investment that you could look at now. But on the other hand, without shipping, there is no oil there is no LNG.
There is no container, there is no bulk, there's no IRA nor there is no nothing, there is no life. So there will be shipping there will always be shipping. And it's a good time now when most of capitulated to look at the sector and to see whether there are opportunities.
I have a long list of stocks that I am researching, writing reports and in this video I want to share my view on the shipping industry whether there are opportunities or what kind of opportunities are there will there be booms and busts etc. So let's start with the shipping analysis.
Emerging market drivers
So if you like me doing that for you for less than $1 a day, and me working full time on that, I think it's a bargain. So check that out. And I think all the users are pretty happy about the content and the quality of it. Let's go to ship shipping. So without shipping, there's practically no life as we know it. You can see here on the map, where do all these small ships sail across the world, ship things, items, oil, whatever.
So shipping is really, really important when it comes to the global economy trade. And without shipping, as I said, there would be no life that we know it. So is it smart to invest in that? Well, there are some key things you have to understand before thinking about investing in shipping.
It's normal that the shipping industry works in cycles. So when shipping rates, what you pay to have a boat, ship, whatever you're like across the world are low. There is not much interest in building new ships in the industry. And this leads to less investments. Then in the future when there is more demand for ships, high prices that leads to many new ships being built, and therefore, again, followed by lower prices. And these are normal cycles in the industry.
Shipping stocks correlation to growth
So it's a typical cyclical industry, depending on global growth and global economic growth. However, the main problem when it comes to investing is that there is absolutely no competitive advantage. If you let's say, have a good margin good profit on a shipping road I know from Helsinki to Copenhagen and you make a lot of money.
Next month, there will be someone who will order similar icebreaker to do The same route at half the price because it is profitable for him at that moment. And this is a very, very highly competitive business and therefore very difficult also to invest in the company like Myers. That is the global leader in the business has had a return on investment capital of just 2.2% over the first half of 2019.
That is very little to base those huge investments over the long term. The following presentation from golden ocean shows what are the risks and rewards when it comes to shaping companies could do well, if there is more stimulus and continue to grow the China if the new fuel regulation in 2020 increases costs, and if more older vessels are scrapped happens only in fares are low, which is again a negative on the risk side, a global recession would create an oversupply situation and put more.