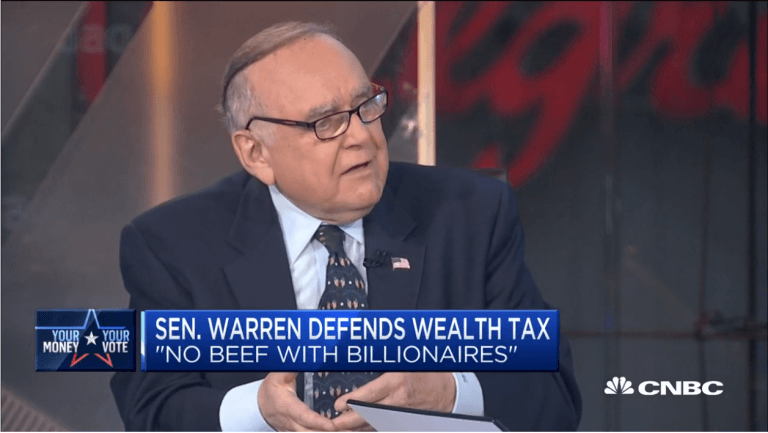 CNBC Exclusive: CNBC Excerpts: Omega Advisors Chairman & CEO Leon Cooperman Speaks with CNBC's "Fast Money Halftime Report" Today
WHEN: Today, Monday, November 4th
WHERE: CNBC's "Fast Money Halftime Report"
Warren Buffett's Annual Letter: Mistakes, Buybacks and Apple
Warren Buffett published his annual letter to shareholders over the weekend. The annual update, which has become one of the largest events in the calendar for value investors, provided Buffett's views on one of the most turbulent and extraordinary years for the financial markets in recent memory. Q4 2020 hedge fund letters, conferences and more Read More
Q3 2019 hedge fund letters, conferences and more
Following are excerpts from the unofficial transcript of a CNBC interview with Omega Advisors Chairman & CEO Leon Cooperman on CNBC's "Fast Money Halftime Report" (M-F, 12PM-1PM ET) today, Monday, November 4th. Following are links to video of the interview on CNBC.com:
Omega Advisors Chairman and CEO Leon Cooperman: The conditions for a big decline in the market are not present
The vilification of billionaires makes no sense to me: Cooperman
The wealth tax is a bankrupt concept: Cooperman
All references must be sourced to CNBC.
Omega Advisors Chairman Cooperman on wealth tax:
The wealth tax is a bankrupt concept. There are 14 or so nations that have tried it and they've dropped it. I mean it's a nightmare. The for 50 years, we've been promised, you know,  simplification by the irs. This would be a nightmare. It would be a nightmare. Every year you calculate your  net worth and give 2% to the government? That's ridiculous. Gold would surge because people  would find gold as a place to  hide their wealth. It's just the wrong idea.
Omega Advisors Chairman Cooperman on loopholes:
The 2% is not the issue. The issue is get rid of the  loopholes. They can't -- the government is  paralyzed, get rid of carried interests. Seven years of discussing this and nothing has happened section 1031 get rid of it take the 37% and raise it. Okay on wealthy people. I believe in the progressive income tax structure I believe I'm my brother's keeper I have no problem with any of  that I get emotional because it's so stupid, the dialogue. It's very divisive.
Cooperman on a disciplined market:
The conditions for a big decline as  I've said consistently are just  not present. The declines come about because  of accelerating a problematic  inflation, they come about because of a hostile fed in my opinion the fed is too easy, furthest  from hostile the market smells an oncoming  recession. It comes about because of investor exuberance. The market has been disciplined. I have to give it credit.
Omega Advisors Chairman  Cooperman on decline conditions:
The big decline will come if we have a recession or if we see a big change in the washington leadership, we fail to get a deal with China or we see a big  spike in the price of oil. China and oil will dictates the  near term performance of the market and oil has been very well behaved and China, the  president seems intent on coming up with an acceptable deal beyond this year, I have to say  I'm becoming concerned I think the aggressive policies  that we're pursuing are pulling  demand forward.