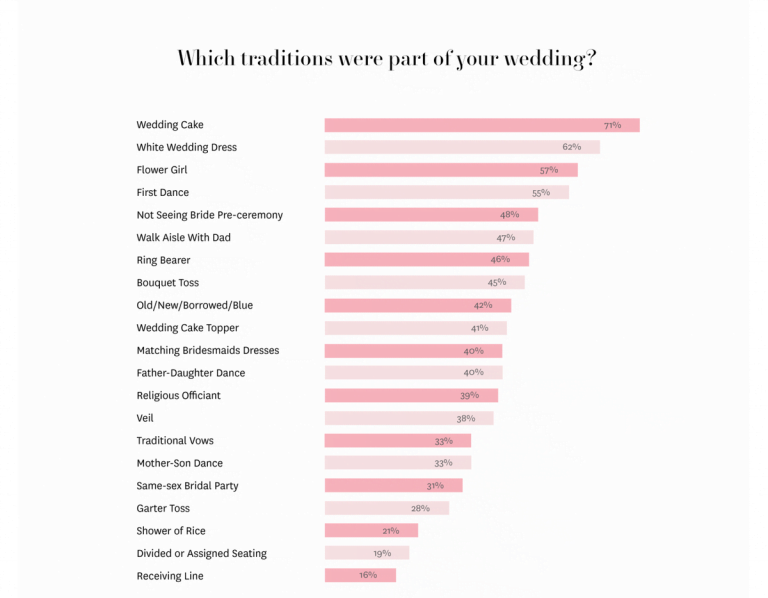 In an industry notorious for expensive expenditures and skyrocketing prices, a new study revealed more millennial couples are shouldering the cost of their weddings.
Engagement ring designer, Jean Dousset, surveyed 1,850 newlyweds to learn more about the planning and expectations for their "big days." The study revealed millennial couples are shifting away from elements of ceremonies and receptions deemed "traditional," and fewer than half of those surveyed said they participated in 17 major so-called traditions.
Li Lu On Understanding Competitive Advantage In 2021
On April 9th 2021, Bruce Greenwald, the founding director of the Heilbrunn Center for Graham and Dodd Investing at Columbia Business School, sat down for a Fireside Chat with Li Lu, the founder and chairman of Himalaya Capital as part of the 13th Columbia China Business Conference. Q1 2021 hedge fund letters, conferences and more Read More
Q3 2019 hedge fund letters, conferences and more
One of the biggest generational shifts is who pays for the wedding.
Traditionally, the financial obligations of the wedding have often fallen to the bride's family. But as millennials do away with many other time-honored wedding traditions like bouquet tosses, receiving lines, and traditional vows, so too are they doing away with the tradition of footing the bill. Instead, millennials are shouldering more of the financial burden.
Millennial couples: Generational shift?
The study revealed fewer than 1 in 5 weddings were paid for exclusively by the bride's family. Almost half of respondents said they paid for their own wedding, and of those couples that did, they said they split the cost evenly between the bride and groom's personal savings. Other top wedding features most commonly paid for by the young couples include the honeymoon, videographer and photographer, the ceremony and reception, rehearsal dinner and wedding dress. In fact, 1 in 4 couples said they bought the wedding dress together. Those who paid for their entire wedding themselves said they spent just under $11,000.
The majority of recently married couples are saving money by planning and executing their own weddings and receptions. The study revealed 72-percent said they did not hire a wedding planner to help with the planning, booking, and arrangement of all the moving pieces that go into the wedding day.
While millennial couples seem to be rejecting many ceremony and reception elements typically included in the big day, they've ushered in a new realm of traditions. Many have embraced a post-reception after party for their friends and loved ones, self-written vows and non-traditional ceremony officiants, and the "first look." Roughly 4 in 10 couples saw each other before saying "I do," going against the traditional belief that seeing the bride before the ceremony was bad luck.
Regardless of the traditions millennials choose to incorporate or leave behind, we can be sure that making the big day their own will make them happiest: 93% of respondents said it lived up to their expectations.