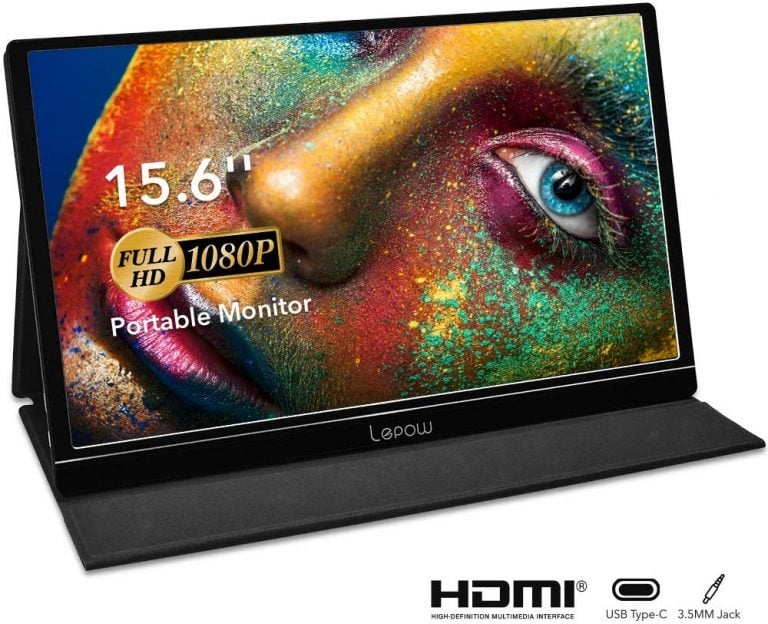 Almost all of us at some point must have felt the need for a bigger screen or a secondary screen, be it while watching a movie, playing games on smartphones, for a presentation when you want to show your work to an audience, or any other situation. It was not always possible to connect a secondary screen and even if it was, the options were pretty expensive. Now, thanks to advances in technology, extending the screen size is easy using a portable monitor. One of the best options presently on the market is Lepow's 15.6-inch Full HD display.

You can easily carry Lepow's 15.6-inch portable external monitor with you on the go. This monitor connects with a laptop and smartphone via a USB-C cable. It features a mini HDMI cable as well.
The display quality is certainly not what professionals want, but it is good enough for casual gaming, movies and browsing. For sound, it has built-in speakers on both sides, although they are not very impressive. However, you can't complain, considering the monitor's price.
How A Weakening PE Market Serves As Another Sign Of A Weakening Economy
Amid the turmoil in the public markets and the staggering macroeconomic environment, it should come as no surprise that the private markets are also struggling. In fact, there are some important links between private equity and the current economic environment. A closer look at PE reveals that the industry often serves as a leading indicator Read More
Lepow's monitor does not require its own power source; rather, it pulls power from the device it is connected to. This means you won't have to carry a bulky power supply with you. Another major benefit of this portable monitor is that it works with most platforms and is very easy to set up.
All you have to do is insert the plugs and power it on, and that's it. You don't need to install any extra software. Supported platforms include PCs, laptops, smartphones, the Xbox One, the Nintendo Switch, the Wii, and the PS3/PS4. The device worked well with non Apple devices, PCs and laptops. However, the results were mixed with Apple devices. Although, it can be done with Apple devices if you have a USB C converter.
The monitor looks like an extended tablet with slim bezels. As one would expect, it does not have touchscreen capabilities. There is no built-in stand either, rather, it uses a case that is firm and rigid enough to hold the screen in place. This case not only protects the screen when it is not in use, but it can also fold into a stand.
Another pleasant surprise with the 15.6-inch Lepow monitor is its weight. It is pretty light than what it appears from the outside. The weight of the monitor is about the same as that of the Microsoft Surface Pro 6, even though the latter has a smaller screen.
Overall, it is a true value for money with excellent build quality. The display quality also is good enough for light gaming and casual browsing. Moreover, it is light enough and small enough to carry it with you. You won't regret your decision if you buy it for your personal use oras a gift this holiday season.
You can buy it on Amazon for $170.99.
The company was kind enough to give us a laptop and compensation in return for an honest review.
The monitor will join Amazon Deal of The Day on Nov30, with the lowest price in 2019, 35% off, $109.99
Updated on