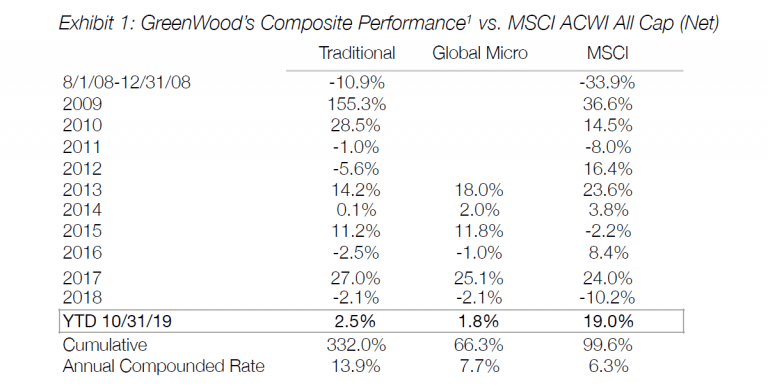 GreenWood Investor commentary for the third quarter ended September 30, 2019.
Dear GreenWood Investor:
It was a hectic quarter, and an even more eventful past twelve months. It is your author's one-year anniversary of having the privilege to join Steven on this adventure that is GreenWood Investors. My confidence in GreenWood's future grows on a daily basis as we research, travel, write, debate and build together. I am continually impressed by Steven's dedication and almost singular focus to be a Builder. While the share price of our co-investment is finally beginning to reflect the immense effort Steven has dedicated over the prior 18 months, I am excited for the day we can bring to light all that has been quietly accomplished behind the scenes.
ValueWalk's July 2022 Hedge Fund Update: Tiger Cub Hedge Fund Shuts Down
Welcome to our latest issue of issue of ValueWalk's hedge fund update. Below subscribers can find an excerpt in text and the full issue in PDF format. Please send us your feedback! Featuring Andurand's oil trading profits surge, Bridgewater profits from credit, and Tiger Cub Hedge Fund shuts down. Q1 2022 hedge fund letters, conferences Read More
Q3 2019 hedge fund letters, conferences and more
Returns on a Year-to-Date and Trailing-Twelve Month basis are not acceptable to us and demonstrate underperformance to the broader market and to our own very high standards. However, we do believe we hold the future in our hands. In our second quarter letter, Steven wrote, "While we have waited some time for the market to better reflect the fundamentals of the portfolio, we don't believe we'll have to wait much longer. Given our insight into strategic actions at our largest position, we cannot help but be optimistic for the portfolio's prospects over the coming year. While the time frame for reality to set in can be unpredictable, execution is more predictable and gives us conviction that the fundamental value of our portfolio will accelerate in the coming quarters." Thankfully, in the fourth quarter, we are starting to see green shoots that the market is reflecting the improved fundamentals of our companies. We still believe the underlying fundamentals are significantly ahead of the news flow that is to come on our coinvestment.
Regarding the unpredictability of returns, a great example is Exor. In order to optimize portfolio returns, Steven and I often discuss when is the right time to add/buy/trim/sell a position. We look to our ranking framework to guide us and help remove the emotion and noise from the equation. Frequently, however, we're pressed into a situation where an ugly hedge fund phrase arises, "dead money." Exor is a prime candidate of a company that can at times go for long stretches where it may seem like nothing is happening from a fundamental perspective; however, it is a refreshing reminder that putting capital in the hands of managers whom we trust, and have significant skin in the game, will compound the underlying value of the businesses when the market is least expecting it. The announced merger in October of FCA and Peugeot (after the attempted Renault merger was thwarted by French politics) further reduces the cyclical exposure within Exor and increases the cash profile creating an even more defensive business. Just one month earlier, we attended the CNHI Capital Markets Day where CEO Hubertus Mühlhaüser outlined the strategy and timing to spin-off the on-highway trucking segment. Exor Chairman John Elkann continues to take steps to unlock value by giving owners incremental pieces of paper to own, and investors are starting to take notice. The most recent discount-to-NAV is 28%. Investors can find our 30-page research note we published in August on Exor's underlying assets and ongoing transformation here. Exor remains a core holding today, and we hope forever. We consider it to be a privilege to be able to coinvest alongside Elkann.
Often times, it is important to look backwards, in order to gain the necessary perspective to move forward. I recently had the great fortune to attend a friend's wedding in Israel. While there, I took the opportunity to visit Jerusalem and the Old City. It's an incredible experience to walk through Jaffa Gate, one of the original six entry gates built by the order of Suleiman the Magnificent. One cannot be anything but overwhelmed by exploring the same grounds as Jesus did, and where over 2,000 years of conflict ensued. You feel a special energy. The history and significance of the land you're walking on reverberates through you. Old meets new as you meander through the stone streets and family owned market shops. The Old City is a 0.35 square mile walled area that is currently split into four quarters - Jewish, Christian, Muslim, and Armenian. The stone signs built into the walls around the city are in 3 languages - Arabic, Hebrew, English - and depending on which country or empire was in control during the relevant construction, the order of those languages (top to bottom) varies. Moreover, it is only very recently that the current status quo came to be. The 1994 Peace Treaty between King Hussein of Jordan and Israeli Prim Minister Rabin formally ended the war and territorial disputes in the West Bank that dated back to 1948. I bring up the Old City because it was a gentle reminder that when conducting diligence on a company, and European ones in particular, it is especially important to not just scrutinize the financials, but understand the importance of the company to its local, regional and national history. The interplay between shareholder and state is often complex and riddled with past mistakes.
Our co-investment has a very special place in the history of its home country. It is the most well-recognized brand, and while it is not as old as Jerusalem, it will soon celebrate its 500th anniversary. Over the course of its lifespan, the company has meant many things to many people, but today, it is about as misunderstood a stock as one will see in the public markets. Fortunately, we are optimistic that all interested parties can live in harmony - the politicians, the unions, the regulators, the shareholders, and the Builders - given we have taken the "long-view" as it relates to reinvesting in the business and aligning all stakeholders. We can confidently say it is already paying significant dividends.
However, if one took a cursory view in September at the historical price chart, it suggested a company in disarray. A company flailing to find its footing. Thankfully, nothing could have been further from the truth as the view inside the company was one of radical, positive change. By May, we had taken our fate into our own hands by taking a board seat, facilitating the CEO transition, and underwriting a 100-point plan. The company has upgraded its high-level managers and they are executing exceptionally on the blocking and tackling necessary to get the company back on track to profitable growth. Fortunately, the market is starting to take notice of the improved execution with a rising share price since early September. However, this is just the beginning. While the market is reacting to a plan put in place 6 months ago, we are not resting on our laurels. In fact, now is the time we double-down and press harder. We have visibility and confidence in the 2020 roadmap and are now tirelessly engineering the follow-on fundamental doubling into 2021.
Early next month, we will be sending out books to our investors as a small thank you gift for their trust and support during the year. Historically, each of us pick our favorite read of the year and investors choose which they'd prefer. Amazingly, we were in unison this year (we will have a surprise backup book in case investors already own our choice) and all agreed on Alchemy by Rory Sutherland. We have been recommending this book to anyone who will listen since it was published earlier this year. Mr. Sutherland's career spans a very interesting life in the advertising industry at Ogilvy and as co-founder of a behavioral science practice within the agency. As GreenWood continues to evolve and reinforce the behavioral alpha we seek to capture in public markets, Alchemy was a refreshing reminder for us to think outside the box when attempting to solve puzzles. In his chapter on 'signaling', Mr. Sutherland makes the case that only by deviating from a narrow, short-term, self-interested agenda can we generate anything more than cheap talk. If we are seeking to build trust, respect, and reputation, then it is impossible to do so by simply pursuing the dictates of rational modern economic theory. Through our co-investment, we have found that the only way to build sustainable, long-term value is to find innovative ways to work with multiple vested interests to create incentives to implement a win-win plan for all.
While we seek to find partners with common ground in order to grow long-term, sustainable relationships, what we find today in the market, and politics, is a feeling of contentiousness that has been brewing for a number of years. The out of touch CEOs and ruling elite who dictate terms to the rest by creating situations that are very transactional in nature have left the majority distrusting and worse off. This interplay is what Robert Axelrod has called the 'Shadow of the Future' where the prospect of cooperation is far greater when there is a high expectation of repetition than a single-shot transaction. This notion is more formally referred to as the continuation probability, and importantly distinguishes between two types of approaches to business.
There is the 'pub approach' wherein the business makes less money from people on each visit but likely generates significant trust and more profits in the long-term. This contrasts to the 'tourist approach' in which the company attempts to gouge the customer on a single visit or short-term contract, and is thus less trustworthy. As we look at our portfolio today, we believe we are long "pub" companies and short the "tourist" ones. And while the tourist approach will increase near-term profits, the theory of continuation probability would also predict that, when a business focuses narrowly on short-term profit maximization, it will appear less trustworthy to its customers. This is massively detrimental to the longevity of the business, particularly when the next economic crisis comes. Quite sadly, this is something that we've recently encountered all too personally with the loss of 346 lives on two Boeing 737 MAX aircraft.
To us, there is no better poster-child for the corporate malfeasance known as short-term profit maximization than the actions by Boeing's management team and Board of Directors. We initiated our short during the latter weeks of September when it became clear Boeing would not meet its "early Q4" target for FAA approval of the 737 MAX and refused to admit the MAX had a hardware problem, not just a software problem. We have spent years watching in amazement as Boeing has used its politically-gained influence of the previous two-decades to de-claw the FAA to maintain a global duopoly. The result is a less safe aviation environment and a management team favoring dividends and share repurchases over safety, despite its hastily-updated mission statement emphasizing safety.
To put it into context, since Mr. Muilenburg took the CEO role in 2015, Boeing has returned over $50 billion of capital to shareholders. Most laud this capital return policy as a best-practice not realizing, or caring, about the long-term implications of underfunded product development. One must also take in account that by 'rewarding' shareholders, since 2016, the management and board have enriched themselves to the tune of $5.4 billion. It is egregious that only after the loss of 346 innocent lives, with Mr. Muilenburg being stripped of his dual Chairman/CEO role, did the Board of Directors decide to set up a Safety Committee. In our view, the Board of Directors at Boeing must shoulder much of the responsibility for not properly overseeing management's decisions and strategy for the company. Fortunately, there is still time for the board to make the right decision. Rather than continuing to hire lobbyists to pull political favors, they should take a page from the crisis management team at Johnson & Johnson, where in 1982, the company placed consumers first and recalled all 31 million bottles of Tylenol. We would welcome Boeing deviating from its current path of rent-seeking behavior, towards one in favor of consumer safety. It continues to pursue the profit maximization path.
At the end of the day, Boeing's core-competency should be to build safe and reliable aircraft. It has failed to do so in the case of the MAX and it continues to insist on a reckless approval pathway that ignores the need to retrain pilots in a simulator, because it would impact operating earnings ~5%. The civil aerospace industry is one which delicately balances the necessary engineering investment to ensure extreme levels of safety, yet provide an acceptable return to shareholders. In our opinion, the pendulum swung too far in the way of "reinventing" the engineering of past successful aircraft programs. With a total fatal crash rate of 3.08 per million flights, the MAX is over 38x more unsafe than the A320/A321 family of aircraft. It is no wonder that 2019 will almost certainly see the 737's first net order contraction in the history of the aircraft, which dates back to the 1960s. As it stands today, through October, the MAX has net -202 orders YTD, while the A320/321 family has net +539 orders. The duct tape engineering process ran even deeper than the MAX, as the 737NG pickle-fork issue also highlights.
While we have been investing in the Aerospace industry for over 10 years, the insights received on Boeing wouldn't have been possible without our incredible investors who helped facilitate introductions for us to pilots and aircraft buyers to give us additional conviction in our thesis. We sometimes receive questions such as, "How can you gain an edge with over twenty analysts already covering the stock?" We emphasize areas where we disagree with consensus and then validate these hypotheses with our collaborative partners, who have skin in the game. Our interaction with many interested parties suggest the expectations gap could not be wider. Possibly this is due to Boeing being the largest Dow Jones component leading to largely robotic trading, or that many just take the company's word as gospel, despite mounting evidence of relentless over-optimism and deception.
Our diligence suggests the investor base is significantly underestimating the downside possibilities. We believe Boeing is no longer a Free Cash Flow per share growth story. The drain on future cash due to the increases in MAX program costs, lower production driven by tepid demand for the airframe, future compensation to airlines, victim lawsuit liabilities, reduced 787 production, the Embraer acquisition, and the need to engineer a new aircraft program (likely New Narrow-body) all come at a time when global passenger growth is below historical trend and new aircraft orders are at decade-lows. Counterintuitively, in many ways, we believe the best day to short Boeing will be the day following MAX approval by the FAA. MCAS cannot fix the hardware differences in every scenario and so unfortunately passengers are in for another turbulent ride if the FAA approves it without simulator training required.
Remaining in the aerospace vein, but on a more positive note, we re-entered a former position of ours, Leonardo (formerly known as Finmeccanica). Our last foray in the name profitably ended in 2017 due to a change in CEO, terrible cash conversion of earnings, and the helicopter market continuing to deteriorate. Since that time, the company has heavily invested in new programs with the goal of growing its backlog and improving its cash conversion profile. After winning very demanding contracts with the US department of defense, and nearing certification for the first civil tiltrotor in history, the company is taking substantial market share and is moving into a period of harvesting its major investments made a few years ago. And this is coming at the exact moment when investors are not paying attention.
Steven attended Leonardo's Capital Markets Day in Philadelphia where only 4 investors showed up. The almostprivate meeting gave Steven unfettered access to the most important managers driving the 2022 plan. With this access, Steven was able to glean insights into the future free cash flow profile of the business which suggests a debt free business by 2022, and thus we acted quickly. We are close with top level executives at all of Leonardo's competitors, who aside from Airbus, stand by with a mostly stale portfolio and lost market share. We look forward to updating investors further on Leonardo with a research note in the coming weeks. Research notes have been delayed as our near-term diligence pipeline and execution at our coinvestment have required every waking hour. Results are the only thing that matter to us, as a very-well-timed new investment this week underlines, already adding 1% alpha.
While we're disappointed by our recent underperformance, we're more confident than ever about the pent-up alpha in our portfolio. The fundamentals of our portfolio have continued to accelerate into the fourth quarter while the stocks continue to lag reality. In addition to our co-investment, and numerous event-driven investments such as MEI Pharma and Cairn Energy, we believe significant outperformance will be realized on a prospective twelve month basis.
We also would like to mention a special thank you to everyone who came to New York for our Investor Day in September. Those in attendance were able to meet two of our favorite portfolio company CEOs. Those who know us well recognize GreenWood as a firm that allocates resources heavily to individuals who have skin in the game. We believe this ownership engenders better decision making which fosters stronger business fundamentals in the long term. We wholeheartedly agree with Mr. Sutherland when he writes, "Reputation is a form of skin in the game: it takes far longer to acquire a reputation than to lose one." We expect these two Builders, who each have significant skin in the game - reputation and monetary - to drive a significant portion of our alpha generation over the coming months.
After much hard work by Kveta, the Luxembourg fund is going to be open to investors any day now. Having spent the previous two weeks meeting with investors in Zurich, Geneva, Tel Aviv, Luxembourg and Paris, we are humbled by the interest in our Founder's Class, which will close upon inception. For European investors who are interested in learning more about the vehicle, please reach out to any member of the GreenWood team.
Thank you for your continued trust and support.
Chris Torino
Updated on