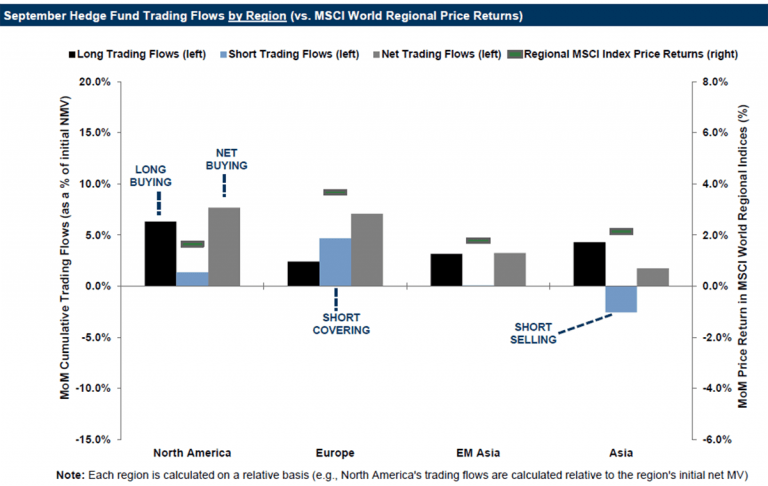 Global hedge funds were down 0.7% in September, according to Goldman Sachs' Hedge Fund Performance and Positioning report for the month. Asset-weighted results were about 60 basis points worse than the simple average, which the firm said suggests large firms underperformed their smaller counterparts. That marks a reversal of the trend observed in July and August.
Concentrated positions hurt long/ short equity
Long/ short equity funds were down 0.9% for September despite the fact that the world's equity markets rallied during the month. Goldman Sachs said both long and short concentrated positions struggled in September as its Hedge Fund VIP basket declined 2%. Meanwhile, the Hedge Fund VISP basket was up 2.3%, while the Most Short basket gained 3.5% during the month.
Q3 2019 hedge fund letters, conferences and more
Dan Sundheim Founder Of D1 At Sohn 2021 On His Favorite Stock
At this year's Sohn Investment Conference, Dan Sundheim, the founder and CIO of D1 Capital Partners, spoke with John Collison, the co-founder of Stripe. Q1 2021 hedge fund letters, conferences and more D1 manages $20 billion. Of this, $10 billion is invested in fast-growing private businesses such as Stripe. Stripe is currently valued at around Read More
The firm added that equity long/ short funds saw the worst monthly alpha in four years in September. Losses due to sector tilts toward Information Technology and Consumer Discretionary especially contributed to this, as did the dividend yield and momentum factors and asset selection. Despite the September underperformance, long/ short equity funds are up 9% for the first nine months of the year.
Best-performing strategy was event-driven
Event-driven funds had the strongest September with an 0.6% gain, followed by credit funds, which were up 0.5%. Event-driven funds recorded gains in relative value trades, although recent IPO weakness offset some of those gains. Credit funds benefitted from high-yield bond inflows and gains from "idiosyncratic situations."
Discretionary macro funds were down 2.1% on the back of losses in bonds and gold due to improving risk sentiment caused by progress in the trade talks. CTA was the worst-performing strategy with a 3.5% decline in September driven by losses in bonds, especially during the first half of the month when yields spiked. Commodities also outweighed the gains in equities. Despite the weakness in September, CTA is still the best-performing strategy on a year-to-date basis with a 13.6% gain for the first nine months of the year.
Quant funds declined 0.7% and are still the worst-performing strategy on a year-to-date basis with a gain of 0.9%.
North America and Europe led the net buying
Goldman also reported that all regions were net bought during September, with North America and Europe leading the way. In fact, net buying in North America was at the highest level in over three years, and the region's weighting hit a record low of -2.4% underweight, ending September at -1.6% underweight.
September was the fourth straight month of net buying for Europe, and its weighting ended the month at the highest level since March 2018 at -0.9% underweight. September was the eighth month of net buying for emerging markets in Asia, which remains the only overweight region at 6.2%, close to a record high. Long buys drove the net buying in Asia as its weighting increased 0.1 points to -2.9% underweight, which is still close to the lowest level since April 2017.
Real Estate and Utilities led the way in sectors
Goldman Sachs reports that six of the 11 global sectors were net bought during September, with Real Estate and Utilities leading the way while bond yields declined in the last part of the month. In dollar terms, Consumer Discretionary was the most net bought sector for the fourth month in a row as short covering drove the buying.
Health Care was the most net sold U.S. sector with long-and-short sales leading the way.
This article first appeared on ValueWalk Premium