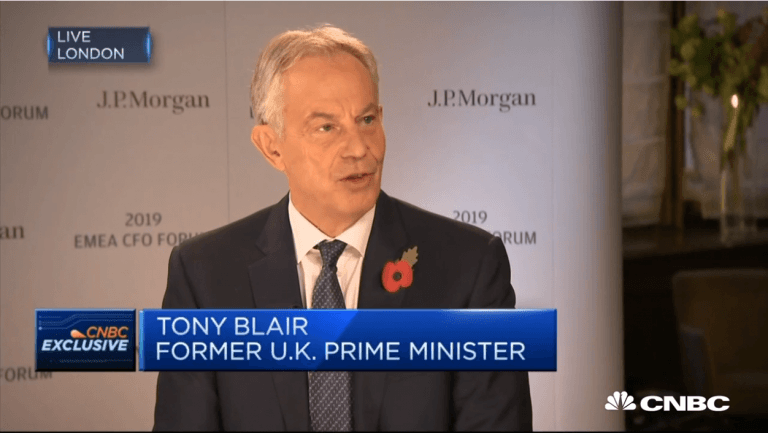 CNBC Transcript: Former UK Prime Minister Tony Blair Speaks With CNBC's Wilfred Frost Today On CNBC
Following is the unofficial transcript of a CNBC interview with Former UK Prime Minister Tony Blair today on CNBC.  Following is a link to the full interview on CNBC.com:
This mining and metals fund is having a strong year so far
The Delbrook Resources Opportunities Master Fund was up 9.2% for May, bringing its year-to-date return to 33%. Q1 2021 hedge fund letters, conferences and more Dellbrook is an equity long/ short fund that focuses exclusively on the metals and mining sector. It invests mainly in public companies focused on precious, base, energy and industrial metals Read More
Q3 2019 hedge fund letters, conferences and more
Former UK Prime Minister Tony Blair on Brexit, Boris Johnson and US politics
All references must be sourced to CNBC.
Wilfred Frost: Just talking in the studio about the election of course to what extent are you angry with the remain parties that they gave up trying to seek a second referendum before general election and gave into the Prime Minister's demands for an election first?
Former UK Prime Minister Tony Blair: Well what I think was the wrong thing to do. It would have been better if we'd had an election on the normal election issues, and a referendum on Brexit, but that's not what happened angers a bit of a redundant emotion in this, the circumstances, but know that the problem that you've got in the election is once you muddle up the Brexit question with who governs the country which is a different question, then obviously the the risk is that you get a very complicated political situation, you'll have some people who are passionately anti Brexit, but maybe fear Jeremy Corbyn and Downing Street and other people who are passionately pro Brexit.
But you know want to vote for a Labor government so it's not a sensible thing to do will be done it so might as well treated all these terms
Frost: if Boris Johnson wins the majority Do you accept, he has a mandate to complete Brexit?
Blair: Well he will certainly claim that I mean I think you may end up one of the reasons why this is so unsatisfactory is that you may end up in a situation where he wins the majority with 40% or even less than 40% of the vote, and the combined vote of the anti Brexit opposition parties is more, but you know yes of course he will claim a mandate
Frost: But you disagree that he'll have a mandate following the referendum 2017 election which delivered a mandate for Brexit.
Blair: Again, frankly, it doesn't really matter whether I think it or not, I mean he will claim the mandate for it and you know, people will argue will labor's not clearly saying it's against Brexit and therefore, if he wins the majority Brexit will happen.
Frost: What is a realistic path to remain from, from here and what chance do you put on that.
Former UK Prime Minister: The realistic path is where you don't get a conclusive result. Say the conservatives are the largest party and, and then it's decided to resolve Brexit on its own terms. I mean the problem that you've got with Brexit which is complicated to explain but it's necessary to understand if you, if you want to get into the, the, the issue of why brexit so difficult is that there are two negotiations the first negotiation with Boris Johnson is concluded other terms of exit. and that includes the Irish border problem that's been so difficult.
But you've now got a further negotiation. Once we exit we then have a further negotiation that will run until the end of next year, which is about Britain's future relationship with Europe particularly its trading relationship. And that's also going to be a very difficult negotiation whether the exactly the same dilemmas as we had over the Irish border.
So, the problem that you've got, is that the British people obviously are told that if you have the election that's the end of Brexit one way or another, I'm afraid is not. Either way it's going to be the next chapter
Frost: In your conversations with European leaders do you think they are ready and willing to welcome the UK back as a fully fledged member if if that eventuality materialized?
Blair: Well Britain's Got the right to stay at any point in time before we've legally left but if, if we have a conservative majority and they do Brexit and then we're out
Frost: on the topic of the election President Trump publicly backed for us Boris Johnson said Jeremy, Jeremy Corbyn will be bad for the country in an interview with LBC. Last week, should the US President be doing that.
Blair: Well I think I should imagine Jeremy Corbyn was probably pleased. Because if you're if you're looking at this from a Labor Party perspective or an anti conservative perspective, you know, Donald Trump obviously is quite a divisive figure here as well as back in the US and, you know, his attack on Jeremy Corbyn I should think will not trouble Jeremy Corbyn very much. And now look in the end with these things are decided by our electorate.
Frost: But do you think the US is as reliable a partner for the UK as, as perhaps during your time as President.
Former UK Prime Minister: The problem is, you know, I, I believe in two things a strong transatlantic relationship between Europe and America, and a strong bilateral relationship between the UK and America. And if the, the UK is strong with America makes our relationship with Europe better and also if our relationship with Europe is strong its one of the reasons I'm against Brexit, it's much easier to partner the US, so look what's happened in the last few years is that there's been a weakening of that transatlantic Alliance. I mean there is obviously a close relationship between the US president and the current British Prime Minister.
But, you know, these things are not just about the personal relationship you're going to found that on values on interest on a shared sense of where people are going and I think the worry all the time. I think in, not just in in Europe but outside is where, where does the US stand in this slightly difficult space between America first and America alone. So this is the this is, and I think one of the things that will be very necessary.
Once we get our election out of the way once we get Brexit resolved, is that we look at how we revive that transatlantic Alliance because it's, it's hugely important that mean I am constantly overwhelmed by the sense of how geopolitics is changing in the world, how the rise of China is going to dominate the 21st century, and the necessity of Europe and America, including the UK standing together and having a clear view as to how we cope with that huge development in the in our lifetime is I think something that's so important, it needs allies who believe in the same basic democratic systems to stay together.
Frost: You built a very close relationship with both presidents during your tenure and stuck by President Clinton through thick and thin including during his own impeachment proceedings, as impeachment proceedings loom large for President Trump should, should that influence how close a relationship that the UK Prime Minister builds with the US.
Former UK Prime Minister: I think you've got to let us politics look everyone's politics is weird right now. I mean, what happens is, wherever you go anywhere in the world, and leaders start talking to each other you get into a competition as to who's politics is crazy. I always say to people I think we're ahead, but you know it's a lot of people are competing to catch up with us. So, you know no, whatever happens in US politics lead back to the US, the relationship between the UK Prime Minister and the US president should always be strong. I mean I you know one thing I will never criticize Boris Johnson for, even though I disagree with them passionately about Brexit is having a close relationship with the US president This is necessary for both countries.
Frost: I spoke to Secretary of State Mike Pompeo a few weeks ago and we were talking about the infamous Trump Zelinski phone call, he said quote, as recently as yesterday I had a foreign leader, call me seeking to apply pressure to United States to get us to act in a way that was consistent with what they were trying to do it's the nature of politics of power of foreign interactions. Each country trying to act and deliver for its own people, knowing what we know from the transcript of the call. Do you agree with the theme of what Secretary Pompeo said that that is the norm in international relations.
Blair: Okay, so one thing I've learned over a long period time politics is not to get mixed up in someone else's politics, I've got enough problems back here at home, so we'll leave all these questions around Ukraine and impeachment to American politics.
Frost: Okay, fair enough. On the topic of the Eurozone. Do you have any advice for Christina Lagarde as she takes the helm Do you embrace negative rates
Former UK Prime Minister: Im really troubled by the concept of negative rates, I've got to say, and I think the long term consequences are quite serious I mean I think one of the problems today with the way our politics is developed, is that you have this massive question around macro economic policy, and the relationship between monetary policy and fiscal policy, which isn't really explored by policymakers in in any great depth but really needs to be.
So I think the long term implications of negative rates are immense. And I think one of the problems you've got as a policymaker today, is you know you can look at the global economy. And whereas when I was starting in politics 20 years ago, most reputable economists would tell you more or less the same thing.
The big challenge for policymakers today is that, you know, reputable economists are on two completely and diametrically opposed sides of an argument, one will say well look, monetary easing you've got to carry on negative rates that's no problem provided that you can keep the economy moving and other people say no, this is a long term, it's got huge consequences and negative consequences for the economy, and it's really tough.
If you're a policymaker to work out who is right. I think the one thing that is clear though about Europe, is that it's still got two big challenges structural reform of European economies.
And secondly, it's hard to see how you have a single currency properly grounded long term, unless you have effectively. The whole of the eurozone standing behind each country within that within that single currency. And that I think those two unresolved issues are, what is underneath a lot of the problems in Europe.
Frost: When you look at the future of the European Union as well as the eurozone specifically do you fear the day when when Angela Merkel does decide to stand down
Former UK Prime Minister:  Well she is a huge and basically stabilizing influence in Europe but Germany, you know it's it's politics is strong and pretty robust and the point about Europe in the end is there's a very simple reason for Europe today me back in my father's generation, the reason for Europe in the European Union was peace, but today its power, you know, in the next 20 years there's going to be a top table with America, China, and possibly India, actually, because of the size of its population.
Now, if Europe, and countries like Germany, France, the UK want to be at that top table, they've got to have a block that is able to sit on equal terms, and the European Union's got the largest commercial market in the world we could do that if we're together.
It's one of the reasons why it's splitting Europe is not sensible. So I think, you know, yes, I think, for Europe of course when Angela Merkel goes it will be a big change in changing of the guard but you know the the forces that keep Europe together are essentially geopolitical as much as economic today.
Tony it's been a pleasure as always thanks so much for your time. Thank you. Well, thank you, Tony.