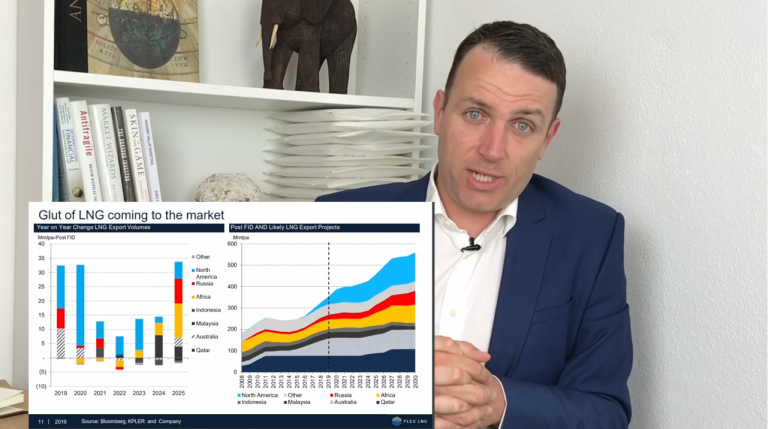 If there is more demand for LNG than what the ships can carry, Flex LNG company will do wonders.
Flex LNG Stock Analysis – The Bet On Global LNG
Q3 2019 hedge fund letters, conferences and more
Sohn Investment Conference 2021 Coverage: Octahedron Capital, Glenernie Capital, David Einhorn and more
The following is our rough coverage of the 2021 Sohn Investment Conference, which is being held virtually and features Brad Gerstner, Bill Gurley, Octahedron's Ram Parameswaran, Glenernie's Andrew Nunneley, and Lux's Josh Wolfe. Q1 2021 hedge fund letters, conferences and more Keep checking back as we will be updating this post as the conference goes Read More
Transcript
Good day fellow investors. Yesterday we discussed the shipping sector and as promised today I'll give you a shipping stock a very, very interesting stock, a stock that would make you invested alongside Norwegian shipping billionaire magnate Fredriksen, he has about 11 million so he has been investing only in shipping for the past 50 years diversity in it are more areas from GLNG Tankers, Marine Harvest, the Salmon business, etc.
So he's diversified, so keep that in mind before investing in a stock, like specs and LNG, but Flex LNG is also an interesting stock upside of LNG, trading around the world more demand for gas. And it might be a very, very interesting because the upside is really, really high and you'll see that. But, oh there is always as it is shaping the risks of downside because the situation and shipping can become very, very terrible for some moments in time.
So let's start with the analysis. So we can learn more about the company in this three minute video, and it will really explain what the company is doing. What is the upside? what's the downside? What are the risks and what is the investment thesis?
Flex LNG and natural gas future
In the 20th century, oil replaced coal as the main energy source. And since the beginning of the 2000s, there's been a gradual transition towards natural gas, the cleanest burning and most environmentally sustainable fossil fuel there is, according to BP, natural gas will overtake both oil and coal as the biggest fossil fuel within 2030 due to its clean properties and features. In recent years, LNG supply has increased rapidly and has more than doubled the last 10 years of further increases expected and in 2015, the world's energy demand is estimated to be twice as big as in 2000. That means even greater demand for it NG according to Bloomberg estimates close to 100 million new tonnes will be sanctioned in 2019, which is 25% of the existing capacity in just one year.
The process of natural gas production begins on shore where the gas passes through factory pipes and is cool to negative 162 degrees. This decreases the volume of the gas 600 times and makes it easier to transport by ship. When it arrives at the import terminals. The LNG goes through a re gasification process before it is sent through pipelines to the end consumers for heating and electricity.
Today Qatar is the largest exporter of LNG, well, Japan is the biggest importer. Going forward, the majority of LNG supply growth will come from the US while there will be a gradual increase in demand from Asian countries meaning longer sailing distances and need for more vessels. There has been a revolution within LNG carriers over the last 15 years. Flex LNG is efficient vessels use 50% less fuel and have 30% larger cargo capacity than the steam generation. This provides customers with the lowest transportation costs in the industry.
Shipping markets
Therefore, Flex LNG is able to respond quickly to current market needs and effectively deliver large LNG supplies to customers. Right ships Lex LNG fleet consists entirely a fifth generation LNG carriers with a modern two stroke propulsion system providing a substantial reduction in transportation costs. right time.
The LNG shipping market has rebalanced, with higher charter rates and utilisation levels as well as increased interest for longer term contracts. Right market. The LNG shipping market has very strong long term fundamentals due to increase demand for LNG emissions focus and colonisation of LNG resulting in more trading right sponsor co Invest with the most successful shipping and best around with evidence track record from frontline golden ocean and ship finance International.
As I said the owner of the company, Javelin Trading, indirectly control by trust established by the billionaire John Fredrickson for the benefit of his family. He owns a lot of ships across the world, Golar LNG, Frontline, etc. So he really knows what he's doing and he is betting on the company. And a good quote for him, that explains how shipping is so he says, I've been in the market in tankers for 15 years and I like it. He says, for me, it's still fun. It is the only sector where you can earn back a year's losses in the space of a week. So this is shipping you lose, lose lose, but then you make it big is it time to make it big with LNG, we will see now. So this company..