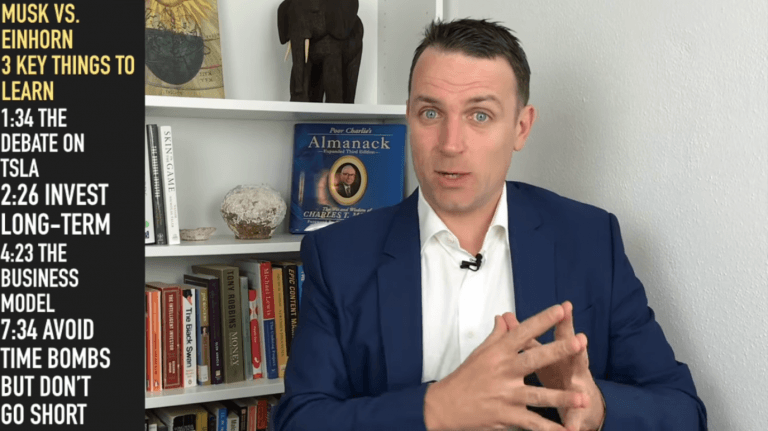 Learning from the Musk, Einhorn, Tesla stock fight – Time will tell whether Tesla Inc (NASDAQ:TSLA) stock short sellers will be right or Elon Musk. however, there are 3 things to learn from this story:
Be a long-term investor
Understand the business model
Don't bet on people being rational.
The Musk, Einhorn, Tesla Stock Fight
Q3 2019 hedge fund letters, conferences and more
Odey's Special Situations Fund highlights Formula One and Shaw
The Odey Special Situations Fund was down 0.27% for April, compared to its benchmark, the MSCI World USD Index, which was up 4.65%. For the first four months of the year, the fund is up 8.4%, while its benchmark returned 9.8%. Q1 2021 hedge fund letters, conferences and more The Odey Special Situations Fund is Read More
Transcript
Good day fellow investors. Over the last weeks, there has been a very interesting battle going on between David Einhorn and Elon Musk. David Einhorn, his the famous short seller when it comes to Tesla, and Elon Musk is refuting his thesis. And I think that there are three key things that we as independent investors can learn from either position. So I'm not going to go into who's right, who's wrong. I'm just going to give you three key takeaways that are going to improve your investing, your long term investing returns. And this is an excellent story to learn about investing and how to protect yourself and how to increase your long term returns, which is all this channel is about.
The three key things that we're going to learn from this are one, we have to be long term investors. That works all the time, always. It worked for Einhorn and that's something we can do. If we can find those things, we don't have to do anything. That's also something we can learn. Secondly, before investing, we have to understand the business model. What is the business model based on, how it works, and what is are the most important keys and then see how that fits our portfolio. And the third thing to understand is, we have to avoid time bombs, but don't short them. So let's start.
Einhorn vs Musk
So David Einhorn, a hedge fund manager that delivered 16% per year up to 2016. And since then perform miserably is short Tesla, and he has explained how Tesla makes any or doesn't make any annual profits, how robo taxis are, what Tesla is promising or the analysts are bullish on Tesla are expecting Musk attack back how he lost money over the last year. How he doesn't have other things to do then to short Tesla, and write false accusations. Einhorn again reapplied, discussed how the accounting is not okay. Tesla is losing money and blah, blah, blah, all that story you probably know. However, what can we learn from it?
Let's start on long term investing. This is actually what I focused on Greenlight's Q2 letter. On August 31. We sold the last of our apple stock at 228 per share. The first purchase was at 36 per share, for a number of years it was the largest position in the partnership. They made the billion and compounded the 26% annually over the last, what, 10 years and this is the message he bought the stock he invested a lot of money in it. It compounded, what, 26% it is a seven bagger and the thing is that he is a long-short value investor. So his portfolio is 106% long, 76% short his lot of position constantly doing something constantly trying to be smarter than other guys.
Musk Einhorn Tesla Stock - whats next?
What is our investment advantage as independent investors, we don't have to be constantly smarter. We just have to be smarter a few times here and there. Imagine if he would have said in 2010, okay, I'm putting my money in Apple, and I'm forgetting about everything else.
All the investors would pull out the money out of his hedge fund, because they would say I can put my money without you into Apple without paying 220 fees. So that's a disadvantage he has that we as investors have. So investing long term finding those good businesses that will do well, they have the opportunity to do well because it was Apple was very cheap back then.
Now, he says we are selling because it's expensive. But if you don't find anything like that, you can simply wait. Sooner or later you will find those great investments. And that's all you need. You just need the few stocks like Apple over the last 10 years, and your portfolio returns will be amazing.
So let's dig deeper into their fight. So, the second message is, we have to understand the business and the perspective. They are attacking Tesla and they are doing it rightly because there are accounting issues, there have been facilities, there have been many promises that were broken. But here we have to understand really the business model when it comes to investing. What is Tesla's business model? Tesla has to reach scale and when Tesla reaches scale to achieve profitability, based on the technology.