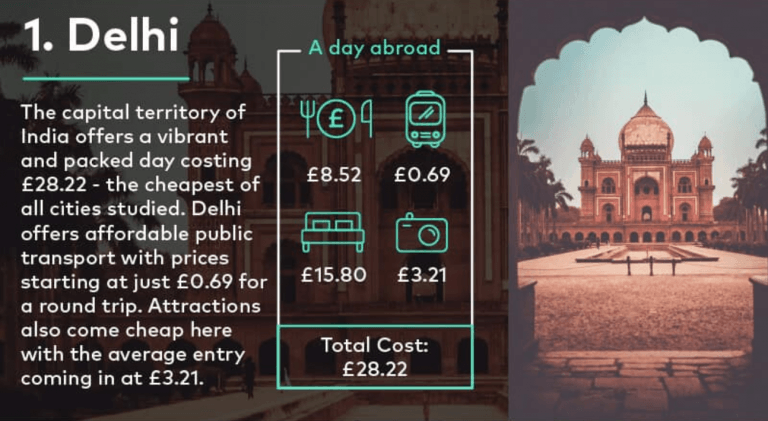 Indulge in local luxury meals for cheap and soak up the culture in some of the world's most cultural cities. A look at the cheapest dinner and drinks around the world.

We are spending more money than ever on our trips away and holidays can involve some strict budgeting to make sure funds can cover the cost of accommodation, entertainment, food and drink whilst abroad.
Arquitos Capital Management March 2021 Performance Update
Arquitos Capital Management performance update for the month ended March 31, 2021. Q1 2021 hedge fund letters, conferences and more Arquitos Capital returned 14.8% net of fees in March, with a quarterly return of 41.2%. Since its April 10, 2012, launch, the fund has provided an annual net return of 17.7%. As you know, we Read More
Q3 2019 hedge fund letters, conferences and more
To see how much $100 a day can get you around the world, leading digital bank Starling has created a handy interactive travel calculator. To find the cheapest cities to visit, each city has been ranked based on the cost of meals, public transport, hotel and average attraction costs. You can find the full list here.
Delhi
The capital territory of India ranks as the most affordable destination in the study, and a day here will only cost you $35.56. Steeped in history yet overflowing with modern life, visitors can visit the India Gate, a war memorial, and Jama Masjid, one of the largest mosques in India, which are both free to the public. Find solitude in the beautiful Garden of Five Senses or go animal spotting in Deer Park for a break from the buzz of the city and indulge in the flavourful local cuisine with a 3-course meal for only $8.61.
Cairo
As the capital city of Egypt, Cairo's exciting culture and fascinating history mean there's plenty to do and see. With a day of exploring costing only $36.82, you can feel like a pharaoh while visiting the infamous pyramids of Giza in the outskirts of the city. A hotel for the night costs only $18.17 on average and you can enjoy a luxury meal for $8.59. Wine and dine while cruising down the Nile river and enjoy an entertaining tanoura dance show for an unforgettable night.
Istanbul
Explore the magical meeting of East and West in the third most affordable city, for just $44.74 a day. The breath-taking views o the Blue Mosque and the bustling Grand Bazaar market are both free to enjoy during your time here, and you can get more luxury for your money in Istanbul than any other city in the study. Wind down in one of the city's Turkish baths and enjoy local dishes with a modern twist before finishing the night on a sunset cruise on the Bosphorus.
Kuala Lumpur
Malaysia's capital is a feast for all the senses, full of historic monuments, food-stall-lines streets, skyscrapers and big shopping centres. For $50.80, you can eat, sleep and explore some of the popular sights that the popular backpacker destination has to offer. Visit Batu Caves, one of the most popular Hindu shrines outside India, for free and explore the shopping and entertainment district, Bukit Bintang, to discover some of the cheapest dinner and drinks and visit some of the many bars and shops that make up their vibrant nightlife.
Beijing
Visit the ancient walled capital of the People's Republic of China and all it's best attractions for $52.64 a day. With top attraction tickets costing an average of $7.96, you can soak up the culture and history at the Great Wall of China, Tiananmen Square, and the Temple of Heaven without breaking the bank. Offering exotic regional cuisines from all around the country, Beijing is the perfect destination for foodies. The icky stuff, like dog meat and snakes, is only served down south, so you won't have to worry about eating any 'pets'.
Cheapest attractions
You can explore all the top attraction in Sydney, Santiago and Buenos Aires for free, making them the cheapest options for adventurous travellers. The five most popular attractions in Sydney, Australia, including Sydney Harbour Bridge and Bondi Beach are all free of charge, so you can get the Aussie experience without breaking the bank.
Explore vibrant Buenos Aires, Argentina, by visiting the colourful buildings in La Boca, the grand theatre Teatro Colón, or experience a more unusual trip to Recoleta Cemetery. Argentina is known for making some of the best wines in the world, and you can get a bottle of wine in this vibrant and sensual city for only $2.88.
Santiago, Chile, has a breathtaking view of the Andes Mountains and offers expansive museums, big parties and top-flight restaurants. Climb San Christóbal Hill or Santa Lucia Hill for a stunning view of the skyline and visit the city's main square, Plaza de Armas, for free.
Cheapest dinner and drinks
Bangkok offers the cheapest dinner and drinks in the index, and for a local meal and a bottle of water here, you can expect to pay just $2.25. Eat as much Tom Yum Goong (spicy shrimp soup), Gaeng Daeng (red curry) and Khao Pad b(fried rice) as you like, and catch a tuk-tuk back to the hotel when the food coma kicks in.
The Most Expensive Cities to Visit
Not all breaks can be considered budget breaks, but that doesn't mean that they're not worth spending money on. New York City, Paris and Dubai are considered bucket list destinations but they're also a pricier choice. A globetrotter with more cash to spare could instead consider a trip to one of the top three most expensive locations.
New York City
It's hardly surprising that NYC turns out to be the least affordable getaway, with a full day here adding up to $225.73. Although attractions such as Central Park and Brooklyn Bridge are free, three main meals can cost up to $60.48 in the Big Apple!
Los Angeles
The city of Angels is the second most expensive city to visit, giving America the top two positions in the least affordable ranking. Data shows that it costs $112.64 on average for a bed for the night in the buzzing city, but luckily, famous attractions like the Hollywood Sign and the Hollywood Walk of Fame won't cost you a dollar.
London
UK's capital is known for being expensive. Meals in London will cost you $56.70 a day, whilst a night in a hotel is $114.66 on average. If you're on a budget, make the most of the city's iconic attractions for free, such as Big Ben and the London Bridge to lower your costs.
Most expensive and cheapest dinner and drinks calculator
Travelling the globe doesn't have to break the bank, and with some planning and budgeting ahead of your trip you can have a great holiday in the world's most vibrant cities and experience their unique and diverse experiences for less than $100. Are you based in the UK? Check how much you can fit into a £100-a-day budget using the travel calculator here.