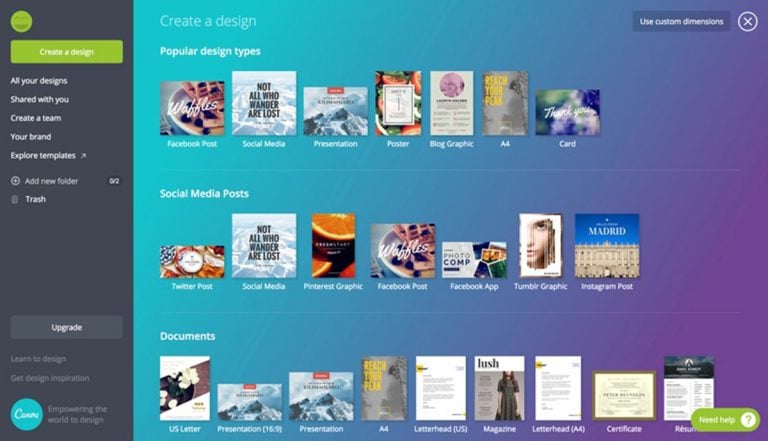 How to create free online graphics for social media is a question that every freelance social media manager, who is not lucky enough to afford a professional graphic collaborator, and every small company that has to do everything at home should ask.
Given that using the help of a graphic designer, as I can do with some of my clients, is preferable, sometimes it happens that there are no resources to start this type of collaboration. So we try to get a good visual result on our social channels, through the use of some tools, like the ones we will see today.
Q3 2019 hedge fund letters, conferences and more
Baupost's Seth Klarman: the Fed has broken the stock market [Q4 Letter]
Baupost founder Seth Klarman told investors that the large amounts of stimulus that have been poured into the world's economies are masking the severity of the problems caused by COVID-19. Q4 2020 hedge fund letters, conferences and more In a letter seen by the
To meet the need to create increasingly attractive, original and objectively pleasing visual content, there are some online graphics programs, which we can all use, even if we are not graphic designers.
The three tools that I will present to you today are fool-proof and all work with the drag & drop system. Of course, you will need to spend some time to learn how to use them, but I'm sure that after the first two times, you will have already figured out how to move within this new visual world.
All the tools that I will describe to you have more or less the same functions:
Free templates available for any type of social media
Free and paid photos and graphics
Lots of fonts to use
Ability to download for free and without watermarks
Create Free Online Graphics With Canva
I begin with the best known: Canva.
Canva is a free online graphics program, very easy to use, which also allows you to share your projects with a team in order to work with our workgroup.
You can upload photos or use those on the platform. You will realize that most of the illustrations and photos provided are paid, but with a little imagination, even free ones can suffice.
Here you will find practically all the formats you need:
Facebook post
Facebook cover
Instagram post
Youtube cover
Linkedin cover
Facebook event cover
Google plus cover
And many others, all under the "Social Graphics" section.
In addition, you can also subscribe to their newsletter to get tips and new ideas for graphics and read their blog, where there are often interesting ideas.
Crello
You may not have heard of Crello yet, yet it is Canva's brother, in the sense that it works in practically the same way.
Mainly I use it to find some inspiration, not to create the graphic of my post, but it's a personal question. Maybe you are better with Crello rather than with Canva.
Even here, we can create graphics for the social networks for free, but the free visual contents available are less than in Canva.
An interesting function of Crello is the possibility of creating animated posts, but unfortunately, it is only for a fee.
DesignCap
I discovered DesignCap really recently. This tool helps to create free online graphics for social networks in an easy and free way.
DesignCap is an online tool widely used for the production of graphics for online communication, allowing the creation of graphic projects in a simple and intuitive way. There are predefined templates where you can only edit the text or insert a logo, or you can create from scratch. It is designed for everyone, no matter your design experience and knowledge, so open an account immediately!
Once you have entered the app, you can explore the screen a bit. The template page lists thousands of templates for social media, marketing, etc. And the main menu on the left of the editing canvas refers to the text you can customize, the graphics you can add or search from, and the background you can change.
You have seen how easy it is to create a free online graphic for social media. If you have any questions or suggestions, please comment to let us know.