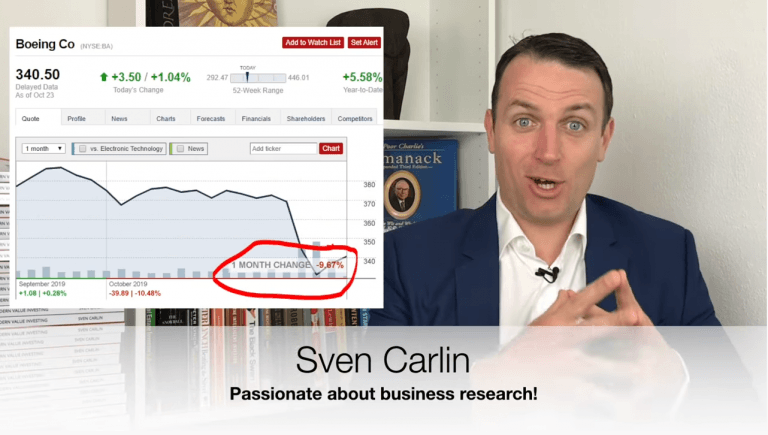 Sven Carlin provides an analysis on the Boeing stock price. Boeing is a great business but Boeing stock might not be a great investment over the long-term. Ryanair's CEO says how margins for Boeing earnings will contract, Boeing stock price has been pushed up thanks to huge buybacks that have cost Boeing billions.
Margins, Buybacks And Boeing Stock Price
Q3 2019 hedge fund letters, conferences and more
Brook Asset Management had a strong first quarter, is shorting This US education stock [Exclusive]
Brook Asset Management was up 7.27% for the first quarter, compared to the MSCI GBT TR Net World Index, which returned 3.96%. For March, the fund was up 1.1%. Q1 2021 hedge fund letters, conferences and more In his March letter to investors, which was reviewed by ValueWalk, James Hanbury of Brook said returns during Read More
Trasncript
Good day fellow investors. Over the last year and something each time Boeing stock falls, I get a few emails, I get a few comments. What do you think? And I really think I can add value to those who are interested in Boeing to see some factors that you might be missing when it comes to investing in Boeing. For those that are not interested in Boeing. I really think I can give you a few pointers a few lesson when it comes to investing here that you can really, really take advantage of in your investing life.
So just three things on Boeing, I think it will really add value. So let's start immediately each time as I said, the stock price drops I get emails it dropped 10% Is it a bargain now? Is it the buy now and the first point I want to make just because a stock is down? It doesn't mean anything. It doesn't mean it's cheap, or it's a bargain or it's an opportunity.
If we just take a look at the Last year, and this the red are all the times that I get emails, question comments and whatever about bowling swing, what do you think? And what do you think? Is it the bargain is the bargain? Is it the goodbye now? And then if you look at this over the last year, Boeing didn't go anywhere. So that's the first thing.
Boeing stock price and plane issues
And at the end stock prices, especially short term, stock price movements don't have any meaningful impact on your investment returns, you can trade bowing a little bit, but I would still say it's very, very risky. The key when it comes to investing, and this is point number two, our fundamentals and this is where most of you have it extremely right. Boeing is one of the two companies doing planes so it has a competitive advantage.
It has a mode. It's very difficult to do to make planes as we have seen with Boeing issues over the last few years. So it's hard. However, there will be more people flying, there will be more people on earth. There will be economic development, economic growth, low cost carriers are growing everywhere long haul flights. So everything is very, very positive. The fundamentals of the business of Boeing are extremely positive. So you might see and I get that a lot of in the comments. It's a great business.
Yes, it is no arguing about that. But because something is a great business, because something it is in a positive structural trend with the travelling tourism and more people positive tailwind, it doesn't yet mean it's a great investment. And that's something a lot of you especially those who send me those emails and comments if you wish ever to send me an email.
I always love to read them because it gets me the and it gets me how the market feels. So feel free to shoot me an evil whenever you want vegetables. When it comes to those investments, just because something is a great business has a great position in the market, it doesn't mean it's immediately a great investment. And that's something we have to be very, very careful about.
Boeing stock price: A fundamental look
What we have to look is fundamentals also on the earning side, not just on the trend, the market, the opportunity side. And if I look at buying fundamentals, the gross margin has been always between 15 and 20, but mostly around 1516. And just in the last two years 2017 2018 it has been so close to 20 when Boeing had such a good margin and the operating margin was 10 and 11%, compared to the historical 7%.
Boeing made great operating earnings that led to extremely high earnings per share. But this was just Two years in history, and I listened to Ryanair CEO in their conference call when I analysed Ryanair and the CEO said clearly that they are just buying Ryanair is just buying seven to nine year old planes because margins in the industry for new planes are a little bit on the high end of the historical average, which makes buying new planes not profitable.
And they are waiting for those margins to return to the mean or below the mean to buy new planes because then it's economically viable to buy planes. Now when a CEO who is a smart guy like Ryanair says that margins are high, you know what to expect for from a company like Boeing. So when investing in fundamentals, you have to see okay, the trend is positive, as we said in the industry, but what is the average margins that I can expect?