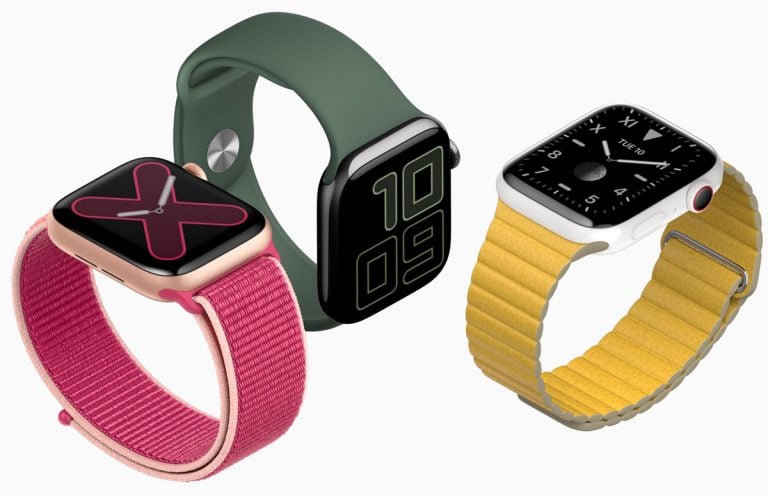 A new patent may be shedding light on what to expect from the Apple Watch Series 6. The patent suggests a future Apple Watch model could have Touch ID embedded in the display and Bluetooth, Wi-Fi and 4G antennas embedded in the strap. Of course, we must emphasize that since this is just a patent, there's no guarantee that this technology will ever make it into any Apple Watch model, including the Series 6 next year.
Patent reveals new technology
Most of the patent, which was spotted by Patently Apple, focuses on stretchable antennas that can be embedded into watch straps. The patent is actually entitled "Antenna assemblies for watch bands." It describes how antennas can be attached to the watch strap, making room inside the case for a larger battery and possibly other components.
The patent also explains how Apple's Touch ID fingerprint sensor could be embedded in the device's display. The patent states that the display could "provide an input surface for one or more input devices such as a touch sensing device, force-sensing device, temperature sensing device, and/or a fingerprint sensor."
Investing in the Next Generation of Emerging and Frontier Markets with Maurits Pot
ValueWalk's Raul Panganiban with Maurits Pot, Founder and CEO of Dawn Global. Before this he was Partner at Kingsway Capital, a frontier market specialist with over 2 billion AUM. In the interview, we discuss his approach to investing and why investors should look into frontier and emerging markets. Q2 2021 hedge fund letters, conferences and Read More
There's been talk of Apple moving Touch ID to the display of the iPhone, although that hasn't happened yet as the company has been relying on Face ID instead. Embedding Touch ID in the Apple Watch's display would certainly speed things up a bit when it comes to purchases and other activities that require authentication, which is currently done by entering a PIN.
Other rumors about the Apple Watch Series 6
While the Touch ID and antennas in the straps are both from a patent, we are hearing other details about the Apple Watch Series 6 that are much more likely. According to Mac Rumors, analyst Ming-Chi Kuo of TF International Securities said in a recent note that next year's Apple Watch models will offer faster performance, better water resistance and improved Wi-Fi and cellular transmissions.
The analyst believes the company will switch to liquid crystal polymer for the flexible circuit boards in the Apple Watch Series 6, which is expected to be released in the second half of next year. It certainly seems like almost a guarantee that next year's models will be faster than this year's Series 5 line-up. Apple typically speeds up the performance in its devices every year.
The Apple Watch has already been water resistant since the Series 2 line-up was released, making it capable of being worn while swimming or showering and withstanding up to 50 meters of water. However, Mac Rumors suggests additional improvements could make the Apple Watch Series 6 be suitable for other water activities like water skiing or even scuba diving.