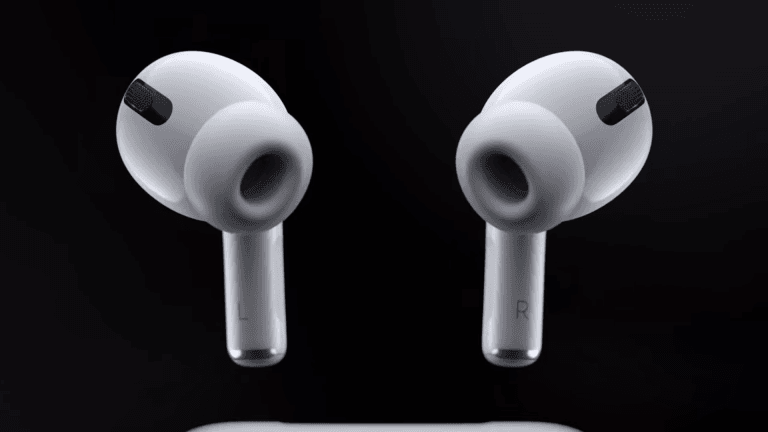 Apple's AirPods were among the best wireless earbuds in the market, but they lacked several features such as water-resistance and active noise cancellation (ANC). Amid the growing competition from Amazon, Microsoft, Samsung, and Google in the wireless earbuds space, Apple has launched the AirPods Pro with a bunch of cool features that were missing from the non-Pro AirPods. One of the biggest competitors of the new Apple AirPods Pro will be Amazon's Echo Buds. Amazon is addicted to offering feature-rich products at affordable prices. Let's check out how the AirPods Pro stacks up against the Echo Buds.
Apple AirPods Pro vs Amazon Echo Buds: Design
The AirPods Pro has an in-ear design for a 'customizable fit.' Apple ships the Pro buds with silicone ear tips in three different sizes to ensure they fit comfortably in your ears. The AirPods Pro ships with a USB-C to Lightning cable.
Apple has also added a new feature called Ear Tip Fit Test. When you put the Pro buds in your ears, the microphones in each bud and Apple's algorithms will measure the sound in the ear and compare it to the sound coming from the speaker driver to detect whether the ear tip is the right size and a good fit for you. If not, the algorithms will recommend you to change the tips.
Why The Term 'Value Investing' Is Redundant
What does value investing really mean? Q1 2021 hedge fund letters, conferences and more Some investors might argue value investing means buying stocks trading at a discount to net asset value or book value. This is the sort of value investing Benjamin Graham pioneered in the early 1920s and 1930s. Other investors might argue value Read More
The AirPods Pro also has a new vent system to equalize pressure. Apple claims the vent system will reduce discomfort caused by wearing in-ear headphones for extended hours. Both the AirPods Pro and Echo Buds come with a charging case.
The Echo Buds also has an in-ear design, and they ship with three different sizes of ear tips for a comfortable fit. Amazon doesn't offer anything similar to Apple's Ear Tip Fit Test, but you can easily determine which ear tips are right for you.
The ear tips help keep the earbuds in place when you are working out or jogging. The Echo Buds has a button at the bottom that puts them into pairing mode and allows you to check the charge level of the case.
Amazon's earbuds have a touchpad on the side that you can use to launch Alexa, toggle noise reduction, and control music playback. It ships with a Micro USB port instead of USB-C for the charging case.
Water and sweat-resistance
Both the Echo Buds and AirPods Pro offer an IPX4 rating. It means they can easily survive up to 10 minutes of water or sweat exposure. You can wear them even during intense workouts sessions. But they may fail if you wear them during swimming sessions.
Specs and controls
The AirPods Pro runs Apple's custom H1 wireless chip that enables faster connections, low latency, and hands-free Hey Siri activation. The earbuds also get Apple's new Force sensor that allows you to switch between active noise cancellation (ANC) and transparency modes with a long press on the stem of the earbuds.
The Force sensor also has different controls such as single, double, and triple taps to play, pause, and skip music. It also allows you to take and hang up phone calls. The AirPods Pro supports Apple's Siri voice assistant. It works seamlessly with Apple devices, but the pairing process is not that smooth with Android handsets.
The Echo Buds comes with Amazon's Alexa assistant, which is far superior to Siri. But you can also access your phone's default assistant (Google Assistant or Siri) with a long-press on the earbud. You can double-tap to enable or disable noise reduction. Both the AirPods Pro and Echo Buds automatically pause music playback when you pull out one bud.
Amazon is also bringing some Alexa integrations to the Echo Buds. For instance, users will be able to ask Alexa whether the Whole Foods store they are in has an item they want. The Amazon Echo Buds works with Android, iOS, and computers. Amazon also allows you to customize the controls.
Audio quality
You can expect top-notch sound quality on both products. The AirPods Pro gets active noise cancellation to block out ambient noise so you can listen to the music at lower volumes even in noisy environments. It has two microphones – one facing outside and another facing inside – to minimize noise.
If you want to talk to someone or connect with your surroundings, the AirPods Pro lets you switch from ANC to transparency mode. The transparency mode proves useful when you are working out, crossing the road, jogging, or cycling in busy places. The AirPods Pro also has the Adaptive EQ, which tunes the low- and mid-frequency of the music to the shape of your ear to deliver an immersive audio experience.
The Amazon Echo Buds has two balanced armature drivers and three microphones for audio. It delivers excellent instrumental separation, punchy bass, and clear sound. Amazon has used Bose's noise cancellation technology, which is excellent.
Battery life
According to Apple, the AirPods Pro offers 5 hours of music playback on a single charge. But the battery life drops to 4.5 hours if you are using the active noise cancellation. The wireless charging case packs another 3-4 cycles of charging, meaning you can expect at least 24 hours of total battery life. If your buds are running low on battery, the charging case gives you one hour of listening time in just five minutes.
Unlike AirPods, the Echo Buds doesn't support wireless charging. The case can be charged only via a Micro USB port. Amazon promises up to five hours of battery life on a single charge. The charging case packs another three cycles of charging, meaning you'll get around 20 hours of battery life.
AirPods Pro vs Echo Buds: Price
The AirPods Pro has been priced at $250. It's now available on Apple's website and in stores. It's jam-packed with features that were not available on the non-Pro AirPods. In contrast, the Echo Buds cost just $129, only about half as much as the AirPods Pro.
In terms of value for money, the Echo Buds is much better than the AirPods Pro. It offers Alexa integration, noise cancellation, excellent sound quality, and good battery life – all at half the price of the AirPods Pro.