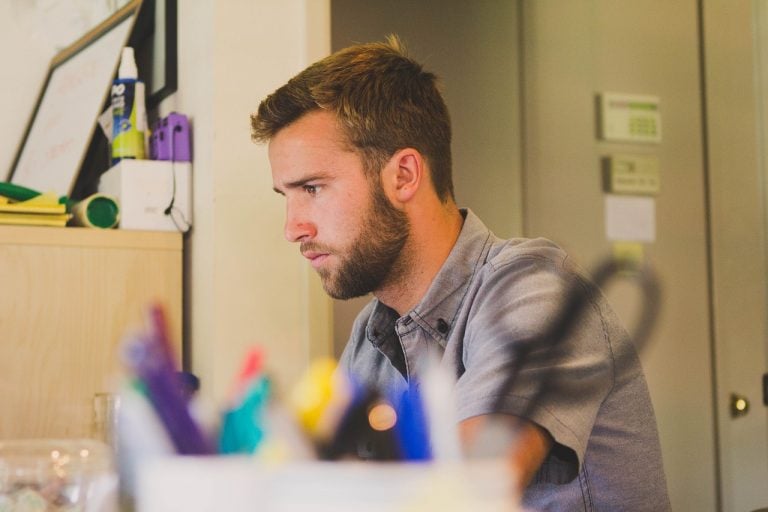 If you are about to enter the job market or are planning to switch jobs in the near future, you'd want to know which occupations are set to grow over the next decade. The job landscape is shifting rapidly. Some sectors such as manufacturing, utilities, retail trade, and wholesale trade are projected to lose jobs in the future. On the other hand, renewable energy, healthcare, and social assistance will see explosive growth in the number of jobs.
According to the US Department of Labor's Bureau of Labor Statistics, the US economy will add 8.4 million jobs over the next ten years. It will take the total number of working Americans to 169.4 million by 2028. People aging 65 or older will be staying in the workforce longer. The number of people between ages 16-24 in the workforce will decline as more of them will go to school.
These are the top 10 fastest growing jobs in the United States over the next decade, according to the Bureau of Labor Statistics:
Exclusive: David Einhorn's FOF Has 270% Return From Revenue Share Agreement [In-Depth]
Greenlight Masters, the fund of funds managed by David Einhorn, returned 26.2% net of fees in 2020, outperforming the S&P 500, which returned 18.4% throughout the year. Q4 2020 hedge fund letters, conferences and more According to a copy of the firm's letter, which ValueWalk has been able to review, the dispersion of returns in Read More
10- Speech-language pathologists
Speech-language pathologists are trained professionals who work with people of all ages to treat communication disability. They also work with people having swallowing difficulties. The median salary of speech-language pathologists is $77,510. This occupation will see a 27% growth in the number of jobs over the next decade.
9- Nurse practitioners
The median annual salary of nurse practitioners is $107,030. You need a master's degree and a registered nursing license to become a nurse practitioner. The US economy is projected to add 50,000 nurse practitioners over the next decade, representing a 28% growth. The primary job of a nurse practitioner is to care for patients.
8- Statisticians
The median salary of statisticians is $84,060, and they remain in high demand. The statistician jobs are expected to grow 31% through the next decade. They analyze data and interpret results. According to the BLS, the federal government employs 40% and universities employ 19% of statisticians in the United States. It's one of the best low-stress jobs.
7- Physician assistants
The physician assistant jobs are projected to grow 31% by 2028. Physician assistants earn a median wage of $108,610. You don't need to attend medical school or spend years in residency to become a physician assistant. But you must complete a master's program and earn a certification. Physician assistants examine, diagnose, and treat patients under the supervision of a doctor.
6- Information security analysts
The information security analysts command a median annual wage of $98,350. They plan and implement security measures to protect an organization's computer systems and networks. Their role has become increasingly important in the digital age due to the rising threat of cyberattacks. The information security analyst jobs are projected to grow 32% over the next decade.
5- Occupational therapy assistants
The occupational therapy assistant jobs are projected to grow 33% over the next decade. Their median annual salary is $60,220. The occupational therapy assistants help patients develop, improve, recover, and maintain the basic skills necessary for daily living and working. You need an associate's degree from an accredited occupational therapy assistant program.
4- Personal care aides
The demand for personal care aides is projected to grow 36% over the next decade as the elderly population continues to increase. However, their median annual wage is relatively lower at $24,020. They assist the elderly, disabled, and ill people in their daily living activities such as eating, bathing, driving, dressing, and companionship. They provide only non-medical services.
3- Home health aides
The home health aides provide similar services as personal care aides. But they also offer basic medical services such as giving medications, checking a client's vital signs, change bandages or dressings, care for skin, and help with artificial limbs. Both home health aides and personal care aides work in a client's home. Sometimes they are also employed in assisted living facilities and group homes. The home health aide jobs are projected to grow 37% over the next decade. Their median annual salary is $24,200.
2- Wind turbine service technicians
The median salary for wind turbine technicians is $54,370.The occupation will see a rapid growth of 57% over the next decade, thanks to the growing demand for renewable energy. You don't need an advanced college degree to become a wind turbine technician. All you need is a short-term certificate and training. The job involves installing, inspecting and maintaining wind turbines.
1- Solar photo-voltaic installers
The median wage of solar PV installers is $42,680. The number of solar PV installers is projected to grow a staggering 63% over the next decade, primarily because of the explosive growth in the solar energy sector. They assemble, install, and maintain solar panel systems on rooftops and other structures. You need at least a high school diploma to become a PV installer. Several trade schools and community colleges offer courses on PV design and installation.