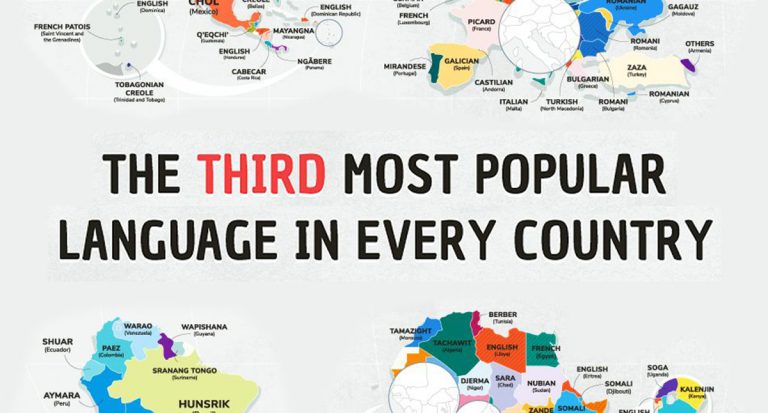 How many countries can you name the most popular language spoken there? Probably quite a few. How many can you have a guess at what the second most popular language is? Quite probably not very many. How about what the third most popular language is? We're assuming the answer is probably 'zero', including your own country. You might wonder why it matters, but the truth is that there's a lot to learn about countries and how they have evolved by seeing which languages are spoken there.
Indeed, as the world continues to grow smaller and people move more freely from country to country how languages carry on evolving will be interesting – and of course controversial – to watch. So what can be learned from which is the third most popular language in countries across the world right now? One obvious insight is that English is the most popular third language by some distance, holding that position in 19 countries.
How To Invest In India's Growth with INDF's Amit Anand
ValueWalk's Raul Panganiban interviews Amit Anand, Co-Founder of INDF, and discusses his approach to investing and why India Financials are very attractive today. Q1 2021 hedge fund letters, conferences and more The following is a computer generated transcript and may contain some errors. Interview with INDF's Amit Anand
Q3 2019 hedge fund letters, conferences and more
English and Chinese dominate
Meanwhile, Chinese may be the most widely-spoken language, but is only the joint-third most widely spoken third language. Will that change as China's influence around the world continues to grow? If you look at the map for North America you can see that one of the four countries where Chinese is the third most popular language is actually the USA, while Punjabi comes third in Canada.
In Europe, the third most popular language turns out to be Italian, which features in Croatia, Malta, Monaco and Switzerland, while in Italy itself the second language is French. You can see from Europe in particular how many countries have various regional dialects featuring as their third most widely-spoken languages, including Iceland and Norway, while Romani languages are popular in Belarus, Romania and Bulgaria.
Third most popular language by continent
It's certainly interesting to see which languages have spread the most by looking at the third most popular ones spoken in regions like Asia. English may be the overall winner here, whether through colonial history or modern cultural dominance, but languages like Armenian are also surprisingly widespread. It's the third most popular language in Syria, Palestine, Georgia and Azerbaijan, which puts it above German, Russian and Spanish around the world. That's an impressive achievement for a country with a population of less than 3 million.
Over in South America, there's no prizes for guessing that Spanish is the most popular first language, but when it comes down to the third languages, you can see more of the real diverse history of the continent. For example, in Peru and Bolivia, the third language is Aymara, a language that comes from the people who live in the Andes, while German immigrants from the early 20th century are responsible for it being a popular language in Paraguay and Chile.
The third languages map of Africa really shows how the spoken word has developed there, which is to say that it's been a very diverse picture of peoples and cultures growing on their own, which has resulted in 42 different third languages being spoken in 54 countries. This means that few of them are spoken across more than one country, with English predictably being the most common. The same can be said for Oceania, where disparate islands have their own languages with few shared ones, while Australia's third language is Arabic.
So why not start digging into the results and see what else you can learn about the most common third languages spoken all around the world.