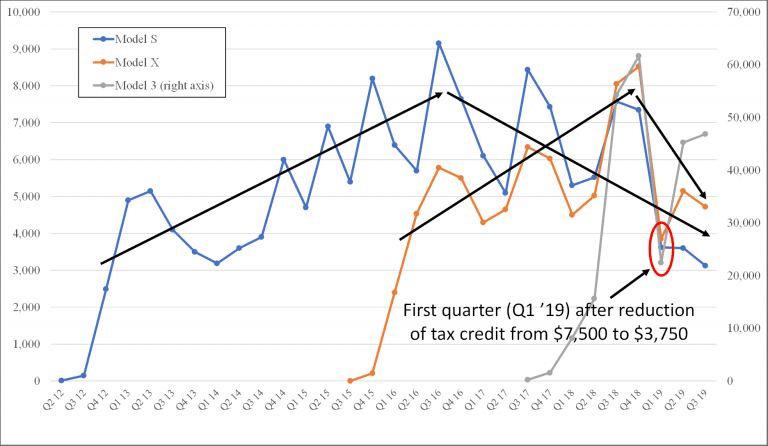 Whintey Tilson's email to investors discussing the Tesla Inc (NASDAQ:TSLA) deliveries: organic demand is intact; responses; his chart on U.S. sales; Tesla, meet wall; cars' pedestrian-safety features often fail.
1) Loup Ventures' take: Tesla Deliveries: Organic Demand Is Intact.
Q2 hedge fund letters, conference, scoops etc
This AI-Powered Emerging Hedge Fund Manager Is Blazing A New Path
Investment strategies used by hedge funds have evolved over the years, although the biggest changes have come in the use of computers to develop portfolios. Rosetta Analytics is a woman-founded and woman-led CTA that's pioneering the use of artificial intelligence and deep reinforcement learning to build and manage alternative investment strategies for institutional and private Read More
Tesla announced Q3 production and delivery numbers, reporting an all-time record of 97,000 vehicles delivered. The company delivered 79,600 Model 3s (production of 79,837) and 17,400 S&X vehicles (production of  16,318).
,..............
As a reminder, Tesla's guidance calls for 360k-400k deliveries in 2019. This quarter pushed the 2019 total to 255,370, which means they must deliver 104,630 vehicles in Q4 to meet the low end of guidance. A 100k+ deliveries in Q4 would represent a major milestone for the company and a 45% y/y increase. In other words, hitting even the low end of 2019 guidance would be a big win for a company that struggles to properly set expectations.
2) A friend's response: "This is so wrong. S, X, and high margin 3 in the US dropping like a stone."
3) Another friend's response:
One clearly gets the sense that the analysts from Loup Ventures doesn't know the two critical things that constitute their conclusion:
What is "organic" demand? In this case, there is nothing at all "organic" about the demand. If the subsidies, mandates and other incentives were removed -- all of them -- would demand for Tesla (and other electric cars) go down by 99% or only 95%? This means that demand is the exact
opposite of organic. It is purely artificial. It's as "organic" as the demand for soggy paper straws. It would be zero if not mandated by the government in question.
I get the sense that the Loup authors also don't have the foggiest clue about the order of magnitude of the subsidies, especially in some of the European countries. Do the authors know that a Tesla could be getting a de-facto subsidy of over $100,000 in Norway? Do the authors
know how big the subsidies are in this quarter's (Q3) European success story, the Netherlands? Do the authors know that non-Tesla automakers have almost zero incentive to sell an EV in Europe before January 1, 2020, because that's when the major European EV quotas, applicable to them, kick in? From their research (report) commentary, one does not get any indication that the authors have a clue.
4) A major thing propping up Tesla's deliveries are the launch of the Model 3 in new markets. I suspect that there's a pop-and-drop phenomenon at work, however – in other words, strong sales initially to early adopters, which then taper off. If so, Tesla's big valuation is totally unwarranted.
To test this theory and see what the future might hold, let's look at Tesla's first and most mature market, the U.S.
I pulled quarterly unit sales only for the U.S. for all three models, going back to the launch of the Model S in Q2 '12 (note that the Model 3 sales are on the right axis, so that its higher sales don't mask the drop of the Model S and X), and the data confirms my theory:
After strong growth for the first three years, Model S sales peaked three years ago and have been in decline ever since (in part, no doubt, due to cannibalization from the X and 3)
Same story for the X
The expiration of tax incentives appears to play a big role: note the huge drop in Q1 '19 after the tax incentive dropped from $7,500 to $3,750 at the end of 2018. Then a rebound in Q2 '19, with the further reduction from $3,750 to $1,875 at the end of Q2. There might be a little tailwind going into the end of this year, as the tax incentive goes to zero on Dec. 31.
And this is BEFORE a tidal wave of competition hits!
I just put this together, so I'd welcome feedback.
5) The Financial Times with a story about Smart Summon and video of a Tesla backing into a garage wall: Tesla, meet wall. It heaps well-deserved scorn on Musk's promise to have 1 million robotaxis on the road by early to mid-2020 if Smart Summon can't safely get a Tesla out of a garage! Excerpt:
So. Here we have Tesla's autonomous technology failing to navigate the most basic of domestic scenarios: exiting a large walled space into an empty driveway.
6) Speaking of how far Tesla's (and other manufacturers') technology has to go before self-driving becomes reality, check out this story in today's WSJ about an AAA test of four manufacturers' cars (including the Model 3): Cars' Pedestrian-Safety Features Often Fail.