Whitney Tilson's email to investors discussing more on Cathie Wood's selling; Tesla Chair Robyn Denholm on Musk; Tesla launches new 'Life with Model 3' series to promote ownership; Model 3 wins top price.
1) Some friends' comments in response to yesterday's email about Cathie Wood dumping TSLA:
Thanks for that tidbit Whitney! Makes me want to double up on my bull put spread that I currently have on TSLA.
She might argue the stock has risen and therefore this is just portfolio balancing.
Could be liquidating to fund redemptions…
Amazing. I would think this isn't a fund rebalance or meeting upcoming redemption. She is likely anticipating a capital raise for cash crunch and to meet the solar city November bond redemption or she "knows" the print is going to show deceleration. Either way, her spidy sense is tingling?
Q3 2019 hedge fund letters, conferences and more
Exclusive: York Capital to wind down European funds, spin out Asian funds
York Capital Management has decided to focus on longer-duration assets like private equity, private debt and collateralized loan obligations. The firm also plans to wind down its European hedge funds and spin out its Asian fund. Q3 2020 hedge fund letters, conferences and more York announces structural and operational changes York Chairman and CEO Jamie Read More
PS--Ark has a publicly traded ETF, ARK Innovation ETF (ARKK). Here's how it's done over the past year: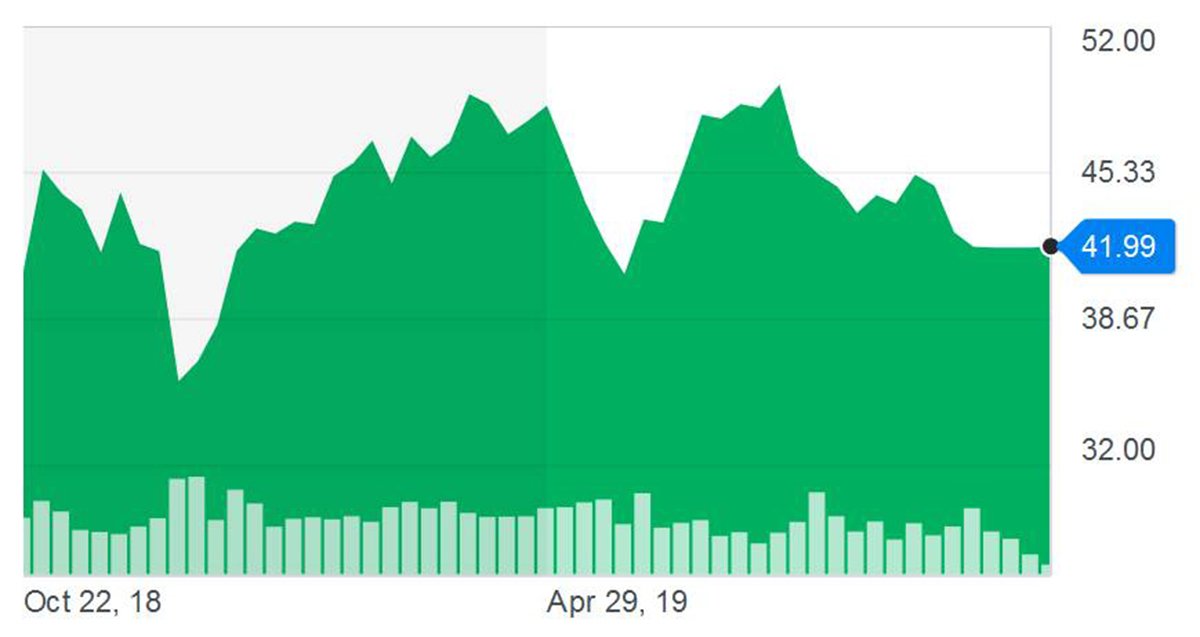 Pretty much flat (and only down 16% from its all-time high three months ago), so I'd be surprised if the fund were getting redemptions.
2) This interview perfectly captures why Musk is so out of control – he's enabled by his board chair… Tesla Chair Robyn Denholm on Musk: 'I Don't Expect Normalcy in That Environment' Excerpt:
"There are very few people in the world like Elon, and the world needs more of them," said Denholm, who left her role as CFO and head of strategy at Telstra, the Australian telecommunications firm, to chair Tesla's board full time.
Denholm added that she has worked with a number of founders during her career and that the standard is different. "In this world you can't be a disruptor part of the time. You can either be a disruptor and innovator as an individual or not," she said. "I don't expect normalcy in that environment whether it's Elon or one of the other innovators I've worked with."
She didn't open up about the day-to-day of overseeing the company that Musk built and manages, but she said of the joys of the job: "You can see the progress. Nobody, 15 years ago, was thinking about electric vehicles or sustainable energy with batteries. Today, the fact that the rest of the industry is moving that way is phenomenal. That would not have happened without Elon."
3) This is smart marketing: Tesla launches new 'Life with Model 3' series to promote ownership. Tesla bears should always keep in mind that they're betting against a company whose customers are NUTS about the product, which is usually (though I suspect not in this case) a recipe for disaster on the short side... Excerpt:
Tesla has launched a new video series called Life with Model 3 featuring videos filmed by owners and showcasing some features of the Model 3.
While the best-selling automakers spend billions of dollars every year in advertising, Tesla has been staying away from the practice.
The electric automaker prides itself in not spending any money for paid placement, ad time, or anything of the sort.
CEO Elon Musk famously said that he prefers to spend the advertising budget on making the products better in the hope that it will encourage word of mouth to boost sales.
However, Tesla still has a marketing department, and they have been known to release promotional campaigns.
They just don't pay to promote them and buy airtime.
Instead, they rely on viral marketing and their strong social media presence.
4) More awards for the Model 3: TESLA'S CHEAPEST ELECTRIC VEHICLE WINS TOP PRIZE AT CAR INDUSTRY AWARDS. Excerpt:
The new Tesla Model 3 has picked up four awards, including Car of the Year, in a string of major industry accolades for the electric model.
Tesla's smallest and cheapest car was the UK's third best-selling car model in August - the first time an electric vehicle (EV) has made the top 10 best-sellers list.
The battery-powered saloon is proving to be a critical success for Elon Musk's company - scooping prizes for Best Electric Car and Best Company Car, along with the Safety Award and overall Car of the Year prize at the Parkers New Car Awards 2020.