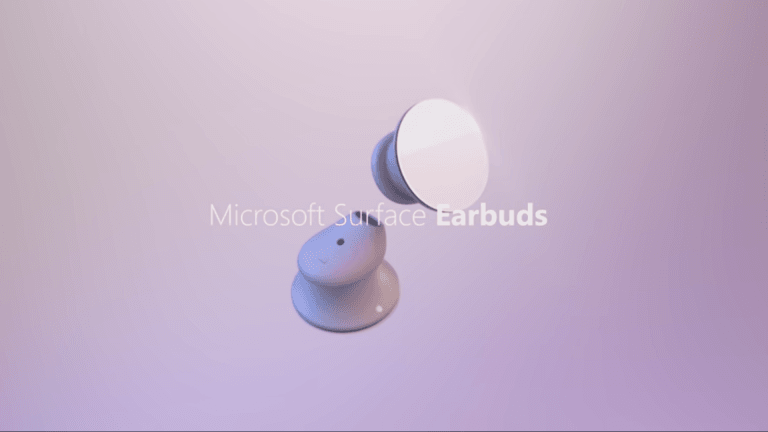 The wireless earbud market has become increasingly crowded in the last couple of years. Almost every major technology company including Samsung, Google, and Amazon has launched their own wireless earbuds to compete with Apple's AirPods, which have captured 60% of the global wireless earbuds market. Microsoft also entered the market with the unveiling of Surface Earbuds at its latest hardware event. The Surface Earbuds will be competing directly with Apple's second-generation AirPods. Let's check out how the two products stack up.
Surface Earbuds vs AirPods: Design
The two pairs of earbuds have a starkly different design. The Surface Earbuds have an open design with a disc-shaped exterior. Microsoft's buds are comfortable to wear. They have four anchor points to ensure that each bud sits securely in your ear. Microsoft also offers three different sizes of interchangeable silicone ear tips, allowing users to find their perfect size.
David Abrams Explains How To Value Stocks
Continued from part one... Q1 hedge fund letters, conference, scoops etc Abrams and his team want to understand the fundamental economics of every opportunity because, "It is easy to tell what has been, and it is easy to tell what is today, but the biggest deal for the investor is to . . . SORRY! Read More
Microsoft's buds are noticeably bulkier than that of Apple's. Despite being bulky, Microsoft claims its earbuds offer all-day comfort. The exterior disc has a responsive touch surface that supports gestures like touch, tap, and swipe to let you control music playback, adjust volume, trigger voice assistants, and make phone calls.
In contrast, the second-generation AirPods have the same design as the original model. They are small and lightweight with a protruding antenna. Unlike Microsoft, Apple has taken the same one-size-fits-all approach with the AirPods, meaning there are no interchangeable ear tips for a customizable fit depending on the shape of your ears. The same earpiece is supposed to fit in everyone's ears.
The AirPods fit comfortably in your ears. They don't fall off when you are working out or jogging. Apple's design ensures that they rest snugly in your ears. Both the Surface Earbuds and AirPods come with a charging case.
Microsoft's Surface Earbuds come with an IPX4 rating for splash and sweat resistance. The AirPods don't offer water or sweat resistance, so you'd want to keep them away from water, sweat, or saliva. However, some tests have shown that the second-generation AirPods can withstand certain levels of sweat exposure.
Features
Microsoft appears to be targeting not only music lovers but also business users with its new earbuds. The Surface Earbuds offer live-transcription and deep integration with Microsoft Office apps. They can live-transcribe what you are saying into captions that could appear in PowerPoint and other apps. The buds will also be able to translate the text in 60 different languages in real time. They also have a noise-reduction technology.
Microsoft's buds are not restricted to a single voice assistant. They work with Siri, Alexa, and Cortana, giving you the option to choose which one you want to use. Alexa is the best of the three options. Microsoft also offers Spotify integration to let users control music playback directly from the buds' touch surface.
The AirPods pair and work seamlessly with iPhones, iPads, and Apple Watch. Microsoft promises easy one-click pairing with Windows computers, Android, and iOS devices. The Surface Earbuds also have an onboard volume control, which is missing from the AirPods.
The AirPods run Apple's custom H1 processor, which enables low latency, hands-free Hey Siri activation on iOS devices, and faster connections. It also allows customers to use only one earbud at a time if they want. Apple's earbuds are equipped with built-in sensors that automatically pause music when you pull one earbud out of your ear.
You can control the AirPods by tapping on the side of either bud. It allows you to play and pause music, skip songs forward or backward.
Audio quality
Microsoft's earbuds haven't yet been tested in the real world for audio quality. But the company promises "incredible clarity" for music and phone calls. The Surface Earbuds are equipped with custom-designed drivers that are precisely-tuned to offer an "exceptional acoustic experience." The microphones offer exceptional call quality and voice recognition, says Microsoft.
The sound performance of the second-gen AirPods is impressive, even though they have seen no improvement over the original AirPods. They offer powerful bass and good instrumental separation. The AirPods don't have a closed design, meaning they let some ambient noise in. They have excellent microphones that filter out ambient noise to make it easier for people on the other side of the call to hear you.
Battery life
The Surface Earbuds promise 8 hours of battery life on a single charge. The charging case, which supports USB-C charging, provides three additional full charges. You can expect 24 hours of listening time on the Microsoft buds.
By comparison, the AirPods deliver only five hours of music playback on a single charge, putting them at a disadvantage against Surface Earbuds. The charging case adds another 18 hours of battery life. If your AirPods are running low on battery, the charging case delivers up to 3 hours of listening time in just 15 minutes of charging.
Though the base model of the second-gen AirPods doesn't have a wireless charging case, you can get the wireless charging variant by spending another $40. The AirPods use a Lightning port for charging.
Pricing
Microsoft has priced the Surface Earbuds at $249, making even the AirPods look cheap. The Surface Earbuds could justify their price with stellar call quality and sound quality. But it's yet to be proven.
The AirPods are available at $160 for the base model and $200 for the wireless charging case variant. Both versions are much more affordable than Microsoft's buds.
It's too early to say whether the Surface Earbuds are better than AirPods. They support multiple voice assistants, provide live-transcription and Microsoft Office integration, real-life translation, and a longer battery life on a single charge. All these things make them a compelling product, especially for business users. But the sound quality is yet to be tested.