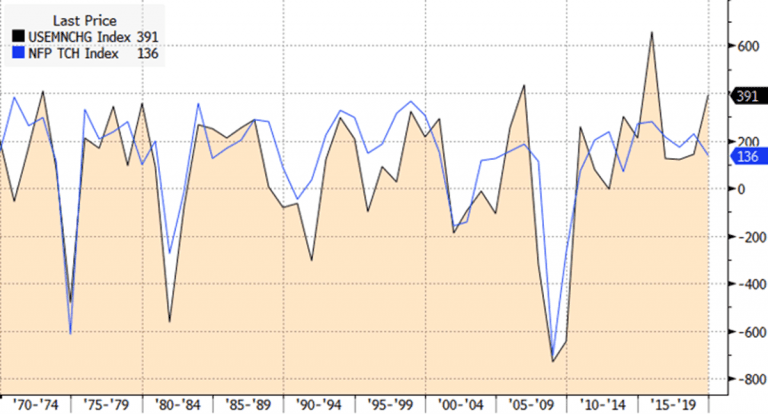 The King Report October 7, 2019 Issue 6107

September Nonfarm Payrolls increased 136k, 145k was expected.  However, August was revised to 168K from 130k and July was revised 7k higher.  NFP for the past three months is 36k higher than expected.  Private Payrolls grew 114k; 130k was consensus.  But, August was revised to 122k from 96k.
The Unemployment Rate fell 0.2 to 3.5%.  The Underemployment Rate fell 0.3 to 6.9%.  Manufacturing fell 2k: +3k was expected. Retail -11k; education & healthcare +40k, Leisure & Hospitality +21k, Government +22k, federal -2k.  29k of the 45k upward revision in Aug & July NFP is in education & healthcare.  August jobs data are difficult to predict due to the vagaries of school year openings in August.
ValueWalk's July 2022 Hedge Fund Update: Tiger Cub Hedge Fund Shuts Down
Welcome to our latest issue of issue of ValueWalk's hedge fund update. Below subscribers can find an excerpt in text and the full issue in PDF format. Please send us your feedback! Featuring Andurand's oil trading profits surge, Bridgewater profits from credit, and Tiger Cub Hedge Fund shuts down. Q1 2022 hedge fund letters, conferences Read More
Q2 hedge fund letters, conference, scoops etc
BLS accounting reduced the September 2019 NFP by 4k jobs vs. 2018.
Sept 2019: 362k NFP NSA, adjusted to 136k; -226k was seasonal adjustment; -71k Birth/Death jobs
Sept 2018: 340k NFP NSA, adjusted to 108k; -236k was seasonal adjustment; -61k Birth/Death jobs
https://www.bls.gov/web/empsit/cesbd.htm
The Household Survey was again much stronger than NFP data, which the media ignores – but the stock market did not.  391k people gained employment in September.  The Household Survey has a broader employment definition.  The BLS explanation at: https://www.bls.gov/web/empsit/ces_cps_trends.htm
Household Survey Employed (Jobs) vs. NFP SA – Used to correlate tightly
Household Survey
Over the month, the number of unemployed persons decreased by 275,000 to 5.8 million… The labor force participation rate held at 63.2 percent in September. The employment-population ratio, at 61.0 percent, was little changed over the month but was up by 0.6 percentage point over the year…
https://www.bls.gov/news.release/pdf/empsit.pdf
ESZs declined 22 handles over night to a low of 2896.75 one minute before the release of the Employment Report.  Traders expected an ugly report that would affirm recession fears. The better than expected 3-month NFP total allayed recession fears and induced traders to aggressively buy ESZs.  They jumped to a session high of 2920 within 5 minutes of the Employment Report's release.
US Unemployment Rate vs. US Recession Indicator quarterly
The following chart shows the Unemployment Rate on a quarterly basis versus its 4-quarter, or yearly, rate of change.  This rate of change has turned positive before all recession over the past 50 years.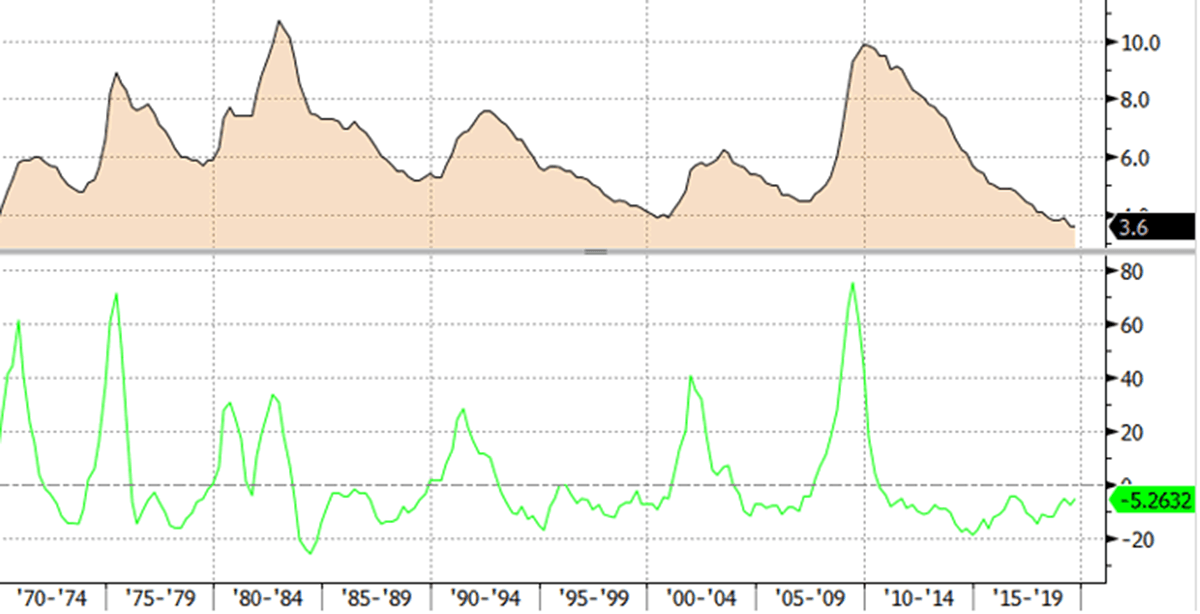 Upper Chart: US Unemployment Rate quarterly; Bottom Chart: 4-quarter rate of change (ROC)
The above chart suggests that it would take at least two quarters of higher employment rates to push the ROC to a positive reading.  Recession then tends to appear about two quarters later.
@realDonaldTrump: Breaking News: Unemployment Rate, at 3.5%, drops to a 50 YEAR LOW. Wow America, lets impeach your President (even though he did nothing wrong!)
The US rally completed its first leg at 10:00 ET.  After a 13-handle ESZ decline over 45 minutes, ESZs and stocks resumed their rally.  After the European close, stocks went inert.  A modest rally for the VIX Fix appeared.  Equities then plodded modestly higher until buying accelerated 30 minutes before the close on Friday.
U.S. trade gap with China narrows as exports hit five-month high https://yhoo.it/2AKiWMa
Positive aspects of previous session
Robust rally on an abatement in recession and impeachment fears
Negative aspects of previous session
Stocks are now overbought on a short-term basis
Ambiguous aspects of previous session
What will the Fed do if stocks keep falling while they cut rates?  QE 4?
First Hour/Last Hour Action [S&P 500 Index]
First Hour Up; Last Hour Up
Previous session S&P 500 Index High/Low: 2953.74; 2918.56
Pivot Point for S&P 500 Index [above/below indicates daily trend for traders]: 2941.44
[Saturday] All subway and trains services are closed in Hong Kong after overnight arson attacks, looting, fighting with police and beatings https://cbsn.ws/31Kgv85
China Narrows Scope for Trade Deal with U.S. Ahead of Talks
Chinese officials suggest a broad pact is off the table
U.S. president still insists any deal has to be "100% for us"
https://www.bloomberg.com/news/articles/2019-10-06/china-narrows-scope-for-trade-deal-with-u-s-ahead-of-talks
Today – Stocks are now overbought on a short-term basis due to the massive 'V' rally on Thursday and Friday's surge.  China's market will open after being closed for a week.  ESZs opened on Sunday night at 2928, -23.00.  At 20:00 ET, they are -10.00 on conditioned Sunday night buying.  Despite the negative China trade news, traders will play for the usual Monday rally.  However, if stocks rally in the morning, be alert for an afternoon reversal because stocks would be extremely overbought on a short-term basis.
The S&P 500 Index 50-day MA: 2942; 100-day MA: 2927; 150-day MA: 2906; 200-day MA: 2841
The DJIA 50-day MA: 26,502; 100-day MA: 26,420; 150-day MA: 26,300; 200-day MA: 25,867
S&P 500 Index support: 2938, 2930, 2922, 2910-14, 2900, 2880, 2870, 2855-60, 2850, 2841 (200 DMA)
Resistance: 2930, 2938, 2955-60, 2965, 2975, 2985-87, 2993, 3000, 3008
Expected economic data: Aug Consumer Credit $16.0B; Sept NFIB Small Biz Optimism 102.5; Minny Fed Prez and uber-dove Kashkari 10:20 ET
S&P 500 Index – Trender trading model and MACD for key time frames
Monthly: Trender and MACD are positive – a close below 2502.93 triggers a sell signal
Weekly: Trender is positive; MACD is negative – a close below 2823.03 triggers a sell signal
Daily: Trender and MACD are negative - a close above 3004.45 triggers a buy signal
Hourly: Trender and MACD are positive - a close below 2909.82 triggers a sell signal
Here's why CIA wing of the Deep State is revolting or staging a coup:
Justice Department hasn't interviewed key Russia probe witnesses - Durham's apparent lack of interest in the FBI at this point suggests that he and Barr are focusing on examining the intelligence community's role in the Russia probe—and, in accordance with Trump's desires, looking at whether the help provided by U.S. allies in the Russia probe, including the U.K., Italy, Australia and Ukraine, may itself have constituted foreign interference.
Durham, for his part, appears to have trained his focus on the intelligence community, reportedly seeking interviews with the CIA analysts who drew conclusions about Putin's motivations in 2016...
https://www.politico.com/news/2019/10/05/justice-department-russia-probe-028545
Dem Rep @BillPascrell: William Barr is aiding and abetting trump's constitutional crime spree. Barr should be impeached, but also face professional sanctions for his attacks on the rule of law. Today I filed complaints w/ the DC and VA bars calling for Barr's law license to be revoked.  [Barr petrifies Dems!]
WSJ: Trump's Online Fundraising Surges - Raises $45 million online for re-election bid in third quarter, 29% increase over prior quarter
President Trump's 2020 re-election effort raised $45 million online in the third quarter on a surge of small-dollar donations driven by 313,000 first-time donors, campaign officials said.  The money, which the campaign raised jointly with the Republican National Committee, was part of the $125 million overall raised in the quarter…
https://www.wsj.com/articles/trump-re-election-bid-raised-45-million-online-in-third-quarter-11570204369
Tlaib: Democrats looking into how to arrest Trump officials
Rep. Rashida Tlaib said Democratic lawmakers are exploring how to arrest White House officials who do not comply with congressional subpoenas. Tlaib, D-Mich., told Detroit constituents at her "Congress, Coffee, and Conversation" event on Tuesday that lawmakers are focused on how best to take cabinet members into custody. "This is the first time we've ever had a situation like this," she said. "So they're trying to figure out, no joke, is it the D.C. police that goes and gets them? We don't know. Where do we hold them?"... 
https://www.foxnews.com/politics/tlaib-democrats-looking-into-how-to-arrest-trump-officials
Trump Orders Cut to National Security Staff after Whistle-Blower
White House seeks to make council leaner under new leader [A source for the WB/leaker?]
https://www.bloomberg.com/news/articles/2019-10-05/trump-orders-cut-to-national-security-staff-after-whistle-blower
Fox's @ShannonBream: Per Catherine Herridge:  IC Inspector General told lawmakers the whistleblower did not disclose contact w Schiff/Committee staff - so IG never looked into it.  IG "had no knowledge of it".
@seanmdav: The form submitted by the complainant required him to disclose all contacts he had regarding his allegations. If he failed to disclose those interactions with Schiff before filing the complaint, he could be subject to felony false statement charge [From WB to possible felon in 1 week!]
CIA's top lawyer made 'criminal referral' on whistleblower's complaint about Trump conduct
Experts are raising questions about why the Justice Department did not open an investigation.
The move by the CIA's general counsel, Trump appointee Courtney Simmons Elwood, meant she and other senior officials had concluded a potential crime had been committed, raising more questions about why the Justice Department later declined to open an investigation…
Justice Department officials said they were unclear whether Elwood was making a criminal referral and followed up with her later to seek clarification but she remained vague…
https://www.nbcnews.com/politics/trump-impeachment-inquiry/cia-s-top-lawyer-made-criminal-referral-whistleblower-s-complaint-n1062481
@GOPoversight: FACT CHECK: Ambassador Volker told us yesterday that Taylor's knowledge here was from an August 28 Politico article. Not because Taylor had any independent information.  It's deceitful for Democrats to release these cherry-picked texts without full context of Volker's testimony. https://twitter.com/ryanstruyk/sta
So, US diplomat Taylor, a Bush appointee, was upset with Trump because a Politico article claimed DJT withheld military aid to Ukraine as an inducement to produce dirt on Biden and NOT because he had personal or independent information - and this was a basis for Dems' impeachment fervor.
RoscoeBDavis1: It appears to me like Bill Taylor was the whistleleaker's source, or one of them. He set the narrative, despite getting pushback from those he was trying get either agreement or non-committal by ignoring it.  He also kept texting about it after being told to stop. He was creating a digital record, laying out the breadcrumbs so to speak. Complete set up from the get go. And it might have worked had Schiff not screwed it up.
Apparently, Dems are trying to cut loose the whistleblower now that the episode is imploding.
Fox's @ChadPergram: Dem VT Rep Welch after mtg w/ICIG Atkinson: There is a difference of opinion about how important the whistleblower is at this pt.  Welch: Republicans are asking about the credibility of the whistleblower. This is not as important now because the WH released the transcript
BBG @business: The lead attorney representing the whistle-blower who first came forward with a complaint against President Trump says his firm is now representing "multiple whistle-blowers" in connection to the matter [How can there be multiple whistleblowers to a president's private calls?]
@charliekirk11: Did you know: Barack Obama waged a war on whistleblowers during his 8 years in office More rightful whistleblowers were charged under the espionage act than at any point in history Why? Because they were exposing scandals like: Fast & Furious, IRS Targeting, Solyndra
When the initial anti-Kavanaugh witness was found to be less than credible, 'multiple' new witnesses suddenly appeared.  Lather, rinse, repeat
President Trump Reminds Reporters He was Investigated by Obama in 2016 Campaign! - And His Admin Is Investigating Obama Spying Today! https://thegatewaypundit.com/2019/10/brilliant-president-trump-reminds-reporters-he-was-investigated-by-obama-in-2016-campaign-and-his-admin-is-investigating-obama-regime-today-video/
The WaPo is upset with Schiff. Analysis: Adam Schiff's unforced errors on the impeachment inquiry
Analysis: Adam Schiff's unforced errors on the impeachment inquiry https://t.co/8XYJk8fcm4

— The Washington Post (@washingtonpost) October 4, 2019
WashPost Slaps Adam Schiff with Four Pinocchios for 'Flat-Out False' Claim
The Washington Post's "Fact Checker" column hit House Intelligence Committee Chairman Adam Schiff (D-CA) with four Pinocchios Friday for falsely claiming that his panel had "not spoken directly" with the partisan CIA officer behind a so-called "whistleblower" complaint about President Donald Trump…
https://www.breitbart.com/the-media/2019/10/04/washpost-slaps-adam-schiff-with-four-pinocchios-for-flat-out-false-claim/
If the WaPo is turning on Schiff because he has twice botched Dems' impeachment efforts, you can be sure that beaucoup Dems are excoriating Schiff to their MSM accomplices.  Schiff is on very thin ice.
@realDonaldTrump: As President I have an obligation to end CORRUPTION, even if that means requesting the help of a foreign country or countries. It is done all the time. This has NOTHING to do with politics or a political campaign against the Bidens. This does have to do with their corruption!
Sept. 29, 2011: Nancy Pelosi's brother-in-law is given $737m of taxpayers' money to build giant solar power plant in middle of the desert - despite the growing Solyndra scandal…
https://www.dailymail.co.uk/news/article-2043282/Nancy-Pelosis-brother-law-given-loan-bigger-Solyndra-solar-plant.html
@HowleyReporter: John Kerry's State Department, days after President Trump won the election, put out a call for a contractor to "build a network of civic activists throughout Ukraine." This has mostly been scrubbed. Good thing it's Archived     https://2009-2017.state.gov/j/drl/p/previouscalls/264569.htm
@charliekirk11: Since 1999 more money has flowed into the Clinton Foundation from Ukraine than from any other nation.  One of the largest donors?  A Kiev-based parliamentarian who served as a source for the Steele Dossier
On Thursday night, Fox Business's Lou Dobbs said Trump will send a letter to Nancy Pelosi that demands that the House votes on an impeachment inquiry before he allows himself or anyone from his Administration to cooperate with their inquiry demands.
@alexsalvinews: The former special envoy to Ukraine Kurt Volker told Congress "at no time" did he take part in an effort to investigate former VP Joe Biden.
https://www.buzzfeednews.com/article/christopherm51/kurt-volker-testimony-congress-ukraine-trump
@paulsperry_: The Democrat whistleblower who complained about Trump digging up dirt in Ukraine was himself helping dig up dirt in Ukraine against Trump (and Manafort) while working in the Obama White House during 2016 campaign.
Nancy Pelosi's Son Also Board Member of Energy Company, Traveled to Ukraine and Nancy Featured Prominently in Company's Ad  https://www.thegatewaypundit.com/2019/10/video-nancy-pelosis-son-also-board-member-of-energy-company-traveled-to-ukraine-and-nancy-featured-prominently-in-companys-ad/
Joe Biden berates reporter over question about his family's 'conflicts of interest' in the Ukraine
Biden lashed out at the reporter at an event on Friday in Los Angeles
'It's not a conflict of interest,' Biden snapped about his son's work in Ukraine
Biden insisted that the press 'focus' on Trump instead of questions about himself
Biden has previously demanded that reporters 'ask the right question
When Joe can't deal with the Dem-friendly MSM, his gig is up.
Bernie Sanders' doctors on Friday announced that Bernie had a heart attack earlier in the week.  The lack of media coverage and social media interest indicates Bernie's candidacy is over.  It's Warren – unless Hillary decides to try it again.
Word of the day, due to pertinence to contemporary politics and finance: Scotomisation: The tendency in people to see what they want to see and not see what they don't want to see.
Updated on