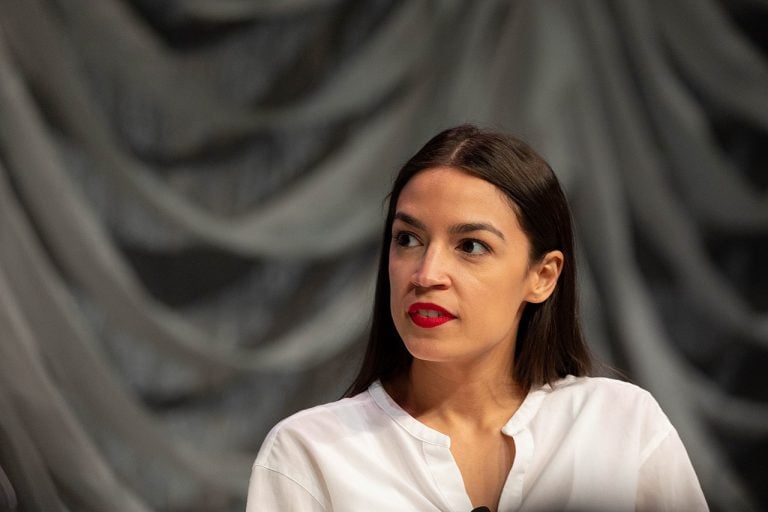 Candidates report major success in Q3 fundraising haul from small-dollar donors
Building on the success of the 2018 upsets by Alexandria Ocasio-Cortez and Ayanna Pressley, Justice Democrats primary challengers have recently published third-quarter fundraising numbers and are reporting success. All candidates have outraised Alexandria Ocasio-Cortez's first-year total fundraising effort, which amounted to only $60,000 in all of 2017.
Q3 2019 hedge fund letters, conferences and more
How Warren Buffett Went From Hating To Loving Banks
Since the financial crisis, Warren Buffett's Berkshire Hathaway has had significant exposure to financial stocks in its portfolio. Q1 2021 hedge fund letters, conferences and more At the end of March this year, Bank of America accounted for nearly 15% of the conglomerate's vast equity portfolio. Until very recently, Wells Fargo was also a prominent Read More
"The movement for progressive change in the Democratic Party has grown so much since just last year in spite of the DCCC's blacklist policy," said Alexandra Rojas, Executive Director of Justice Democrats. "The successes of AOC and Pressley's stunning upsets last year completely shifted people's beliefs in what's possible. We're building on that momentum and we have grassroots, small-dollar donors in-district and around the nation to thank."
Cisneros
Jessica Cisneros raised over $310,000 in Q3, bringing her total fundraising up to nearly $460,000 total. Cisneros is running in TX-28 against incumbent Democrat Henry Cuellar, a 4-term moderate. Cisneros received contributions from over 14,200 individual donors, and her average contribution is just over $32 this cycle. Cuellar raised $375,582 over the quarter with  $171,000 from PACs, including Koch Industries, and just $4,432 in small-dollar donations.
Jamaal Bowman, primary challenger to Eliot Engel in NY-16, raised $113,000 this past quarter from 2,476 grassroots donations. From the time of his launch in June, he has secured more than 4,600 donations, including 250 monthly recurring donors who provide an average of $20 a month. Bowman's average donation was $38. Engel brought in only $318,000 during the three-month period despite being the chairman of the House Foreign Affairs Committee, with $91,000 from PACs and only $5,068 from small-dollar donations.
Small-dollar donors and Marie Newman
Marie Newman raised $350,000 in Q3, outraising incumbent Democrat Dan Lipinksi by a margin of 2 to 1. Lipinksi is a seven-term incumbent Democrat representing Illinois' 3rd Congressional district. He opposes reproductive rights, the Green New Deal, and Medicare for All.
Morgan Harper raised $323,000 in Q3 in her primary challenge against Joyce Beatty. According to Data for Progress, Harper has the fourth-highest initial-quarter haul of any first-time Congressional challenger in the US. Harper's campaign in Ohio's Third Congressional District raised money from 2,674 individual donors whose average donation was $85.
Small-dollar donors and Alex Morse
Alex Morse, Mayor of Holyoke, Massachusetts, raised nearly $217,000 from 3,137 contributions. In a strong showing of grassroots mobilization, Mayor Morse received contributions from a majority of cities and towns in MA-01, including every one of the five counties in the district. 94% of donations received by the Morse campaign totaled less than $100, and 70% were just $25 or less. His opponent, Rep. Richie Neal, is one of the largest recipients of corporate PAC money in the House of Representatives.