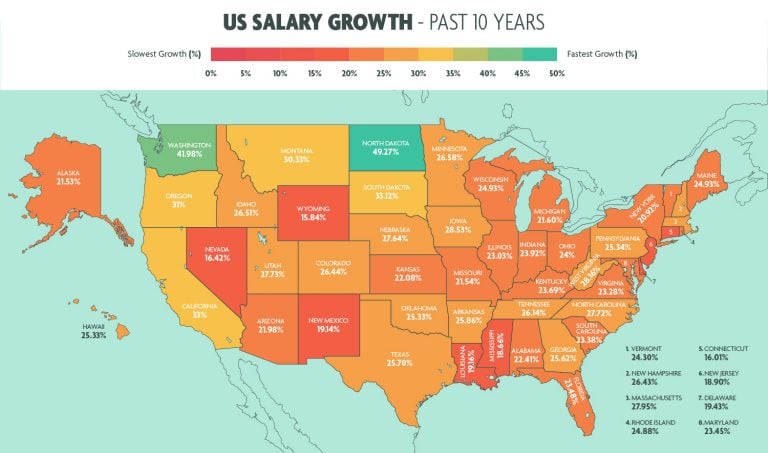 When it comes to salaries, we're always looking for the best we can get. But which US states have the highest salaries? And which have seen the biggest salary increases in the last 10 years?
A new study, from Comparisun, has analysed the latest Bureau of Labor Statistics data, to reveal the states with the highest, and lowest, average salaries. Along with the average salary increase in the last 10 years (2008 – 2018), state by state.
Khrom Capital killed it during the first quarter, continuing its strong track record; here are their favorite stocks
Khrom Capital was up 32.5% gross and 24.5% net for the first quarter, outperforming the Russell 2000's 21.2% gain and the S&P 500's 6.2% increase. The fund has an annualized return of 21.6% gross and 16.5% net since inception. The total gross return since inception is 1,194%. Q1 2021 hedge fund letters, conferences and more Read More
Q3 2019 hedge fund letters, conferences and more
Salary Increases
Each of the 50 states has seen a salary increase in the last 10 years, with an average national increase of 25%, seeing wages rise from $45,563 in 2008 to $57,266 in 2018.
North Dakota, Washington, South Dakota, California and Oregon are the five states with the largest salary increases over the last decade.
North Dakota - 49.27%
Washington - 41.98%
South Dakota - 33.12%
California - 33.00%
Oregon - 31.00%
In Wyoming, Connecticut, Nevada, Mississippi and New Jersey, increases haven't peaked over 19%.
New Jersey - 18.90%
Mississippi - 18.66%
Nevada - 16.42%
Connecticut - 16.01%
Wyoming - 15.84%
Wyoming is the state with the lowest increasing average salary, from $41,487 to $48,059 in the last 10 years - that's just a 15.84% increase.
Connecticut and Nevada follow just behind, rising 16.01% and 16.42% respectively.
Although they've only seen a small increase, Connecticut is still making a higher salary than the US national average, earning on average $67,742.
Average Salaries
In 2018, the average US salary stood at $57,266, but in which states had salaries that surpassed this figure? And which fell below the average line?
Perhaps unsurprisingly, New York comes out on top, with an average annual salary of $72,900, over $15,000 more than the national average. Their salary increases are one of the slowest, only increasing by 20.92% since 2008.
Massachusetts comes a close second, taking home an average salary of $72,606 per year. This increase sees them rank in the top 10 state salary increases, going up by 27.95% from $56,746 which was the average in 2008.
New York - $72,900
Massachusetts - $72,606
California - $68,478
Connecticut - $67,742
Washington - $66,119
Mississippi has been revealed as the state which earns the least, taking home $39,762 and ranks in the bottom five states for increases, with an 18.66% rise since 2008.
Arkansas - $43,950
South Dakota - $43,694
Montana - $43,407
Idaho - $42,882
Mississippi - $39,762
Idaho takes home a slightly better $42,882 but its increase is just above the US 25% average increase at 26.51%, meaning salaries have increased in the state more than the national average.
Montana, South Dakota and Arkansas also have salaries which are below the national average.