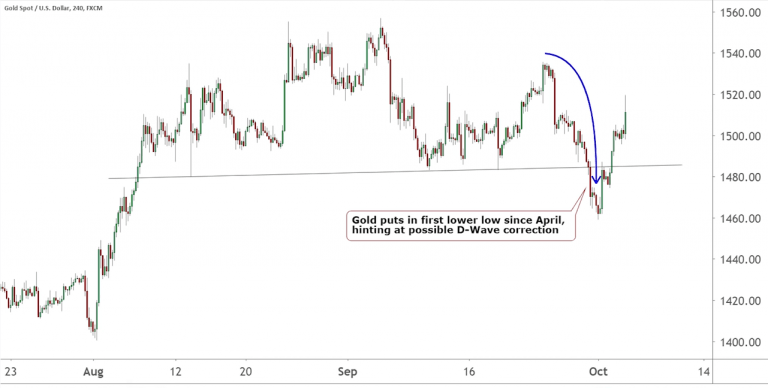 The 3 phases of metals investing explained, what happens when the public at large invests in gold & silver? This week we review the price movements of gold, silver platinum, palladium, the US Dollar Index, DOW, S&P, and more.
Gold & Silver Market Update: The 3 Phases Of Metals Investing – Golden Rule Radio
Q3 2019 hedge fund letters, conferences and more
Alluvial Fund May 2021 Performance Update
Alluvial Fund performance update for the month ended May 2021. Q1 2021 hedge fund letters, conferences and more Dear Partners and Colleagues, Alluvial Fund, LP returned 5.4% in May, compared to 0.2% for the Russell 2000 and 1.0% for the MSCI World Small+MicroCap . . . SORRY! This content is exclusively for paying members. SIGN UP Read More
Transcript
Welcome back to Golden Rule radio, your weekly recap of the precious metals markets and the markets that move the metals investing. And without further ado, I'm going to get right into the technical aspect of gold with you miles. What an exciting week we've had here.
Thanks, [inaudible] and what an amazing week it's been in the metals investing to finally see a little bit of a pullback here after what a 20 plus percent rise this summer. So coming off the highs of around 1550 we've been bouncing down to if you look at the short term charts since the end of August, beginning of September, we came right into a pinprick at the 618 fib. And that's caused that bounce this week.
Metals investing and repos
There's also been some pricing due to the repo market, which we discussed last week, and some additional funds coming into the market in the way of cash its own special version of market manipulation coming right out of the Fed.
So with gold bouncing on that news, and some pretty solid technical short term evidence, I'm still not bullish. Again, in the short term on gold, we may still have a little bit of movement here. And that's because we need to back the charts out a little bit. So looking at these larger timeframes, and going back to the old bottom on the breakout earlier this year, and that big rise up since the mid 1200s.
We haven't had much of a pullback here. In fact, we haven't even come into the 382 fib yet.
Waves
So if this is a legitimate ABCD wave, the D wave should be a lot steeper than what we've seen so far, possibly taking us down to around the 1318 to 1400s. Now where this gets interesting, when I bring in one of our old time chart is here and numismatists Drew, who likes to follow your long term moving averages to see what the big macro trends are in the market. If you look at the 200 day or the 40 week average, depending on what you like to call it, that has been inching up and is sitting at around 1360. Now that's a slow moving average.
So if we were to see gold come down, and possibly test either the 50% at around 1415, maybe down to the 618 at 1380s. That long term moving average is probably going to move up and match it right around that same timing, same price range. So again, I like when we have multiple indicators lining up at the same time at the same price.
So your statement last week on metals investing with the fact that we're still between that 14 at 1560 range that you drew out, does it concern you even more in terms of a potential drop, because we're below the 1480? Are you sort of in a no man's land and nothing's really changed?
Technicals
Well, we had that bounce, I mean, we came into the 1480s. And we bounced up pretty hard, but we'd have to see a higher high, you know, we put in two consecutive lower lows and one consecutive lower high. So I want to see some consistency in the market either up or down to prove that this is just a short term continuation or at least a stall in the last term bull market that we know is going or if we're having a little reversal here, maybe through the end of the year, and then picking up again earlier next year.
So yeah, Miles you did allude to that big bounce. And that actually came off of around 1460. from earlier in the week, you know, where we saw that low put in. And now we're back over 1500 as we record today, Wednesday afternoon. So whether that's a little bit of a cat bounces, they say dead cat bounce in a in a bearish trend. Or if we are just going to actually start to see the reversal here, because there's as many opinions saying that we're in this bullish wave to last, as there are some saying that it's looking bearish. And I lean towards towards you, you know, putting in that lower low. And the lower high, as you alluded to, to me is is weakness in the market.
Gold
I'll jump in with a few comments on metals investing specifically gold, I've noticed that in the fourth quarter of the last five years, you've had a bottom to put in put in for gold in that fourth quarter, whether it's in between October, and November, or in the early December timeframe.
And then come January, you want to be in we've talked about this on the show the last few years since we started it. And so this fourth quarter, we've got a couple months here, where if we do see what miles is talking about with a little bit further weakness, that's going to be the opportunity to get in before the end of the year or January starts higher prices because long term gold is still bullish.
You want to own gold going forward. But trying to buy more or an entry point coming here in the next couple months I think is key.
I totally agree regarding metals investing. And on these dips, they really are opportunities if you'll if you'll track what we're saying each week technically, it will give you good entry points to cost average in and just add to the answers the further it comes down. And we get a lot of listener comments about manipulation. Look, we all know that these markets are manipulated but despite that..