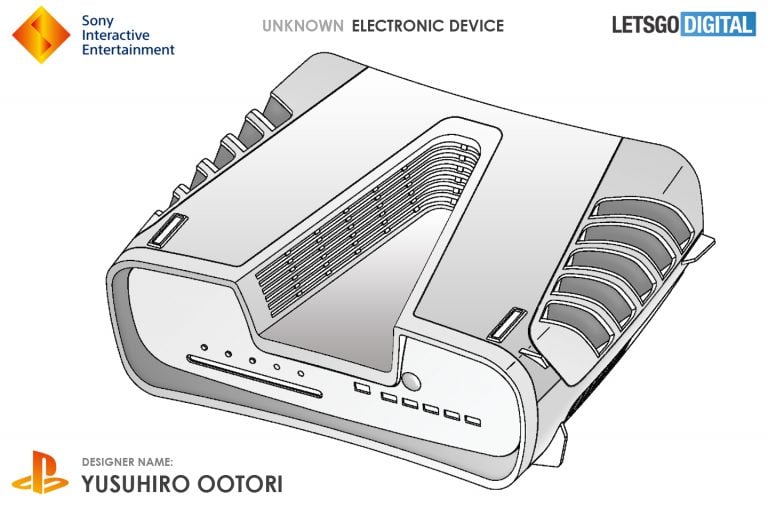 We heard a while ago that Sony could have been preparing a PlayStation 5 developer kit with an unusual-looking V-shaped design. At the time, the rumor was merely based on a diagram included in a patent application. However, we're now hearing that the strange design could actually be the real PlayStation 5 devkit—and someone has supposedly had their hands on it for quite a while.
PlayStation 5 devkit: a rumor renewed
Citing details provided by an unknown source who claims to be working on a game for the PS5 and Xbox Scarlett, Gizmodo reports that the PlayStation 5 devkit may indeed have the V-shaped design described in the patent earlier this year. The source provided details to Gizmodo starting in June running into August, and much of what was said seems to confirm other things we've heard.
The source also provided photos they claimed were of the PlayStation 5 devkit. What's particularly interesting is that the photos actually predate the patent images that surfaced in August. According to Gizmodo, they received the photos in question in June, and the industrial design of the device was registered in Brazil in May before being published online in August.
Qualivian Investment Partners July 2022 Performance Update
Qualivian Investment Partners performance update for the month ended July 31, 2022. Q2 2022 hedge fund letters, conferences and more Dear Friends of the Fund, Please find our July 2022 performance report below for your review. Qualivian reached its four year track record in December 2021.  We are actively weighing investment proposals. Starting in November Read More
Gizmodo did not publish the photos its source claims show the PS5 devkit because it wanted to protect its unknown source. However, the tech blog did describe them. The photos are apparently not very good quality, but they do reveal a device with a V-shaped design similar to the patent diagram. After adjusting the gamma on one of the photos, the words "prototype 1 not for sale" appear. The console also seems to have an LED labeled "status 2" next to three knobs or buttons, one of which is labeled "standby."
Why it could be a PS5 developer kit
Many, including Dutch-language tech blog Let's Go Digital, which created renderings based on the design, speculated that the V-shaped console could be the PlayStation 5 devkit but probably not the final consumer-ready console. Interestingly, a game developer tweeted that the diagrams in the filing looked like a PS5 devkit and that he had one at his office. However, his tweet and Twitter account were taken down within hours of that claim.
According to Gizmodo, developer kits are often quite interesting to look at. Since they emphasize performance over anything else, they usually have plenty of ventilation to stay cool. Although they aren't finished products, companies may put some effort into them. Some developer kits have looked like standard PC towers, while others have resembled a plastic neon green device and a locked metal box. One of the PS4 devkits looked like a bulky disc player that was common during the early 2000s.
Gizmodo's source claims the PS5 devkit is code-named Prospero and was delivered early this summer. However, the person also said previous prototypes of the console have been circulating among developers since last year.
Tidbits about Xbox Scarlett
The tech blog's source also offered some other interesting details about the PS5 devkit's internal components and even the Xbox Scarlett. Supposedly, Microsoft plans on prioritizing the camera in the Xbox Scarlett, although the Prospero devkit has older camera technology. However, what's in the developer kit doesn't always 100% reflect what's in the final product.
The source claims the camera in the Xbox Scarlett will be capable of 4K resolution with a two-frame latency. However, in a statement, a Microsoft spokesperson told Gizmodo that they have no camera technology in development and have not delivered any camera technology to developers in any form.
Updated on