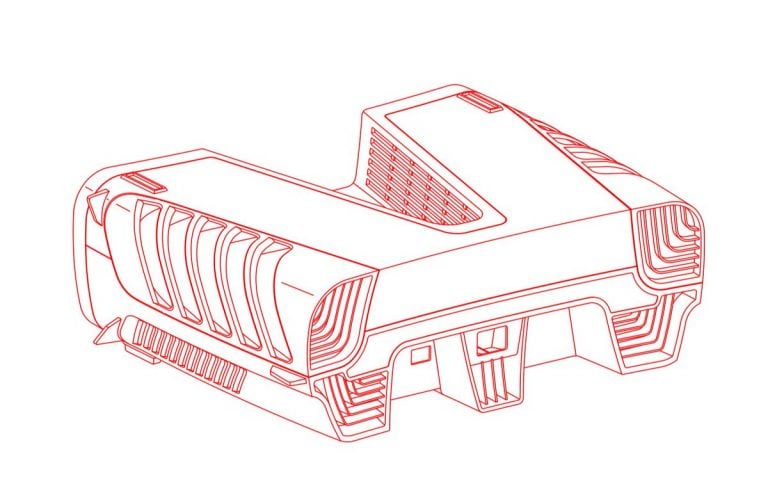 Earlier this month, Sony confirmed that the PS4 successor is coming out, and is scheduled to launch during the holiday season of 2020. Meanwhile, several rumors predict the functionalities that the PlayStation 5 will be equipped with. One of them suggests that the new model will launch with a smart AI system that will guide us through the gameplays and much more. Now, a new PlayStation 5 dev kit has leaked, revealing a stunning console design which coincides with ones we've seen leaked before.
Sony has done its best to keep information about the unnamed PS5 as secretive as possible. We haven't had many details about the console so far, if it wasn't for the lead system architect Mark Cerny, who told Wired in April that the new console will be backward-compatible with PS4 games, that PS4 owners won't need to say a goodbye to PS4 games, and that this doesn't mark the end of the physical media. Additionally, he hinted at an 8-core AMD chipset and an ultra-fast SSD for cutting-edge performance, and a new GPU.
Despite Sony hiding the details of the PS5, that hasn't stopped curious leakers and tipsters from trying to find out more information about the PS5. YouTuber ZoneofTech uploaded a video which featured a PlayStation 5 dev kit, and if it launches as such, it'd be a major step forward for Sony.
Seth Klarman Describes His Approach In Rare Harvard Interview
In a rare interview with Harvard Business School that was published online earlier this month, (it has since been taken down) value investor Seth Klarman spoke at length about his investment process, philosophy and the changes value investors have had to overcome during the past decade. Klarman's hedge fund, the Boston-based Baupost has one of Read More
The video ZoneofTech posted online features a design photo which is believed to be the PS5 dev kit, which is extremely similar to the one that leaked earlier this year. Twitter user and a Gameplay designer Andrew Marmo featured a patent of the upcoming PlayStation 5 in a tweet, which surprisingly resembles the recently leaked image. There is also a notable PlayStation logo, as well as several USB-A ports resting on the front. We can also see plenty of fans and vents, which contribute to good temperature management for the console to remain cool throughout game play.
Some more pictures: pic.twitter.com/yvW1Y1Jlqi

— Andrew Marmo (@the_marmolade) 20 August 2019
If you're in love with the PlayStation 5 dev kit, we still need to take this info with a pinch of salt. Sony probably has a lot of dev kits and then opts for using the one they think will suit their business policy and users the best. While this dev kit looks absolutely stunning, we don't know whether Sony has more creative ideas up their sleeve. Microsoft had a similar history of design patents on its Xbox One console, where none of the leaked or featured console ideas ended up shipped to the users.
While the dev kit is extremely detailed, it's unknown who designed or obtained it in the first place. Also, it's unlikely that Sony will confirm or deny that this dev kit belongs to the company, so all we can do is hope it makes it to the final stages of development, and then to the end users. Last week, another leak regarding PS5 came out, and it could be a true blast from the past, with PlayStation 5 possibly enabling support for PS1, PS2, and PS3 game disks. If it turns out to be true, make sure you don't trash your old disks!
Updated on