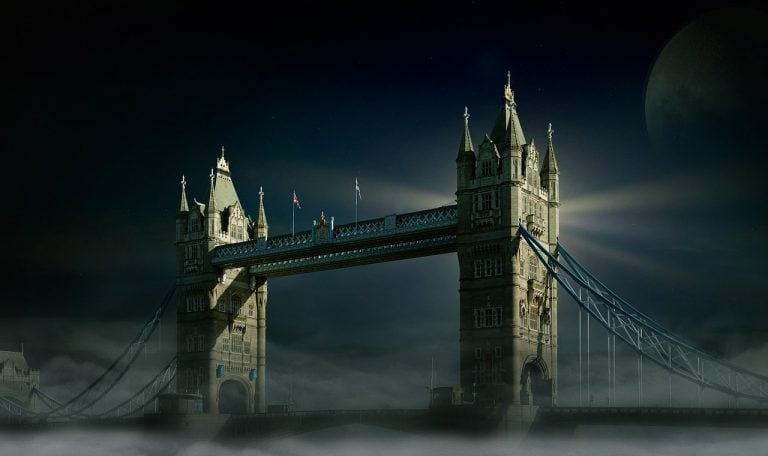 The King Report October 18, 2019 Issue 6116
UK and EU agree on Brexit deal
"Where there is a will, there is a #deal – we have one!" European Union President Jean-Claude Juncker tweeted Thursday morning.  "It's a fair and balanced agreement for the EU and the UK and it is testament to our commitment to find solutions. I recommend that #EUCO endorses this deal."…
Jim Chanos Unveils Lastest Short As Fund Manager Bets On Further Market Declines
Jim Chanos has a new short target in his sights. Earlier this week, the hedge fund manager disclosed that he is betting against "legacy" data centers that face growing competition from the trio of technology giants, which have previously been their biggest customers. The fund manager, who is best known for his winning bet against Read More
Q3 2019 hedge fund letters, conferences and more
As part of the agreement, Northern Ireland will remain part of the U.K.'s customs territory and will be an entry point into the E.U.'s single market. No customs checks will be done on the border between Ireland and Northern Ireland. The rest of the deal remains the same as agreed to in the 2018 withdrawal agreement.  British Prime Minister Boris Johnson called on Parliament to get a deal done on Saturday… https://www.foxbusiness.com/politics/eu-uk-brexit-deal-reached
Early details of new Brexit deal
https://uk.reuters.com/article/britain-eu-deal-idUKKBN1WW1HM
The Brexit rally was relatively moderate because the DUP (Democratic Unionist Party of Northern Ireland) rejected the deal.  The DUP opposes any deal that would treat it differently than the U.K.
Brexit: EU and UK reach deal but DUP refuses support
The DUP isn't prepared to back this package because it does not give it a veto over the new customs arrangement, which it fears could threaten Northern Ireland's position in the United Kingdom…
The DUP doesn't blink easily, and if it doesn't, the signs are Mr Johnson could be defeated on Saturday, when the party's 10 votes could be critical. That could trigger the Benn Act, forcing a lengthy delay, and could encourage some opposition MP to trigger a motion of no confidence, paving the way for a general election.  It's going to be a titanic tussle on Saturday.
https://www.bbc.com/news/uk-politics-50079385
ESZs rallied from the overnight low of 2985.25 at 2:17 ET to 3005.75 at 5:33 ET.  After trudging up to 3006.75 at 6:11 ET, ESZs fell to 2996.75 at 8:14 ET.  Remember, the US repo market opens at 7:00 ET.
ESZs then rallied into and through the NYSE open.  ESZs hit the session high of 3007.75 at 9:52 ET.
Considering the proximity of a Brexit deal and the upward bias for expiry as well as earnings season, the rally was lame. Is there something in the system that is inhibiting the usual suspects from performing their pattern and customary buying?
Fed Injects $104.2BN via Overnight, Term Repos One Day after Start of "Not A QE"
The Fed accepted $67.7BN and $5.7BN in Treasury and MBS securities as part of today's overnight repo operation… The Fed also accepted $30.65BN in a 15-day term repo, which consisted of $18.15BN in TSYs and $12.5BN in MBS...
ICAP reported that the day's first overnight general collateral repo traded at 2.04%/2.01%, both above the upper end of the Fed Fund rate corridor, and confirming that the liquidity shortage is persisting…
https://www.zerohedge.com/markets/fed-injects-1042bn-overnight-term-repos-one-day-after-start-not-qe
ESZs and stocks tumbled on this: Ambassador Gordon Sondland to testify that Trump 'directed' Rudy Giuliani in push for Ukraine to probe Joe Biden
Sondland, in prepared remarks to House impeachment investigators, said Giuliani told him that Trump wanted Ukraine to probe both a conspiracy theory that that nation played a role in trying to undercut Trump's presidential candidacy in 2016, and a natural gas firm in Ukraine that had Hunter Biden on its board until earlier this year…  https://www.cnbc.com/2019/10/17/gordon-sondland-says-trump-directed-giuliani-in-ukraine-biden-probe.html
ESZs and stocks rebounded when people carefully read Sonderland's statement and realized that the headline was deceiving/fake news.
Sonderland's statement contradicted the fake news: "Mr. Giuliani emphasized that the President wanted a public statement from President Zelensky committing Ukraine to look into anticorruption issues.  Mr. Giuliani specifically mentioned the 2016 election (including the DNC server) and Burisma as two anti-corruption investigatory topics… I do not recall that Mr. Giuliani discussed Former Vice President Biden or his son Hunter Biden with me…"
https://assets.documentcloud.org/documents/6486433/10-17-19-Sondland-Opening-Statement.pdf
Team Schiff leaked false news or the State Media published fake news that was designed to hurt Trump.
Yesterday, Kudlow implied that the 'Deep State board of the Fed' is working against Trump.
The WSJ's @NickTimiraos: Kudlow: "I don't want to get into a lot of Fed bashing. They do the best they can. Their models are highly flawed. The deep state board staff, of course, has not been helpful. Oops, did I say that?"   https://twitter.com/SquawkCNBC/status/1184818468639662080
Perhaps there is much more to Trump's Fed bashing than what has been reported.
After Europe closed, ESZs and stocks declined due to this: China Demands U.S. Remove Tariffs Levied during Trade War for Final Deal   11:39 ET
https://www.newsweek.com/china-demands-us-remove-tariffs-levied-during-trade-war-final-deal-1465963
The above Newsweek story was a reiteration of a SCMP story from six hours earlier that was a reiteration.  But, algos and lemmings buy headlines without regard to their validity or vintage.
China reiterates US must lift all tariffs to end trade war, but Beijing open to partial interim deal…
https://www.scmp.com/economy/china-economy/article/3033396/china-reiterates-us-must-lift-all-tariffs-end-trade-war
13:14 ET: @ragipsoylu: Erdogan and Pence reach a deal to suspend Turkish incursion in Northern Syria in 120 hours, Turkish sources to @MiddleEastEye  Turkey will suspend its operations to allow YPG to withdraw from the designated safe zone [Did Lindsey Graham & other Neocons weep?]
The ceasefire allows YPG and Kurdish forces to withdraw 20 miles from the safe zone area.
LA Times' @UmarFarooq_: 3 weeks ago #Erdogan told the UN he wanted a 32 km deep safe zone in northeastern #Syria. Ankara has insisted that was its goal - to have the YPG leave that area. Today he got that, today the US said it would actually oversee that happens. This is a major win for Turkey
Trump: "As a group, I want to thank the Kurds, because they were incredibly happy with this solution."
DJT claimed the cease-fire "saved millions of [Kurds] lives." (Pelosi, Graham and Neocons weep again]
DJT to a reporter: "Don't forget your friend President Obama lost more than half a million lives in a very short time in the same region. We lost very little."  https://twitter.com/michaelbeatty3/status/1184901984098242560
A moderate afternoon rally appeared on the usual expiry pressure, the Turkey ceasefire and this:
The afternoon rally ended after the S&P 500 Index printed one handle above 3000.
A key factor in Thursday's action was SPY October 300 calls.  Volume was 120,000.  The S&P 500 Index was pulled to 3000 from declines and rallies.  The large open interest in the SPY October 300 calls (99k) and lack of a strong market trend 'pinned' SPY toward its 300 strike.  Liquidation increases as expiry approaches.  This induces the underlying index or stock to be 'pinned' to a key strike price.
The SPY ETF weighs stocks based on the value of stock available to trade.  So, it's impacted more by the largest companies.  So, 3000 on the S&P 500 Index does not equal 300 on the SPY.  Yesterday, the securities traded above and below those related values.  SPX close: 2997.96; SPY close: 299.21
How Options Expiration Affects Stock Prices
This back-and-forth action driven by the exposure of option traders causes stocks to remain close or be "pinned" to strike prices with high open interest. The effects of pin risk on stock returns have been evaluated in several academic papers. One study from 2004 found that the returns of stocks with listed options are affected by pin clustering, on average, by 0.65%...
Gamma Explosion: Gamma [2nd derivative/acceleration] is the risk variable that measures how much an option's stock price sensitivity (its delta) will change for each point move in the underlying. High gamma means that option hedgers will need to buy and sell more shares than they otherwise would if the options in question had many weeks or months to expiration. Since the hedging activity in this scenario is in the same direction as the short-term price trend, the high option gamma at expiration can exacerbate price volatility…   https://www.thestreet.com/story/11346823/1/how-options-expiration-affects-stock-prices.html
Union Pacific Plans More Job Cuts as Demand Falls Off
Railroad says overall volumes, as measured by revenue-generating carloads, fell 8% [y/y]
https://www.wsj.com/articles/weaker-shipments-hurt-results-at-union-pacific-11571315301
Sept US Industrial Production declined 0.4%; -0.2% was expected.  Manufacturing production dropped 0.5%; -0.3% was consensus.  Capacity Utilization fell to 77.5% from 77.95.  77.7% was expected.  Industrial Production fell 0.10% y/y, the first y/y decline since November 2016.  US Industrial Production was negative y/y from April 2015 until December 2016.  In fact, it was -4.14% in December 2015.
US Housing Starts for September fell to 1.256m (1.32m exp.) from the upwardly revised 1.386m (1.364m prior).  Permits were 1.387m; 1.35 was expected.  August was revised to 1.425m from 1.419m.  The Philly Fed Business Optimism reading for October fell to 5.6 from 12.  7.6 was consensus.  Jobless Claims rose to 214k from 210k; 215k was expected.
The reversal in Netflix that we warned might occur in yesterday's letter, did occur.
Positive aspects of previous session
Overnight rally on Brexit announcement
Negative aspects of previous session
Lame rally considering the positive seasonal factors and Brexit dynamics
The repo market is still unsettled
Ambiguous aspects of previous session
The Fed is in some stage of panic over something that is not entirely clear.
First Hour/Last Hour Action [S&P 500 Index]
First Hour Up; Last Hour Down
Previous session S&P 500 Index High/Low: 3008.29; 2991.79
Pivot Point for S&P 500 Index [above/below indicates daily trend for traders]: 2999.34
@charliebilello: 1. S&P 500: +21% year-to-date, <1% below all-time high.
2. Unemployment Rate: 3.5%, 50-yr low.
3. Economic Expansion: 123 months, longest in history.
4. Jobs Growth: 108 straight months, longest in history.
5. Core CPI: 2.4%, 11-year high.
6. Fed: cutting rates again in 2 weeks.
We will add: The Fed has NEVER cut rates with unemployment below 4%.  The Fed is doing QE but is petrified of people calling it QE.  What is the real reason that the Fed is frightened?
Today is October option expiration.  Usually stocks rally early; the last hour is a crapshoot.  Even with expiration, the session could experience muted action after the usual early gyrations due to the important UK vote on Saturday over the Brexit deal.
The very large open interest in SPY October 300 calls is pinning the ETF toward 300 and keeping the S&P 500 Index near 3000.  An impetus is needed to produce a force strong enough to unpin stocks.  Barring news, large players are needed to move the S&P 500 Index and the SPY ETF.  Bottom line: Too many traders are too long!
ESZs are -3.00 at 21:00 ET.  Usually there is buying before expiry.  Traders are fearful of something.
Expected earnings: SLB .40, KSU 1.79, KO .57, AXP 2.02
The S&P 500 Index 50-day MA: 2944; 100-day MA: 2937; 150-day MA: 2916; 200-day MA: 2863
The DJIA 50-day MA: 26,521; 100-day MA: 26,512; 150-day MA: 26,362; 200-day MA: 26,038
S&P 500 Index support: 2992, 2985, 2973, 2963, 2955, 2940, 2930-34, 2922, 2907, 2900, 2880, 2870-75
Resistance: 3000, 3008, 3014, 3027, 3035, 3050
Expected economic data: Sept LEI 0.0%; Dallas Fed Prez Kaplan 9:00 ET; KC Fed Prez George 10:05 ET
S&P 500 Index – Trender trading model and MACD for key time frames
Monthly: Trender and MACD are positive – a close below 2502.93 triggers a sell signal
Weekly: Trender is positive; MACD is negative – a close below 2823.03 triggers a sell signal
Daily: Trender is negative; MACD is positive - a close above 2998.28 triggers a buy signal
Hourly: Trender and MACD are positive - a close below 2984.51 triggers a sell signal
Document: Adam Schiff Staffer Met with Impeachment Witness on Ukraine Trip
A staffer on Rep. Adam Schiff's House Permanent Select Committee on Intelligence held a meeting during the trip with acting U.S. Ambassador to Ukraine Bill Taylor, now a key witness for Democrats pursuing impeachment… Eager's visit to Ukraine sponsored by the Burisma-funded Atlantic Council began 12 days after the so-called "whistleblower" officially filed his August 12 complaint…
https://www.breitbart.com/politics/2019/10/17/document-adam-schiff-staffer-met-impeachment-witness-ukraine-trip/
Appearing on Fox News late on Thursday, House Republican Leader McCarthy said Trump passed out the cautionary letter that he sent to Turkey strongman Erdogan to the room full of Congressional leaders, Cabinet and the Joints Chief of Staff.  When Pelosi received the letter, she turned it upside down on the table without looking at it.  McCarthy claims Pelosi then defiantly smiled at Trump.  The president interjected: "Nancy why are you laughing, this is serious!"  And then the blowup occurred.
Must Watch!
Kevin McCarthy on Laura Ingraham
Pelosi was given Letter Pres. Trump sent to Turkish President Erdoğan.
Pelosi turns it over, places hand over it refusing to read and starts smiling.
Trump asks "Nancy why are you laughing, this is serious"!pic.twitter.com/Qz0umjmML5

— Lawyerforlaws (@lawyer4laws) October 17, 2019
Pelosi gives play-by-play of 'meltdown' meeting with Trump over Syria
"I also pointed out to the president I had concerns that all roads seemed to lead to Putin. The Russians have been trying to get a hold in the Middle East unsuccessfully and now the president has given them an opportunity with the Kurds reaching out to them for support in Syria,"… My question to him was is Saudi Arabia home? Why are our troops going to Saudi Arabia if you promised to bring them home?"… "He said, 'Well, the Saudi Arabians are paying for it.' Really, we're putting our troops in harm's way for Saudi Arabia because they're paying? It just didn't add up. But what it did do is cause a meltdown on the part of the president because he was unhappy with those questions," Pelosi asserted…
https://nypost.com/2019/10/17/pelosi-gives-play-by-play-of-meltdown-meeting-with-trump-over-syria/
Before the Wed. meeting, DJT told reporters that he believes Obama was involved in the corruption of the 2016 Election.  The MSM ignored this; but gave beaucoup coverage to Pelosi & Schumer's rant.
@1776Stonewall: Rush [Limbaugh] is pointing out how yesterday's theatrics by Pelosi & Schumer are an exact replica of what they did back in May after a failed meeting at the WH on infrastructure. Pelosi stormed out, said Trump had a meltdown and that we all need to pray for his mental health.
It's literally the same exact thing, using the same exact words. The Whistleblower stunt was an epic disaster, and so they resort to these same old dirty childish tactics
@realDonaldTrump: I am the only person who can fight for the safety of our troops & bring them home from the ridiculous & costly Endless Wars, and be scorned. Democrats always liked that position, until I took it. Democrats always liked Walls, until I built them. Do you see what's happening here?
By 57% to 26%, Republican voters back Trump's decision to remove troops from Syria.
An Economist/YouGov survey shows 25 percent of Republican respondents said they strongly approve of pulling out troops, while 32 percent stated they somewhat approve of the move. Further, 26 percent of Republicans surveyed said they oppose the move and 18 percent said they do not hold an opinion on the matter… https://www.breitbart.com/politics/2019/10/16/poll-majority-of-republicans-back-trumps-syria-decision/
@ChadPergram: Pelosi/Schumer: The only beneficiaries of the President's policies are our adversaries: ISIS, Bashar al-Assad, Vladimir Putin and Iran.  Today's decision further makes the argument that Trump doesn't see Putin as the danger... [Dems default to Putin when things don't go their way.]
BBC on Feb. 7, 2014: Ukraine crisis: Transcript of leaked Nuland-Pyatt call
The US has very clear ideas about what the outcome should be and is striving to achieve these goals… The clear purpose in leaking this conversation is to embarrass Washington and… to portray the US as interfering in Ukraine's domestic affairs… The US is clearly much more involved in trying to broker a deal in Ukraine than it publicly lets on. There is some embarrassment too for the Americans given the ease with which their communications were hacked…    https://www.bbc.com/news/world-europe-26079957
@paulsperry_: The Senate could be subpoenaing Kerry, Nuland, Pyatt, Kavalec, Chalupa & Sullivan & holding hearings on Ukrainian interference in 2016 election as parallel investigation to House impeachment witch hunt. But no. They are playing defense, as usual, cowed by Dems & the Beltway media [Perhaps they are letting Barr/Durham do it to avoid Dems charging 'politics' on indictments.]
The current kerfuffle over Ukraine has the Dems and State Media calling any investigation into Ukrainian corruption as interference in the 2020 election.  Team Trump keeps emphasizing they are probing 2016 election interference.  Dems and the State Media keep saying Trump is investigating Biden.
@NBCNews: Acting White House Chief of Staff Mulvaney acknowledges President Trump held up Ukraine aid partly for political reasons.
Of course, the State Media misrepresented Mulvaney's remarks.  Mulvaney said "The corruption related to the DNC server...that's why we held up the money…Three factors [on holding up funds]: corruption, others countries contributions… cooperation with our Department of Justice."
https://www.wsj.com/video/mulvaney-ukraine-aid-holdup-tied-to-trump-demand-for-election-probe/DD8AD6AE-E647-4A14-B5A2-346D65618CC0.html
@HowleyReporter: Re: Mick Mulvaney, withholding funds to a country that actively interfered in a US election is not a Quid Pro Quo, and Crowdstrike is a different issue than Biden…
CNBC: Elizabeth Warren did not win the debate and now she's got work to do
The debate wounded her and revealed her vulnerability on the issue of Medicare For All… sooner rather than later, is going to have to walk back her support for Medicare For All or propose a massive middle class tax increase to pay for it… [As the front runner, she can wait until she secures the nomination.]
https://www.cnbc.com/2019/10/17/elizabeth-warren-did-not-win-the-debate-and-now-shes-got-work-to-do.html
U.S. attorney John Durham acquired the two BlackBerrys used by Joseph Mifsud… [from Italy?]
Mueller have always contended that Mr. Mifsud was a Russian asset…Mr. Papadopoulos contends Mr. Mifsud was a Western agent sent to entrap him… [Did Mueller miss Mifsud's phones on purpose?]
https://www.washingtontimes.com/news/2019/oct/17/john-durham-ag-barrs-special-russia-investigator-o/
Why It Matters That Sidney Powell Wants Data from Joseph Mifsud's Smartphones
[It] tells us two things: Attorney General William Barr and U.S. Attorney John Durham's probe into the origins of the Russia-collusion hoax is both serious and successful, and the Crossfire Hurricane targeting of President Trump and former special counsel Robert Mueller's investigation were neither…
Mifsud was the man whose tip to young Trump volunteer advisor George Papadopoulos, that the Russians had dirt on Hillary Clinton, supposedly formed the basis for the FBI to launch Crossfire Hurricane's targeting of the Trump campaign in late July 2016…
Mueller seemed equally uninterested in Mifsud—a strange position to take toward a putative enemy agent.  In contrast, Barr and Durham seemingly considered Mifsud key to understanding the Russia-collusion investigation…  https://thefederalist.com/2019/10/17/why-it-matters-that-sidney-powell-wants-data-from-joseph-mifsuds-smartphones/
@Kerryactivism: For the last three weeks, Rep Cummings was in hospice care in Baltimore and someone else was signing his name to Congressional documents [including subpoenas]
https://twitter.com/Kerryactivism/status/1184942925333090304
RNC raises record-setting $27.3 million in September, amid impeachment push
https://www.foxnews.com/politics/rnc-raises-record-setting-27-3-million-in-september-amid-impeachment-push
Updated on