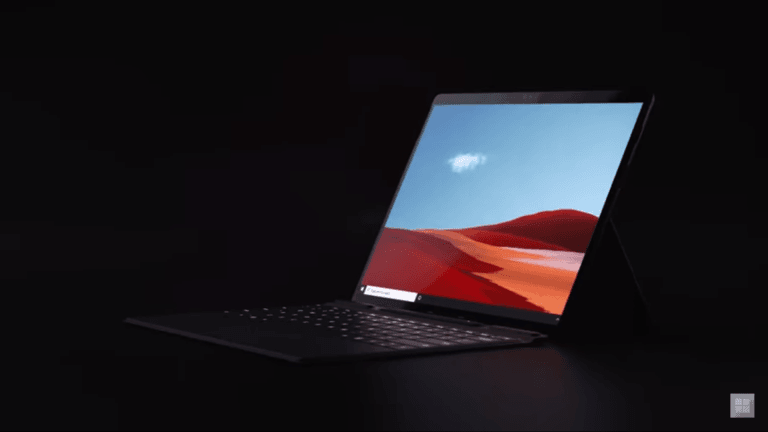 The 2-in-1 tablets have become immensely popular among business users and creatives. They allow you to work on the go – whether you want to use a tablet or laptop. Apple's iPad Pro and Microsoft's Surface Pro are the most popular 2-in-1 tablets. At its latest hardware event, Microsoft unveiled a new Surface Pro X alongside the Surface Pro 7. Let's check out how the Microsoft Surface Pro X stacks up against Apple's 12.9-inch iPad Pro.
The two devices have a lot of similarities. They both support a proprietary stylus and detachable keyboard. Both of them have a touchscreen interface. They both allow you to run most of the desktop apps. And both of them have a long-lasting battery life.
Microsoft Surface Pro X vs iPad Pro: Design
Both tablets have a premium design with thin bezels around the display. Neither tablet has a button on the front. The new Surface Pro X measures 11.3 x 8.2 x 0.28 inches while the 12.9-inch iPad Pro measures 11.04 x 8.46 x 0.23 inches. At 1.4 pounds, the iPad Pro is slightly lighter than the Pro X's 1.7 pounds.
This Odey Cub Is Waiting For A Pullback To Buy Financials
Michele Ragazzi's Giano Capital returned 1.9% for March, taking the fund's year-to-date performance to 1.7%. Since its inception, Ragazzi's flagship fund has produced a compound annual return of 7.8%. According to a copy of the €10 million fund's March update, a copy of which ValueWalk has been able to review, Giano's most significant investment at Read More
Unlike the iPad Pro, the Surface Pro X has a built-in kickstand to hold it in position when you place it on the table. Apple's tablet doesn't have a built-in kickstand, meaning you have to rely on the optional keyboard to do so. The iPad Pro has a Smart Connector on the back to connect to accessories like keyboards.
The Surface Pro X gets two USB-C ports, a micro-SIM slot for wireless LTE connectivity, a Surface Connect port, and a 3.5mm headphone jack. It doesn't support Thunderbolt 3. Port selection on the iPad Pro is limited to just one USB-C port and a nano-SIM slot.
The iPad Pro comes in Silver and Space Gray colors. The Surface Pro X is available only in the Matte Black color option. Unlike the iPad Pro, the Microsoft Surface Pro X allows users to swap out the SSD drive.
Keyboard and stylus
Both Microsoft and Apple sell the accessories – keyboard and stylus – separately. On the iPad Pro, the second-generation Apple Pencil attaches magnetically to the side of the tablet for charging. The Surface Pro X's optional Signature Keyboard has a dedicated slot to house and charge the Slim Pen stylus. The Signature Keyboard costs $139 while the Slim Pen has been priced at $144. Microsoft is also offering a bundle of the Signature Keyboard and Slim Pen for $270.
The Surface Pro X's keyboard is easy to type on with a decent amount of travel. Its touchpad is small but works just fine. The typing experience on the iPad Pro's Smart Keyboard Folio is not as smooth. The iPad Pro also lacks a touchpad, which limits its productivity.
The iPad Pro's Smart Keyboard Folio has been priced at $200. Apple wants you to shell out $130 for the second-generation Apple Pencil. The Apple Pencil is a wonderful tool for artists and graphic designers.
Display
Microsoft's tablet has a 13-inch PixelSense display with 1,920 x 2,880 resolution, 3:2 aspect ratio, and 267ppi of pixel density. It delivers rich and bright colors. The Surface Pro X has a 60Hz refresh rate, which puts it at a disadvantage compared to the iPad Pro's 120Hz.
The iPad Pro's fast refresh rate enhances the experience when you are playing games or watching videos. It has the ProMotion technology that automatically adjusts the refresh rate depending on the task you are performing. It also gets Apple's True Tone technology, which dynamically changes the color temperature of the screen depending on the ambient light to protect your eyes and ensure that the content is visible at all times.
The iPad Pro's 12.9-inch Liquid Retina display has 2,732 x 2048 pixels of resolution, 4:3 aspect ratio, and 264ppi of pixel density.
Performance
The Surface Pro X is powered by Microsoft's new SQ1 processor, an ARM-based chipset that Microsoft developed in collaboration with Qualcomm. Microsoft claims the SQ1 processor makes the Pro X three times more powerful per watt than last year's Surface Pro 6. It runs at up to 7 watts of power but performs most tasks at 2 watts.
The SQ1 promises 2 teraflops of graphics performance and up to 9 teraflops of overall performance. Yes, it integrates both the GPU and CPU on the same chip. It also has a built-in AI Engine to take care of AI-related tasks. The Pro X offers built-in LTE connectivity thanks to Qualcomm's LTE modem.
The base model of Pro X features 8GB RAM and 128GB of SSD storage. You can upgrade the device up to 16GB RAM and 512GB SSD storage. The processor remains the same on all configurations.
In contrast, the iPad Pro runs Apple's custom A12X Bionic processor, which is more powerful than most processors. The Surface Pro X's performance hasn't yet been tested in the real world, but it will be incredibly difficult for Microsoft to match – let alone beat – the iPad Pro's A12X chipset.
It beats even the most powerful laptops in terms of performance. The iPad Pro packs 4GB RAM with 64GB of internal storage. It doesn't support external storage. Depending on how much you are willing to spend, you can upgrade RAM to 6GB and storage to 256GB, 512GB or 1TB.
Battery life
Microsoft claims the Surface Pro X would offer up to 13 hours of battery life on a single charge. The ARM-based processors are more energy-efficient than Intel chips. But you shouldn't expect 13 hours of battery in real life. Microsoft tested its tablet with brightness set at only 150 nits. Most users don't keep the brightness that low while working or watching movies.
Apple has also tested the iPad Pro with brightness set at 150 nits. The Cupertino company claims 13 hours of battery life on the 12.9-inch iPad Pro. Apple's battery life claims tend to be closer to reality than that of Microsoft. So, you can expect the iPad Pro to last a tad bit longer than the Surface Pro X.
Software
The Microsoft Surface Pro X runs a full-fledged Windows 10 software. Users might expect most Windows apps to work just fine on the Pro X. But don't be so optimistic. ARM-based chips don't always work seamlessly with legacy Windows desktop apps. Some legacy apps might not work smoothly on the Pro X. It's up to developers to add support for ARM-based processors. The Surface Pro X would have to run traditional apps in emulation, which affects performance.
The iPad Pro runs Apple's new iPadOS 13, which is an iPad-optimized version of iOS 13. The iPadOS brings specific improvements to enhance the user experience on Apple's tablets. It has a new Home screen, a streamlined app switcher, Split View and Slide Over for multitasking, an improved Files app, better text editing, and desktop version of websites in the Safari browser.
Pricing
The Surface Pro X has a starting price of $999 for the base model with SQ1 processor, 8GB RAM, and 128GB storage. The optional Signature Keyboard is sold at $139 while the Slim Pen has been priced at $145. If you want to buy the maxed out version with 16GB RAM and 512GB storage, you'll have to shell out $1,799.
The iPad Pro isn't affordable either. It starts at $999 for the base model with just 4GB RAM and 64GB storage. Opting for the 256GB storage variant will cost you $1,149. The maxed-out version with 1TB storage, and LTE connectivity costs $1,899. The Smart Keyboard Folio costs $200 and the second-gen Apple Pencil will set you back by $129.
Conclusion
So, which one is a better buy? The Microsoft Surface Pro X has got a lot of things right. It lets you swap out the SSD drive, has a wide range of ports, and can run Office apps like a laptop. It's also easy to carry around. The battery life is also impressive. It also offers much more user control than the iPad Pro.
Unlike the iPad Pro, the Surface Pro X has a trackpad and a mouse, plus a built-in kickstand. However, the Surface Pro X may not be able to run some legacy Windows apps that don't support ARM chips.
The iPad Pro has a relatively better battery life, sleek design, and a beast-like performance that is hard to beat. If you want a tablet, the iPad Pro should be your choice. But if you are looking for a true 2-in-1, the Surface Pro X appears to have an edge.