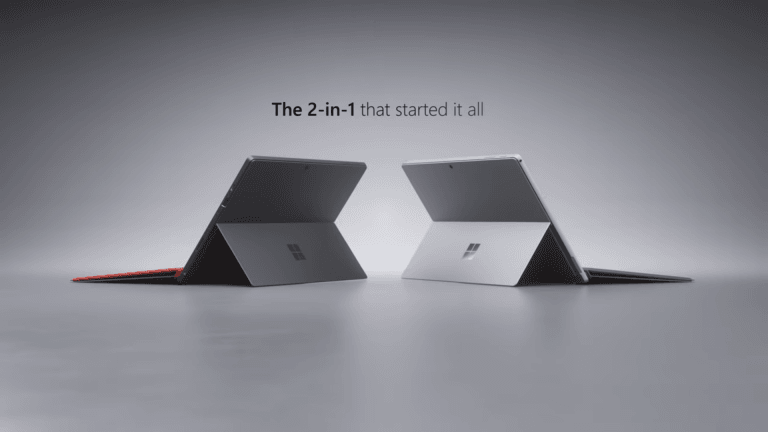 Even though you can't comfortably place Microsoft's Surface Pro 7 or Apple's 12.9-inch iPad Pro on your lap, both companies claim their devices are laptop replacements. Microsoft has merely bumped up the specs to keep the Pro 7 competitive. The iPad Pro has been around for almost a year, but Apple recently released the iPadOS software to enhance the experience for iPad users. Let's check out how the Microsoft Surface Pro 7 stacks up against Apple's 12.9-inch iPad Pro.
The two devices belong to two different worlds, but they have a number of similarities. They both have a touch interface. Both of them have long-lasting battery life. And they both support a proprietary optional keyboard and stylus.
Design and display
The Surface Pro 7 retains the same design as its predecessors. It has thick bezels around the display. The 2-in-1 sports a 12.3-inch PixelSense LCD screen with 1,824 x 2,736 resolution, 267ppi of pixel density, and 3:2 aspect ratio. Unlike iPads, it has a built-in kickstand to hold it in position when you put it on the table.
GrizzlyRock: Long Thesis For This European Travel Company [Q1 Letter]
GrizzlyRock Value Partners was up 16.6% for the first quarter, compared to the S&P 500's 5.77% gain and the Russell 2000's 12.44% return. GrizzlyRock's long return was 22.3% gross, while its short return was -2.9% gross. Compared to the Russell 2000, the fund's long portfolio delivered alpha of 10.8%, while its short portfolio delivered alpha Read More
The Surface Pro 7 measures 11.5 x 7.9 x 0.33 inches and weighs 1.7 pounds. It has a 5MP camera on the front and an 8MP camera on the back. It supports Windows Hello for authentication and security.
In terms of ports, the Microsoft Surface Pro 7 features a USB-C port for data transfer and charging. It doesn't support Thunderbolt 3. It also has a 3.5mm headphone jack, a microSD card slot, a USB-A port, and Microsoft's proprietary Surface Connect. The iPad Pro has a limited port selection of one USB-C port and a Smart Connector to attach the keyboard.
The iPad Pro has thin bezels around the display. It features a 12.9-inch Liquid Retina display with 2,732 x 2048 pixels of resolution, 4:3 aspect ratio, and 264ppi of pixel density. It measures 11 x 8.5 x 0.23 inches and weighs 1.4 pounds, meaning its slightly slimmer and lighter than Microsoft's tablet. It lacks the built-in kickstand of the Surface device.
The iPad Pro comes in Silver and Space Gray colors. It has a 7MP TrueDepth camera on the front that supports Face ID, Portrait Mode, and Portrait Lighting. The tablet gets a 12MP camera on the back.
The Surface Pro 7's screen offers a 60Hz refresh rate, which you'll find on most tablets and laptops. But the iPad Pro has a blazing-fast 120Hz refresh rate. It enhances the experience when you are playing games or watching videos.
Apple's device also features the ProMotion technology that automatically adjusts the refresh rate depending on the task you are performing. It also gets the True Tone technology, which dynamically changes the color temperature of the screen depending on the ambient light to protect your eyes.
Keyboard and stylus
The Microsoft Surface Pro 7 gets the same Type Cover and Surface Pen stylus as its predecessor. Both Apple and Microsoft sell the keyboard covers and styluses separately from the tablets. The Surface Pro's keyboard is easy to type on with a decent amount of key travel. Its touchpad is small but good enough to get the job done. The Surface Type Cover costs $160 while the Surface Pen is available for $100.
The iPad Pro supports Apple's Smart Keyboard Folio, which costs $200. The typing experience on the Smart Keyboard Folio is not that great, but it's good enough for most users. It also lacks the touchpad, which limits its productivity. The second-gen Apple Pencil has been priced at $130. The Pencil attaches magnetically to the side of the tablet for charging. Apple's accessories are much more expensive than those of Microsoft.
Performance
The Microsoft Surface Pro 7 is ready for WiFi 6.0 and supports the Bluetooth 5.0 standard. It runs Intel's latest 10th-gen Ice Lake processors. The base model features Intel's 10th-gen dual-core Core i3 processor with just 4GB RAM and 128GB storage. The Core i3 version has Intel's UHD graphics while the Core i5 and Core i7 variants pack the more powerful Iris Plus GPU for better graphics performance.
Depending on your budget, you can configure the RAM to 8GB or 16GB; processor to Core i5 or Core i7; and storage to 256GB, 512GB, or 1TB. The Surface Pro 7 is powerful enough to perform most tasks, though it might not handle demanding games very well.
The iPad Pro is a beast when it comes to performance. It supports Bluetooth 5.0 technology and WiFi 802.11ac. It runs Apple's custom A12X Fusion chip, which is more powerful than even most laptops. The base model of iPad Pro packs 4GB RAM and only 64GB storage. It doesn't support external storage. Depending on your budget, you can configure the storage to 256GB, 512GB, or 1TB SSD.
Software
The Surface Pro 7 run a full-fledged Windows 10 operating system. It runs all the Windows apps without any issues. Windows 10 has the widest collection of desktop apps to get things done.
The iPad Pro runs a new iPadOS 13 software, which Apple released to close the gap between tablets and laptops. The iPadOS brings specific improvements to enhance the user experience on Apple's tablets. It has a new Home screen, a streamlined app switcher, Split View and Slide Over for multitasking, an improved Files app, better text editing, and desktop version of websites in the Safari browser.
Thanks to iPadOS, multitasking on iPads has become easier than before. The software also allows you to connect external drives, and copy and save files on your iPad. But it's still limited in terms of functionality. The iPadOS is a mobile operating system trying hard to become an OS for hybrid iDevices. It still has a long way to go.
Battery life
Both products promise to get you through a full day of work with normal usage. Microsoft claims the Surface Pro 7 offers a battery life of up to 10.5 hours, down from 13.5 hours on last year's Surface Pro 6. The battery is unlikely to last that long in real life. Microsoft tested the device with brightness set at just 150 nits. Most users don't keep the screen that dim while working, watching videos, or playing games.
The iPad Pro promises a battery life of up to 13 hours. Apple has also tested the iPad with brightness at 150 nits. But the iPhone maker's battery life claims have historically been closer to reality than that of Microsoft. The iPad Pro is going to last longer than the Surface Pro 7.
Pricing
Neither device is cheap. The Surface Pro 7 starts at $749 for the base model with Core i3, 4GB RAM, and 128GB storage. Opting for the Core i5 model with 8GB RAM and 128GB would set you back by $899.
The Core i7 version with 16GB RAM and 256GB storage costs $1,499. The maxed-out model with Core i7, 16GB RAM, and 1TB SSD storage will set you back by $2,299. You'll have to buy the Surface Type Cover separately for $160 and the Surface Pen for $100.
The iPad Pro starts at $999 for the base model with just 4GB RAM and 64GB storage. Opting for the 256GB storage variant will cost you $1,149. The maxed-out version with 1TB storage, and LTE connectivity costs $1,899. The Smart Keyboard Folio costs $200 and the second-gen Apple Pencil will set you back by $129.
Conclusion
Both the Microsoft Surface Pro 7 and Apple's iPad Pro are powerful 2-in-1 devices. They are both expensive. The iPad Pro has a slightly larger display and a longer battery life. If you want a laptop that could also serve as a tablet, the Surface Pro 7 is the device for you. But if you are going to use the device mostly in tablet mode, the iPad Pro is a better choice.