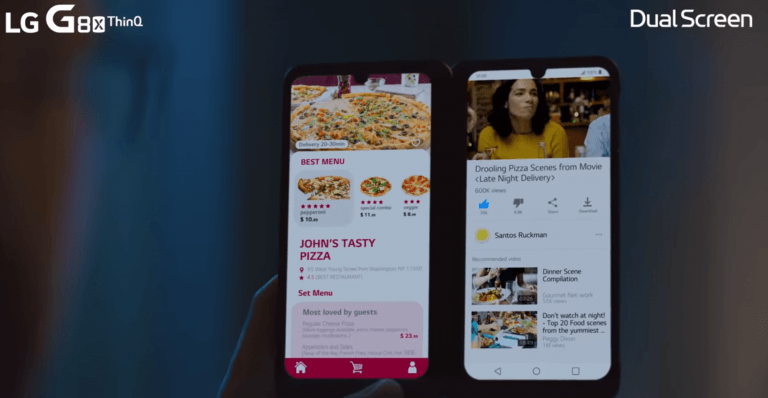 Samsung's $2,000 Galaxy Fold hit the store shelves a few weeks ago. The Korean electronics giant had to delay its launch for several months to fix the durability issues that plagued the early units. The Galaxy Fold is a foldable device that brings you a giant tablet-like screen on a phone that still fits in your pocket. LG Electronics has tried to do something similar with its new LG G8X Dual Screen, but it's taking an entirely different approach. Let's check out how the LG G8X Dual Screen stacks up against Samsung's Galaxy Fold.
LG G8X Dual Screen vs Galaxy Fold: Design and display
Samsung uses a highly innovative (and expensive) plastic OLED display technology that bends in half. LG phone's screen doesn't fold in the middle. Instead, it takes a more simplistic approach that is more practical and durable. It's a regular phone with a Dual Screen accessory that adds a second screen through a USB-C connector. It means you won't be able to use the USB-C connector for wired charging unless you have a pogo pin adapter. Thankfully, the G8X Dual Screen supports wireless charging.
Two Sigma's Venn outlines factor performance for March
Equities did well last month as most market watchers have noted that Value outperformed growth. In his March Factor Performance report, Alex Botte of Venn by Two Sigma noted that March was a strong month for the global Equity factor, especially in developed markets. Q1 2021 hedge fund letters, conferences and more He said Europe Read More
The LG G8X's second screen can easily be detached. Samsung has significantly improved the durability of its foldable phone. It claims the Galaxy Fold can last up to 200,000 folding cycles, but it's still a fragile phone. The LG device is more durable primarily because it has two different screens placed side-by-side instead of a single foldable screen. The G8X comes with military-grade durability.
The Galaxy Fold has a wide notch in one corner of the screen to house the selfie camera and other sensors. LG's dual-screen phone has a tiny waterdrop notch on both screens, though only one notch houses the selfie camera. The Galaxy Fold is available in Space Silver and Cosmos Black colors while LG's phone comes only in Aurora Black color.
The LG G8X Dual Screen is bulkier than Samsung's flagship. The Galaxy Fold has a small external screen to give you quick access to time, notifications, and other details without having to unfold the device. The LG device also has a small monochrome screen to show you notifications, time, battery level, and other details without having to open the Dual Screen.
In terms of display, the LG G8X features two 6.4-inch OLED screens with 2340 x 1080 pixels resolution and 19.5:9 aspect ratio. Both screens have the same pixel density of 403ppi. The Galaxy Fold gets a 7.3-inch foldable plastic OLED screen with 2152 x 1536 resolution. The external display is 4.6-inch Super AMOLED with a 720 x 1680 resolution.
Features and specifications
Both are insanely powerful devices as they both run Qualcomm's octa-core Snapdragon 855 processor. The Galaxy Fold packs 12GB RAM and 512GB of internal storage. In contrast, the LG G8X Dual Screen packs 6GB RAM and 128GB of internal storage. If you want more storage, the LG phone supports external storage of up to 2TB.
The Galaxy Fold has a slightly larger 4,235mAh battery with wireless charging support. It also gets 5G connectivity, which isn't of much use at this point considering carriers are still rolling out their 5G networks. The LG device packs a 4,000mAh battery with wireless charging support.
The Galaxy Fold has a triple camera setup (12MP + 16MP + 12MP) on the back. It supports OIS, 2x optical zoom, and up to 10x digital zoom. For selfies, the Galaxy Fold gets a dual camera setup of 8MP + 10MP. It also has a cover camera lens of 10MP. It means the Galaxy Fold has a total of six cameras.
The LG G8X Dual Screen has a dual-camera setup on the back, consisting of a 12MP wide-angle lens and a 13MP ultra-wide angle lens. For selfies, it gets a 32MP lens. Both the Galaxy Fold and LG G8X run Android 9 Pie with a custom skin on top.
User interface
Samsung has worked hard to ensure a smooth user experience on the Galaxy Fold. The apps can easily transition from one screen to another when you fold or unfold the device. Its giant display makes it suitable for gaming, watching videos, and running multiple apps in split-screen mode.
The LG G8X Dual Screen has two identical but separate screens. Each of the two screens has its own app drawer and home layout. You can run two different apps on each screen without any issue. But extending the same content to both screens doesn't result in the most refined user experience, especially when you are watching videos, because of the thick bezel and hinge between the two screens.
The G8X's dual screen is particularly useful when playing games. All the controls appear on one screen and the gameplay takes place on the second screen. Your fingers or the on-screen buttons won't be blocking the gameplay graphics.
LG G8X Dual Screen vs Galaxy Fold: Pricing
Almost everyone expected the LG G8X Dual Screen to be cheaper than the Galaxy Fold, which costs $1,980 in the US. But few people would have guessed its price correctly. The G8X costs just $700, which includes the phone as well as the second screen. It means the Galaxy Fold is almost three times as expensive as the G8X.
No doubt the Samsung flagship has a revolutionary technology. But few people can afford it. The LG G8X Dual Screen goes on sale in the US on November 1st. Its affordability, durability, and powerful performance will help attract buyers, especially those who like multitasking.