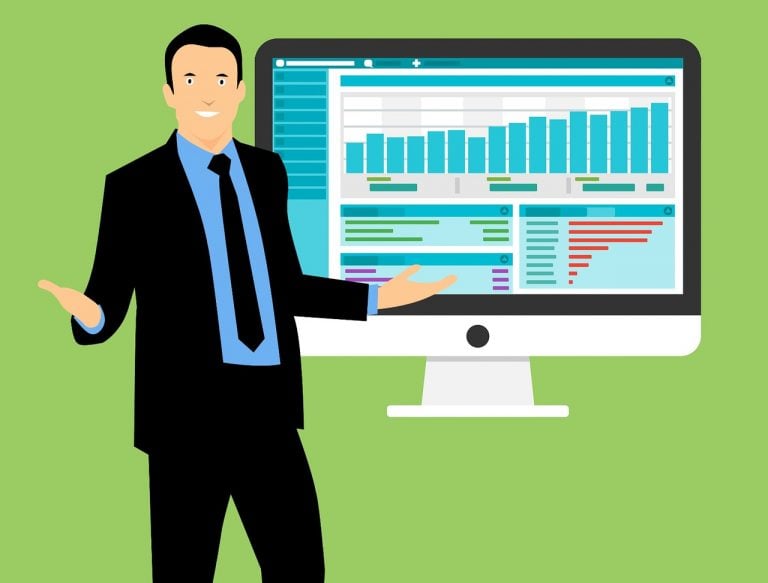 The King Report October 4, 2019 Issue 6016
ESZs did their usual overnight (US time) rally.  Once again, they declined during late Asian trading; rallied into the European open but tumbled after the first 90 minutes of European trading. Naturally, the pre-NYSE rally appeared – and traders bought the NYSE open.
ESZs and stocks tumbled at 10:00 ET because the ISM Non-Manufacturing Index dropped to a three-year low of 52.6 for September.  The index was a healthy 56.4 in August.  55 for September was consensus. Employment fell to 50.4 from 53.1.
David Abrams Explains How To Value Stocks
Continued from part one... Q1 hedge fund letters, conference, scoops etc Abrams and his team want to understand the fundamental economics of every opportunity because, "It is easy to tell what has been, and it is easy to tell what is today, but the biggest deal for the investor is to . . . SORRY! Read More
Q2 hedge fund letters, conference, scoops etc
NMI® at 52.6%; September Non-Manufacturing ISM® Report On Business®
https://www.prnewswire.com/news-releases/nmi-at-52-6-september-non-manufacturing-ism-report-on-business-300929995.html
The severe reaction to the troubling ISM Non-Manufacturing Index for September pushed ESZs to 2855, a 35-handle collapse in nine minutes.  Bad economic news is now bad news for stocks –despite the fact that the Fed has commenced a new easing cycle!
A 'V' rally quickly materialized because Nasdaq had declined 13 points below its 200-day MA of 7713 and the DJIA fell 108 points below its 200-day MA of 25,852.  The 'V' rally pushed major indices, ex-DJTA and Russell 2000, into positive readings for the session.  This was very, very predictable.
DJIA with 200-day moving average – The 'strange attractor' doing its thing
From Thursday's King Report: Traders are counting on the mysterious buyer to save stocks if the S&P 500 Index and DJIA fall below their 200-day MAs.
From Wednesday's King Report: Major 'V' rally interventions tend to occur on penetrations of 200-day moving averages.  This isn't quantum mechanics!  It's dispassionate observation.
The 'V' rally ended just before Europe closed.  ESZs and stocks retrenched for almost an hour.  During the latter part of midday, the rally reappeared.  It continued the VIX Fix.  ESZs and stocks then rolled over until someone juices ESZs at the close.  Behold the glory and power of the 'V' rally instigators!!!
OAN's @GretaLWall: Speaking to reporters at the White House before heading to Florida, President Trump blames Democrat 'nonsense' for recent volatility on Wall St
U.S. oil down for 8th straight session as demand worries grow
https://www.marketwatch.com/story/us-oil-down-for-8th-straight-session-as-demand-worries-grow-2019-10-03?siteid=bullytweet
Japan raises national sales tax despite recession worries
2-percentage-point hike goes into effect; previous increases have brought on recession
https://www.marketwatch.com/story/japan-raises-national-sales-tax-despite-recession-worries-2019-09-30
Feds Seize Million Pounds of Smuggled Chinese Pork
U.S. Customs and Border Protection (CBP) stopped an attempt to smuggle one million pounds of pork from China to a New Jersey port on Friday, resulting in the biggest seizure of agricultural product in American history. This comes on the heels of African swine fever (ASF) raging through China and devastating the hog population in the world's largest pork-producing country.  "This was highly orchestrated," said Stephen Maloney, the Customs and Border Patrol's acting port director for the Port of New York/Newark. He said this was a concerted effort to conceal product…
https://www.agweb.com/article/feds-seize-million-pounds-of-smuggled-chinese-pork
@Jkylebass: To be clear, this is CHINESE BIOTERRORISM. If Chinese Pig Ebola infects the US Pig population, it will be devastated. Pig to human mutations haven't been recorded yet but that jump can easily be made. Kudos to CBP officials…time to get the NSC involved.
Positive aspects of previous session
'V' rally after Nasdaq and DJIA fall below their 200-day MAs
Negative aspects of previous session
Early equity tumble on disappointing ISM Non-Mfg Index
Ambiguous aspects of previous session
What will the Fed do if stocks keep falling while they cut rates?  QE 4?
First Hour/Last Hour Action [S&P 500 Index]
First Hour Down; Last Hour Down
Previous session S&P 500 Index High/Low: 2911.13; 2855.94
Pivot Point for S&P 500 Index [above/below indicates daily trend for traders]: 289.57
Ex-federal prosecutor Andy McCarthy: Ignore the hype — this is not an impeachment inquiry
There are no subpoenas… What is portrayed as an "impeachment inquiry" is actually just a made-for-cable-TV political soap opera. The House of Representatives is not conducting a formal impeachment inquiry. To the contrary, congressional Democrats are conducting the 2020 political campaign…
Standing committees do have subpoena power, so why not use it? Well, because subpoenas get litigated in court when the people or agencies on the receiving end object. Democrats want to have an impeachment show — um, inquiry — on television; they do not want to defend its bona fides in court…
https://thehill.com/opinion/white-house/464140-ignore-the-hype-this-is-not-an-impeachment-inquiry
September Employment Report Primer
For September 2018, the BLS's Birth/Death Model deleted 61k jobs
The 340k NFP NSA for September 2018 were adjusted to 108k
Ergo, 2018 seasonal adjustment for September 2018 was -232k
https://www.bls.gov/web/empsit/cesbd.htm
Today – For the first time in many years, a bad September Employment Report could be bad for stocks.  The odds of a soft September NFP are much higher than a strong report.  After the market reacts to the employment report, stocks should calm down and range trade.
After interventions or 'V' rallies, markets tend to become listless as traders are reluctant to play.  They don't know if or when the manipulators will return.
From Thursday's King Report: In the coming days, we should find out if the mysterious impact buyers are still operative or if they will be MIA like one year ago.
The mystery buyer(s) appeared at a critical time. No one knows if they will appear for trivial declines.
China's markets are closed from October 1 to October 7 for Golden Week.  ESZs are -4.50 at 21:00 ET.
The S&P 500 Index 50-day MA: 2943; 100-day MA: 2926; 150-day MA: 2905; 200-day MA: 2839
The DJIA 50-day MA: 26,513; 100-day MA: 26,409; 150-day MA: 26,295; 200-day MA: 25,853
S&P 500 Index support: 2900, 2880, 2870-75, 2855-60, 2850, 2834-2839 (200 DMA), 2822-25, 2800
Resistance: 2914, 2922-25, 2930, 2938, 2955-60, 2965, 2975, 2985-87, 2993, 3000, 3008
Expected economic data: Sept NFP 148k, Mfg 3k, Wages 0.3% m/m, Workweek 34.4, Labor Force Participation Rate 63.2%; Aug Trade Balance -$54.5B; Boston Fed Prez Rosengren 8:30 ET, Atlanta Fed Prez Bostic 10:25 ET, Fed Chair Powell 14:00 ET issues opening remarks at Fed Listens Event in DC
S&P 500 Index – Trender trading model and MACD for key time frames
Monthly: Trender and MACD are positive – a close below 2502.93 triggers a sell signal
Weekly: Trender is positive; MACD is negative – a close below 2823.03 triggers a sell signal
Daily: Trender and MACD are negative – a close above 3004.45 triggers a buy signal
Hourly: Trender is negative; MACD is positive – a close above 2923.06 triggers a buy signal
@paulsperry_: The whistleblower is a registered Democrat & CIA analyst who was detailed before the 2016 election to the Obama White House, where he worked on the NSC's Ukraine desk & met w anti-Trump Ukrainian officials before being sent packing by the Trump NSC & becoming disgruntled
NY Post, July 17, 2018: Michael Barry, the senior NSC director for intelligence programs, is headed back to his old gig at the CIA… https://nypost.com/2018/07/17/top-national-security-council-staffer-leaving-the-white-house/
@johncardillo: "Adam Schiff said ahead of Thursday's scheduled testimony from former U.S. envoy for Ukraine Kurt Volker that GOP members of the Foreign Affairs Committee will not be permitted to ask questions or have equal representation during the session."  It's a sham
@brookefoxnews: per a source with knowledge of ongoing #Volker interview: "The information provided by Amb. Volker so far does nothing to advance @RepAdamSchiff theory of the case. Volker's testimony seems to be a disappointing event –and likely a setback–for the #impeachment effort."
ABC ran a misleading headline yesterday afternoon: the allegation/opinion is debunked in the story.
'Crazy to withhold security assistance' to Ukraine for political campaign: Top US diplomat
[Bill Taylor, a Bushie, wrote] "I think it's crazy to withhold security assistance for help with a political campaign."… Gordon Sondland, the United States Ambassador to the European Union, responds to Taylor, saying that charge is "incorrect," insisting the president has been "crystal clear no quid pro quo of any kind"…   https://abcnews.go.com/Politics/top-diplomat-ukraine-crazy-withhold-security-sasistance-political/story
Sondland's full response: "Bill, I believe you are incorrect about President Trump's intentions. The President has been crystal clear: no quid pro quo's of any kind. The President is trying to evaluate whether Ukraine is truly going to adopt the transparency and reforms that President Zelensky promised during his campaign."  https://www.foxnews.com/politics/fmr-ukraine-envoy-volker-meets-with-dem-led-house-committee-in-closed-door-session
Note: Sondland was with Trump at his July 26 meeting with Zelensky.  Taylor was not present.
https://www.president.gov.ua/en/news/prezident-ukrayini-zustrivsya-zi-specialnim-predstavnikom-ss-56621
The MSM two weeks reported that Trump threated to withhold military aid to Ukraine unless it went after Biden.  Who in the above exchange is more likely to leak stuff to the MSM and/or Team Schiff?
We're old enough to remember that the impeachment narrative began before DJT was sworn in.
Democrats Are Paving the Way to Impeach Donald Trump – December 15, 2016
https://www.vanityfair.com/news/2016/12/democrats-pave-the-way-to-impeach-donald-trump
@ByronYork: White House sending out reminder: Washington Post article, 'The campaign to impeach President Trump has begun.' Posted January 20, 2017 at 12:19pm, 19 minutes into Trump presidency. https://washingtonpost.com/news/post-poli
Tucker Carlson: Washington's ruling class has been thinking about impeaching Trump even before he was elected – Evelyn Farkas was an Obama appointee at the Defense Department. She helped run the last administration's — believe it or not — Ukraine policy.  She was also an enthusiastic booster of the Hillary Clinton for president campaign in 2016. So, two weeks before the last election, Farkas: "If Donald Trump were elected, I believe he'd be impeached pretty quickly or somebody else would have to take over government, and I'm not even joking."…
More than anything –and this is the key — they couldn't control what Donald Trump said or did. Nobody can. And that was the unforgivable crime. So from day one, they planned to take him out…
https://www.foxnews.com/opinion/tucker-carlson-washington-trump-impeachment-schiff
Ukraine Launched July Probe of Military Hardware Sales by Adam Schiff Fundraiser
On 22 July 2019… https://truepundit.com/ukraine-launched-july-probe-of-military-hardware-sales-by-adam-schiff-fundraiser/
Trump's approval rating hits high for 2019 in wake of impeachment talk
https://nypost.com/2019/10/03/trumps-approval-rating-hits-high-for-2019-in-wake-of-impeachment-talk/
Trump Fundraising Haul Shows Impeachment Backfiring on Dems
The Republican National Committee and the Trump campaign raked in a $13 million haul within 36 hours of House Speaker Nancy Pelosi's embarrassingly vague announcement of a "formal impeachment inquiry."…  
https://www.realclearpolitics.com/articles/2019/10/03/trump_fundraising_haul_shows_impeachment_backfiring_on_dems_141397.html
Pelosi Says Impeachment Vote Is Not Inevitable [Thursday morning on ABC]
https://freebeacon.com/politics/pelosi-says-impeachment-vote-is-not-inevitable/
House Dem Says She Was Under 'Enormous Pressure' to Support Impeachment Inquiry
Rep. Debbie Dingell (D-Mich.) said she was under "enormous" pressure to support the impeachment inquiry into President Donald Trump.   The House Democratic Senior Whip, who was initially against the inquiry, said on CNN's "At This Hour" on Oct. 1 that she had changed her stance under what she called an "enormous amount of pressure.""…I was the focus of ads by both Tom Steyer and MoveOn.org, but I was worried about how divided this country is. And quite frankly, we're continuing to see how divided the country is, though you can't be divided on the rule of law."…
https://www.theepochtimes.com/house-dem-says-she-was-under-enormous-pressure-to-support-impeachment-inquiry_3103442.html
Ex-CIA Counter Terrorism, Counterintel & Staff Investigator @Kevin_Shipp: ICIG Michael K Atkinson uploaded the changed whistleblower complaint form (to include hearsay), on September 24, 2019 – just days before the anti-Trump complaint was declassified and released to the public.
Atkinson-lawyer for the DOJ coup plotters that lied to the FISA court about FBI/NSA abuse using FBI contractors, filed the false FISA application against Carter Page and used FARA violations as tools for political surveillance/political targeting (General Flynn). INDICT HIM.
GOP Senators Demand Investigation of Classified Leaks from Anti-Trump Whistleblower Complaint – Johnson and Grassley sent a letter to the ICIG, Michael Atkinson…  They believe the IC should be just as transparent as the White House in releasing information regarding the whistleblower complaint…  https://thefederalist.com/2019/10/03/gop-senators-demand-investigation-of-classified-leaks-from-anti-trump-whistleblower-complaint/
Most Giuliani mentions in whistleblower complaint came from public statements, news
"It is quite dumbfounding that an intelligence community whistleblower is targeting Giuliani, someone who certainly does not have a security clearance," Brett L. Tolman, a Republican-aligned former U.S. attorney for Utah, told The Washington Times. "The credibility of the whistleblower is further brought into question when it is apparent that they were not present for any of the alleged misconduct of Giuliani."…  https://www.washingtontimes.com/news/2019/oct/2/whistleblowers-statements-about-rudy-giuliani-rais/
@ByronYork: So State Department inspector general asks for 'urgent' briefing on Capitol Hill. Trump and Ukraine! Then admits he's had 'urgent' material since May. After seeing it, Dem lawmaker declares 'completely irrelevant.' [State Dept IG Linick was appointed by W Bush, retained by Obama and Trump)
@YahooFinance: Highlight: "A Washington Post story says that the president used Vice President Mike Pence to put pressure on the Ukraine but aides tell the post that Pence was not aware of President Trump's efforts to get Ukraine to investigate Joe Biden," @JessicaASmith8 says.
Virtually daily, the MSM publishes fake news solely because they think it hurts Trump.
@JessicaASmith8: Per pool, when asked if he had requested President Xi of China to help investigate the Bidens, POTUS replied: "I haven't but clearly it's something we should start thinking about."
CBSNews: President Trump: "So I would say that [Ukrainian] President Zelensky, if it were me, I would recommend that they start an investigation into the Bidens." https://cbsn.ws/2ncqST1
Barr trolled the media yesterday.  Barr: "They [the press] yelled out, 'What country are you going to next, Mr. Barr?' And I said, 'Greenland.'"   https://twitter.com/ABC/status/1179821218465058816